You know those people who obnoxiously set their alarm clock in five-minute intervals nearly an hour before they actually have to wake up?
Well, I'm one of them. And even after mentally preparing myself for an hour, I still shuffle my way to the coffee pot looking like a character out of a zombie movie.
Trouble is, I — like many people — actually do my best work in the morning. Not to mention, there's a ton of research that suggests that waking up early can have a positive impact on your success, ability to anticipate problems, organization, and so on.
In an effort to take back my mornings, I dug in to the app stores to find nine of the best apps for iOS and Android designed to help people get up and going. From fetching the weather report to pushing you through your morning workout to reminding you to take a minute to pause and reflect, these apps should help you de-stress your morning routine and get up on the right side of the bed.
9 Apps That'll Make Your Morning Less Stressful
1) Sleep Cycle Alarm Clock
Waking up isn't always easy, but it sure helps when the timing is right.
With this in mind, the Sleep Cycle Alarm Clock closely analyzes your sleep and wakes you up during the lightest sleep phase, which occurs during a 30-minute window that ends at your set alarm time. (This window can be adjusted to anywhere between 10–90 minutes, but the app recommends 30 minutes.) This ensures that you wake up in a more natural way, feeling both well rested and ready to start the day.
The app does this by using the built-in microphone in your device to monitor your movement, while ignoring all other sounds, such as your spouse snoring or your noisy roommate. Once you set an alarm, the app prompts you to place your phone screen on your nightstand or on your bed next to you so that it can tune into your movement.
When the alarm sounds the music will begin to play softly, increasing volume as time continues. If you want to snooze the alarm, simply tap twice or pick up your phone. The app defaults to "Intelligent" snooze mode, which means that you can snooze until the end of your wake up phase. However, you can opt for "Regular" snooze mode, which lets you choose a time between 1–20 minutes.
The app also records your sleep activity, so you can learn more about the quality and quantity of sleep you're getting each night.
2) Morning Ritual
According to behavioral psychologist BJ Fogg, there are three ways to change behavior in the long term: have an epiphany, change your environment, and take baby steps. The Morning Ritual app caters to his third suggestion, as it makes it easy for users to create daily activities and set a designated time for each of them.
For example, let's say every morning I want to meditate for five minutes, read for 10 minutes, and then check my email for 15 minutes. I'd start by setting these activities in the app with corresponding time limits. Then, all I'd have to do is and simply hit the "Start" button to begin a timer for my first task.
The app will let you know when it's time to move on to your next task, but you can also prompt it to skip ahead. Once you've completed your routine, the app pulls together a graph to show you how you allocated your time. You can track your progress by comparing this graph to ones from the last week or month.
3) Poncho
Checking the weather in the morning helps you better plan your commute, outfit, hairstyle, etc. But why settle for any old weather app when you can get your updates from a cat in a yellow raincoat … amirite?
Poncho offers playful personalized weather forecasts, commute predictions, and a handy alarm clock that wakes you up with weather-related music. Heck, it'll even send you pollen, allergy, humidity, and bad hair day alerts. (If you've got frizzy hair, this feature alone should be a selling point.)
One downside is that you need to keep your app open and your screen unlocked for the alarm to work. However, the app automatically dims down your display when you hit the hay.
4) Spotify
Okay, so Spotify is a great app no matter the time of day … but there are some really cool "morning-friendly" features worth mentioning.
For example, last year, Spotify teamed up with music psychologist David M. Greenberg to piece together the perfect, science-backed morning playlist. Designed to help people rise a little easier, this playlist includes songs like Coldplay's "Viva La Vida," Sam Smith's "Money On My Mind," and Imagine Dragon's "On Top of the World." Check it out below:
Another handy feature that'll get your blood pumping in the morning? Custom workout playlists. The folks at Spotify have curated killer playlists for any workout you can imagine, from spin class to Crossfit.
Here's one
filled with high intensity tracks to get you up and moving:
(Read this blog post for a list of six Spotify playlists proven by science to improve your productivity throughout the day.)
5) Calm
We've highlighted the benefits of mindfulness and meditation before … and we'll highlight them again. In an effort to set a positive tone for your day ahead, the Calm app offers over two-dozen guided meditation session for you to choose from.
The sessions range anywhere between a few minutes to around 30 minutes, so you can squeeze in some "me" time no matter what your schedule looks like.
The app also offers 7-21 days guided meditation programs that keep track of your progress, as well as unguided meditation lasting up to eight hours.
I started using this app at night to help me wind down and I've seen a noticeable difference in my ability to fall asleep quickly and wake up feeling more refreshed.
6) Stylicious
Depending on your dress code at work, picking out something to wear in the morning can be a pain. Will people notice that you wore the same shirt two Wednesdays in a row? Does your blue tie look okay with that grey shirt you just bought? And don't even get me started on the "is this too wrinkly?" debate.
The good news is, Stylicious helps you manage your closet and create outfits — while you're still in bed. To get started, simply add items to your "virtual closet" by taking a photo or using an existing one. (We recommend doing this once a week to keep tabs on what's clean.) Once you've cataloged your wardrobe, you can mix and match pieces until you come up with a combination that looks just right.
(Image Credit: Aptoide)
Once you've landed on a few looks you like, you can add them to your "Fashion Calendar" to keep track of what you're wearing. The app even has a handy vacation planner to help you plan and pack outfits for your next business trip.
7) Wunderlist
One of the best ways to take a little chaos out of your morning routine? Get situated the night before. Whether you need to piece together a grocery list, map out a presentation, or prep for a meeting, a task management app like Wunderlist can … well … do wonders. (I'll be here all week.)
Thanks to the app's clean, user-friendly design, it's easy to make your way through the impressive range of features — from setting due dates and reminders to sharing lists with your friends, family, and coworkers.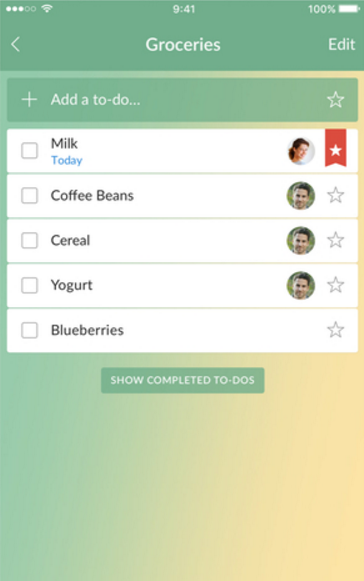 Wunderlist syncs between your phone, tablet, and computer, so you can create your list on one device and wake up and browse it from your phone in the morning.
(Check out our list of nine other handy to-do list apps here.)
8) Pocket
I'll be the first to admit that I have zero patience when it comes to technology. This is especially true during my morning commute on the train, where spotty service prevents me from catching up on some reading.
But thanks to the Pocket app, I've managed to reduce this a.m. frustration by gathering a bunch of articles in advance that can be read offline.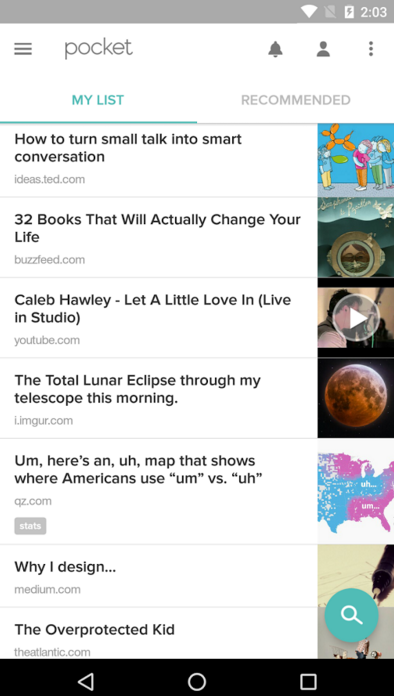 Here's how it works: Pocket lets you save articles, images, and videos from your browser or from a library of 1,500+ apps to be viewed on any device, regardless of your WiFi connection. (Check out this article for more ways to stay productive without an internet connection.)
Whenever I find something I know I'd like to read later, I put it in my Pocket to revisit during my commute. This helps me kickstart my day with some fresh reads and a whole lot of inspiration.
9) Happier
To stay present and positive throughout the day, set aside a few minutes every morning to remind yourself what you're grateful for.
Sure, it might feel a little silly at first, but it's a better use of your time than you'd think. In fact, there's a wealth of research out there suggesting that keeping a gratitude journal can significantly increase your well-being and overall life satisfaction.
One of our favorite apps for recording and reflecting on special moments is Happier, which combines a gratitude journal with a positive social community.
With the Happier app, users can share happy moments with the community to gain both support and encouragement, or reserve their moments for self-reflection by keeping them private. It's less about who see them, and more about actually getting them down in writing.
The app also offers snackable, expert-led courses designed to help users uncover new ways to find joy, calm, and satisfaction.
What are your favorite apps to wake up to? Share them with us in the comments section below.