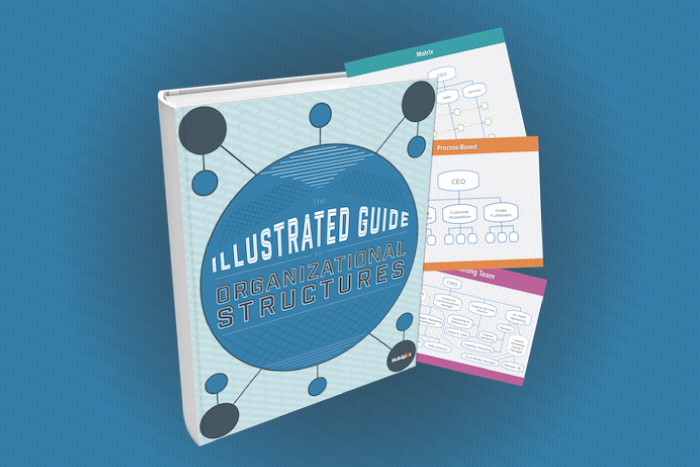 I remember my very first day of work at my very first startup. I was employee number 22, and my manager was eagerly showing me the org chart he had recently put together.
There I was, at the bottom of the chart: Content Associate. Above me was my manager, above my manager was a VP, and above the VP was our CEO & COO.
As my manager was going over the different job functions at the company and explaining who reported to whom, our COO casually strode in to say hello.
"What the hell is this?" he asked, eyeing the diagram on the conference table curiously.
"That's our organizational structure," my manager replied.
"Wow! That's awesome … " our COO said, "I didn't know we had one of those!"
Now, to be clear, my COO was joking: The company certainly had an organizational structure in place prior to that meeting. It's just that it had never been codified before. And it had never been visualized in a way that made it easy for employees to understand what they were responsible for and where they fit in within the organization.
While on the surface "organizational structure" might sound like a concept that only business school alums could ever hope to comprehend, it's really much simpler than you think. An organizational structure describes how a company, division, team, or other organization is built; how all of its various components fit together.
Or, to get more precise, an organizational structure is a framework that organizes all of the formal relationships within an organization, establishing lines of accountability and authority, and illuminating how all of the jobs or tasks within an organization are grouped together and arranged.
In our new resource, An Illustrated Guide to Organizational Structures, we explore the world of organizational structures by taking a visual approach. The guide includes a variety of different org charts, which highlight the building blocks of organizational structures and give you some archetypal (and real-world) examples to follow.
Here's a taste of what you'll find inside …
1) Building Blocks: Organizational Structure Basics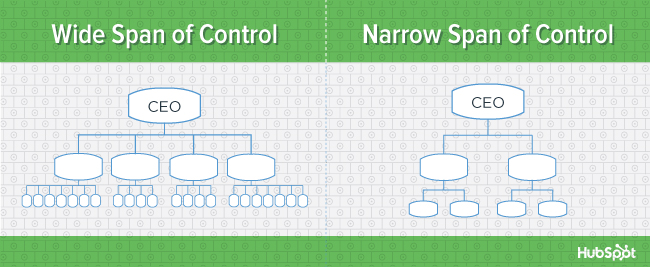 (Example: Span of Control)
2) Types of Organizational Structures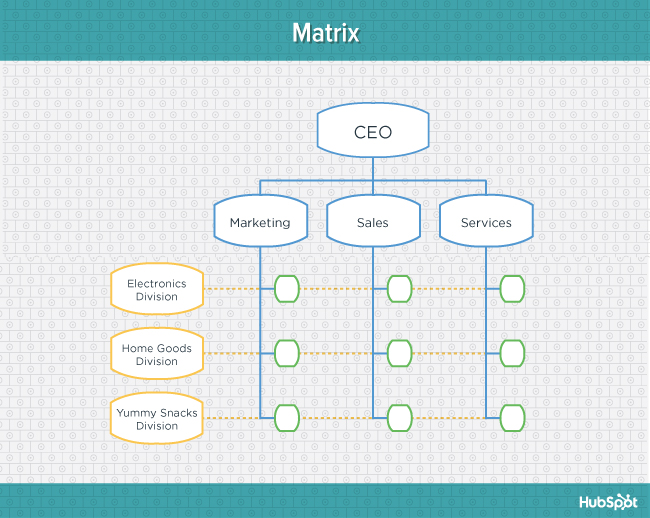 (Example: Matrix Org Structure)
3) Marketing Team Org Structures: Real-World Examples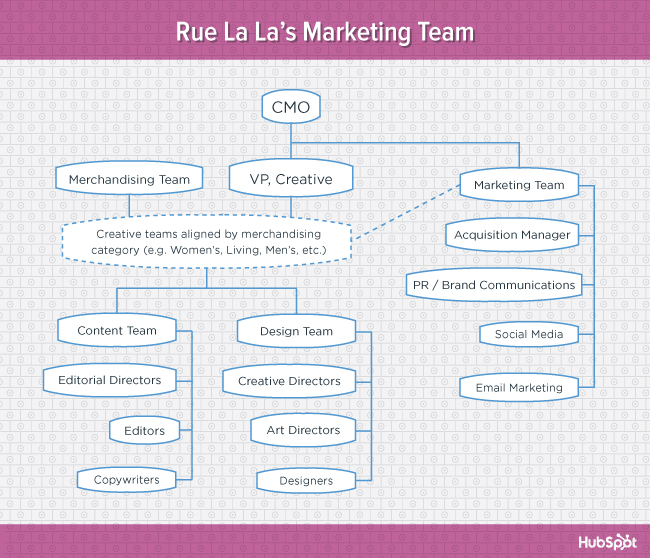 (Example: Rue La La, "The Creative Org Structure." Adapted from "The CMO's Guide to Marketing Org Structures [SlideShare].")
4) How to Structure a Modern Marketing Team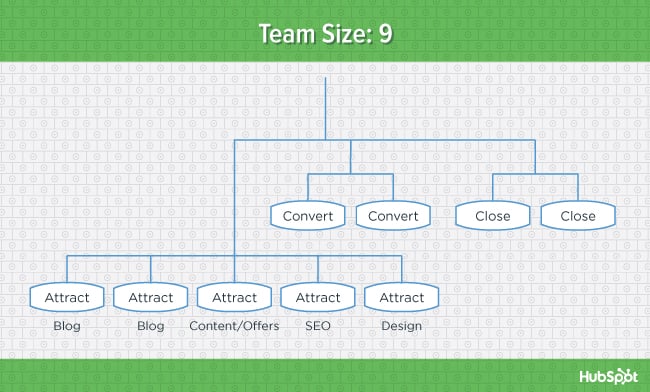 (Example: How to structure a marketing team with a headcount of nine. Adapted from HubSpot CMO Mike Volpe's INBOUND presentation / blog post, "How to Structure a Marketing Team of Any Size.")
If you want to dive deeper into organizational structures, download our free guide here. Plus, if you want to share it with your Twitter followers, use the click-to-tweet link and formatted image below.
Have any organizational structure wisdom you'd like to share? Leave a comment below!