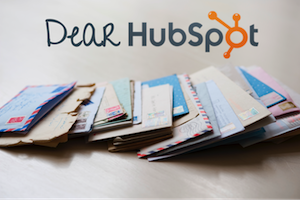 Dear HubSpot is a weekly column that we do to answer people's most burning questions about inbound. If you want to submit a question to be answered, click here. This week, we hear from an entrepreneur who is just starting his own company and wondering where to focus his marketing efforts in the very beginning.

Dear HubSpot,
I've got an excellent business idea for a career consulting service. I've already set up a webpage and social media profiles, but how do I ACTUALLY start marketing it? With only one Like on Facebook and two followers on Twitter, do I need to buy advertisements? If so, which ones? It's just me and my buddy running the company so far, and we're not sure which steps to take first to gain some traction online. We need a little direction because we don't know where to start. We'd appreciate your help!
Sincerely,
Starting From Scratch in San Antonio
---
Hey SSSA,
First of all, great job taking initiative on your business idea by setting up your website and social media accounts. Execution is what differentiates a great thinker from an entrepreneur. We're hoping your two Twitter followers aren't your parents ;). I'm kidding, but even if they were, everyone starts somewhere — and you're right in saying your top priority right now should be building and growing your online presence.
To help you get your marketing efforts off the ground, I've written up a short to-do list for you. Each step is in order. You mentioned advertising, for example — you'll soon notice that advertising is step three in your to-do list, so don't be tempted to jump right in to that right now. Without further ado …
Your to-do list, in order:
Step 1: Make a list of relevant keywords.
Before you build the house, you need to lay the foundation — and for your brand, that foundation is the keyword list that you'll use to write the content of your website, blog, and social media posts. It's important that you come up with these keywords first so you don't find yourself stuffing your content with keywords later, which can look forced and unnatural, and even get you penalized by search engines.
The best search engine optimization (SEO) strategy is to focus the copy of your website on key phrases or topics that are important to people who will end up buying from you and relevant to what you are selling. Start with a topic close to the core of your business that you really want to rank well for on search engines — for you, it might be "career development." Then, put yourself in the shoes of your potential customers. What would they search for on Google, Bing, or Yelp that would bring them to your website? What questions or challenges might they have that you can help address? Some ideas that come to mind are "resume examples," "how to get a promotion," or "how to get a job in new york city." As you can see, keywords can be words, phrases, sentences, and partial sentences — it's basically anything someone might type into a search engine. Brainstorm a list of 40-50 keywords and phrases to start.
Once you have these keywords, it's time to start creating content for your website based on those keywords to increase the likelihood of potential customers finding you on search. Which brings me to Step 2 …

Step 2: Set up a blog and start writing blog posts.
Once you've researched the keywords that are important to your audience, create a blog and write blog posts based on those keywords. This will help you increase the odds of getting found on search engines because each new post you create gives you another opportunity to be indexed. For your audience, blog post topics could be "8 Myths About Cover Letters Every College Graduate Should Know" or "How To Get Into Finance Without a Business Degree." (Get blog post topic ideas from our Blog Topic Generator.)
Over time, your blog will drive traffic to your website, help you convert traffic into leads (if you've placed calls-to-action on your blog posts — which you should do), help you establish authority, and drive long-term business results. (You can learn more about the benefits of business blogging here.)
But slow and steady wins the race — and blogging does require patience. Don't expect to see success overnight since you're just starting out. Did you know that HubSpot started blogging before we even had a product? It took 12 to 18 months for us to see results from our blogging efforts, but it's definitely paid off in the long term. As long as you blog consistently (at least twice per week, but the more the better), you will see that long-term payout.
When you're ready to set up your blog, this post on how to set up business blogs will be a great resource.
Step 3: Use PPC advertising as a supplement.
Notice that PPC (pay-per-click) advertising is #3 on the list, not #1. No matter how big your budget is, you should focus on content creation and SEO first, and then start using PPC to amplify those efforts. PPC will help you much get quicker returns on your blogging efforts, but those quick returns cost money and you have to keep paying for them to keep seeing the returns (unlike blogging itself, where your finished posts keep working for you over time).
But a little PPC is good for getting some traffic to your website and blog right away when no one really knows who you are — it might even help you rank a little bit faster on search engines.
To create your PPC advertising plan, follow the five steps in our introductory guide to PPC for startup marketers. When you're ready to make PPC ads, check out this post on how to make PPC ads people will actually click on.
Step 4: Use social media as a distribution channel.
Working on your social media strategy is the next step, and it looks like you've already created those accounts. The first question you should ask yourself is, which social networking sites do your potential customers spend time? If you want to market to college students or recent college graduates, you might spend more time on Facebook, Instagram, and Twitter. If you want to market to older professionals with 10+ years experience, you should focus on LinkedIn and Twitter first.
Once you've picked two or three channels to focus your social media marketing efforts, optimize those profiles. Include a short bio and a link in your profile, find influencers and follow and engage with them, reply to other users, and start sharing that awesome content you created in step two. Do not buy random followers or Likes! It won't help your business and it's a waste of time. Your social media accounts are only valuable if your followers are actually interested in you.
Finally, don't make the common startup mistake of promoting your consulting service too much. Remember, people don't know about your product or service at this point — but they do have career problems they want to solve. Offer what people are interested in, and they're more likely to click on and engage with your posts. The 80/20 rule is a great way start: 80% of the content you post to social media should be helpful and valuable to your audience, and 20% can be self-promotional.
One last word of wisdom: Move and learn quickly. Experiment a lot — do more of what works, and eliminate what doesn't. Remember that everything can change on a dime.
Best of luck with your business!
Sincerely,

Got a specific question about inbound you'd like answered? Submit it here. You may be featured in a future blog post (complete with your special pen name, of course).