When every new knick-knack on the block is labeled "disruptive" within an hour of its launch, how do we know if something actually breaks new ground?
The fitness industry is a perfect case study for real innovation. Estimated to be the next trillion dollar market, it's proof that people are more than willing to shell out for pricey equipment, clothing, apps, and tech to improve their workouts and health. But even among constant giants such as Nike and Weight Watchers, people are always looking for the next big thing to emerge.
These six little-known fitness brands are each redefining the fitness space with their business models and advertising tactics. Their ability to carve out lucrative niches in a crowded market is impressive, and any business looking to re-vamp their image should take note.
6 Innovative Fitness Brands
1) Peloton
Using tech to revitalize studio fitness.
This tech-driven cycling startup offers fitness aficionados and amateurs alike an at-home alternative to SoulCycle's studio classes. Cycling workouts are streamed live from the company's New York studio, and anyone with Peloton's touch screen-equipped stationary bike can tune into the action.
While the adrenaline rush is surely a powerful lure for riders to keep on peddling through multiple classes, the brand wants to make the social element addictive. Currently, users can follow each other's remote workout activity streams and share their progress on Facebook. But they want to take it a step further. The company's Vice President of Community Jayvee Nava has been working to cultivate a sustainable community on Facebook, Pinterest, and YouTube to get Peloton's 12,000 riders more socially invested. "The group fitness experience needs people to feel that community part," Nava explained to Fast Company.
It seems to be working so far. Peloton has developed an undeniable cult following, and its new CMO Lori Marcus thinks the biggest challenge for the company has been clearly communicating to the public what they actually do. To remedy this, Peloton recently enlisted the help of agency Partners & Spade to spin up a "comprehensive brand refresh" in the form of print and TV ads aimed at educating consumers.
2) Outdoor Voices
Changing the fitness narrative.
This indie fitness apparel brand is poised to dethrone long-reigning powerhouse Lululemon as the dominant force in the $100 billion athleisure space. Founded by a 27-year old graduate of Parsons The New School for Design, Outdoor Voices sets itself apart in a crowded market by focusing on accessibility above all else. While other fitness brands preach a credo of high-performance workouts and no excuses, Outdoor Voices stands behind a much more attainable motto: "Doing things is better than not doing things."
The casual, authentic approach to working out shines through in its advertising. The brand's first campaign was a simple Instagram hashtag — #DoingThings — that invited users to highlight the ways that physical activity is naturally woven into their day-to-day routines. The campaign's approachable sentiment resonated with young consumers and led ultimately to the inaugural Doing Things Day, a fundraiser to fight childhood obesity.
The brand's blog also manages to champion the accessible side of fitness, featuring posts about light and social exercise ideas, such as how to play frisbee and stretches you can do at the office.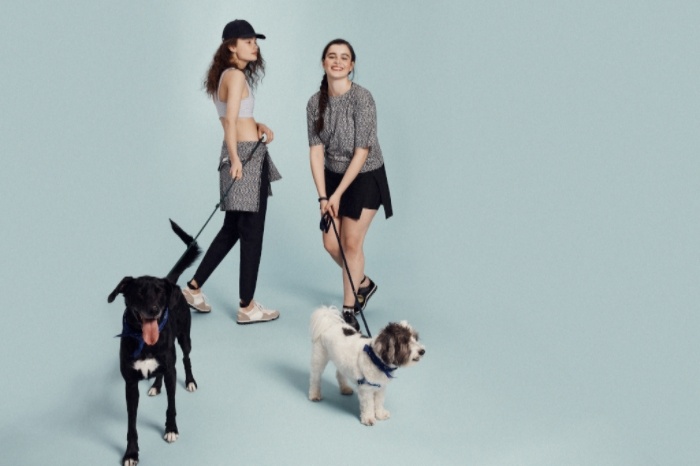 Image Credit: Outdoor Voices
3) Bandier
Making brick-and-mortar worth the trip.
A three-story, 10,000-square-foot space might seem a bit ambitious for a startup fitness apparel boutique, but there's a catch: Bandier only uses one floor to actually sell its high-end merchandise. The rest of the multi-use space is devoted to lounges, music, events, and food. The top floor even hosts a fitness studio, offering a wide selection of playfully named classes — like "New York Pilates" and "Yoga for Bad People."
Converting traditional brick-and-mortar spaces into multi-purpose venues for social events and other activities is a growing trend among retailers. When people have the option to shop online, it takes considerably more effort to get them off the couch and through the doors of a flagship store.
But Bandier's expansion into a hybrid retail and event space is unique for its industry. The athletic apparel space might be a booming market, but the vast majority of brands are adhering to a digital-first ecommerce business model, avoiding permanent storefronts altogether. "We don't have competition in the format that we are in," said Neil Boyarsky, one of the stores's founding partners. "Other companies sell activewear online, but they don't have brick and mortar."
The risky business model has paid off. Bandier already has multiple locations in the U.S. and is looking to expand into Europe.
Image Credit: Racked NY
4) Kit and Ace
Redefining fitness apparel for

luxury consumers

.
Founded by the former head designer of Lululemon and her son, Kit and Ace has carved out a uncommon niche for itself as the athleisure brand for the luxury market. While other fitness brands are immediately recognizable for their flashy patterns and neon color schemes, Kit and Ace has positioned itself as the grown-up antidote. Its subdued palette and classic tailoring is more reminiscent of Banana Republic than Nike, enabling the brand to comfortably straddle the line between fashion week and yoga class.
So what actually makes its clothing athletic apparel? It's all in the materials. Namely, its signature "technical cashmere": a stretchy fabric made from synthetic materials and a hint of real cashmere sourced from mountain goats.
More important than the fabric itself — which is flying off the shelves — is the way they market it. Cashmere isn't the main component of "technical cashmere", but adding it to the name certainly screams high-end. And its not stopping at that; the brand is perfecting a stretchy athletic silk-based material as well: "technical silk".
By giving an athletic update to traditional luxury fabrics, Kit and Ace has been able to break into the upper echelons of the fashion universe — a place no athleisure brand has been before.
Image Credit: Christopher Deagle
5) EVEN Hotels
A

dapting to a powerful demographic.
IGH hotel group saw a gap in the travel market for health and fitness-centric hotels, and it decided to fill it. EVEN Hotels presents travelers with an appealing alternative to the typical gluttonous breakfast buffets and crowded leisure pools of most hotel chains. Health-conscious travelers can expect world-class fitness centers, standing work stations, high-end spas, and a carefully curated menu of healthy food options — complete with small dessert portions (because even health nuts enjoy some balance).
As part of its marketing plan to make a big impression on the wellness industry, the brand launched Wellwellwell by EVEN Hotels, a hub for articles on how to remain healthy while traveling. The initiative has allowed EVEN Hotels to capture thought leadership real estate in the coveted health junkie space. Articles such as The Best Restaurants for Vegan Travelers and Secrets to Staying Fit During Wedding Season deeply resonate with its target demographic.
EVEN Hotels is a perfect example of how the fitness craze doesn't stop at the gym or even with gym clothes. The wellness industry commands significant consumer power, and other industries can benefit from catering to the health-conscious.
Image Credit: EVEN Hotels
6) Lark
Developing an accessible and personal approach to wellness.
What if you could carry a health coach around in your pocket? Lark is just that: an app designed to monitor your movement, ask about your meals, and help you be healthier through friendly, natural conversations. For example, if you tell Lark that you ate "bacon and eggs" for breakfast, the bot will kindly remind you, "That's the third time this week you've had bacon," and offer up some better alternatives. It's all about changing behavior patterns. "The interface of empathetic coaching and chatting, having a conversation with people, is a big part of that," explained CEO and co-founder Julia Hu.
The App Store has no shortage of fitness apps, so what really sets Lark apart? It takes a more holistic approach to health, forgoing the tedious calorie and mile trackers of other fitness apps in favor of personalized recommendations and positive reinforcement. Lark knows when you've been stationary for too long and encourages you to get up and go for a quick walk. It monitors your sleep patterns and knows when you might need to clock in a few more hours. Most impressively, it acknowledges when you make progress, cheering you on for the extra mile or when you reach for an apple instead of chips.
Lark's human touch comes from real health coaches. "We basically cloned tens of thousands of conversations and interventions that these health experts knew would be effective in helping people get more active and eat healthier and sleep better," Hu said.
Image Credit: Lark
Featured image credit: Outdoor Voices