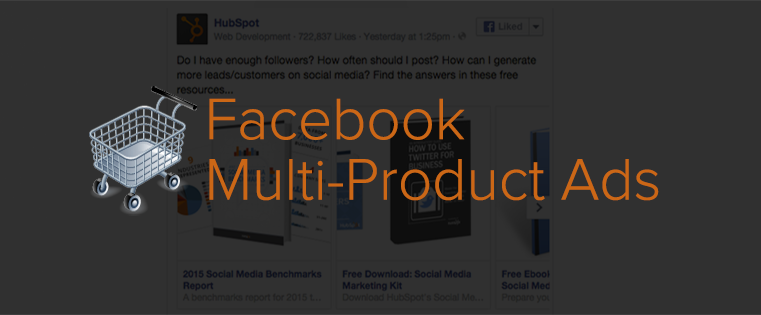 In June of last year, Facebook announced a new ad format called "multi-product ads" that caught the attention of many Facebook advertisers. This new format was designed to do three things: generate more website visitors, drive better conversion rates, and improve remarketing results.
Quick movers were able to make the most of the new ad format using the Facebook Ads API, but others had to wait for Facebook to fully incorporate the format into its advertising product. Last week, Facebook started to do just that, making multi-product ads easily available to some advertisers in the Power Editor.
If you're one of those lucky advertisers or simply want to be prepared for when it gets rolled out to your ad interface, keep on reading. We'll walk you through exactly what multi-product ads are, how to set them up, and how you make use them in your marketing.
What Are Multi-Product Ads?
This new ad format allows up to three items in the same ad unit — which is referred to as a "carousel." This carousel appears below a typical-looking status update, and each item within the carousel has its own title, description, and destination link.
This solution may sound as if it's specifically for ecommerce, but Facebook advertising evangelist Jon Loomer has used it to promote his Facebook advertising blog, and we're also trialing it for our ebooks. Here's an example of what it looks like:
How Do You Create Multi-Product Ads?
Want to set up your very own multi-product ad? Follow these steps.
2) Create a basic ad the way you normally would, choosing "Clicks to website" or "Website conversions" as the campaign objective.
3) In the "Create Ad" section, select "Multiple images and links in one ad."
Note: if you don't see this option, you have not been granted access to this ad unit yet.
4) Complete all fields for each of the three ads you'd like to include in your carousel, including a destination URL, headline, product description, and an image.
Tip: Click on the numbered panels to navigate between items.
5) If you want Facebook to determine the best order to show your ads in, check "Automatically select and order images and links."
This ensures that the item that is receiving most engagement always shows first.
6) Under "See More URL" enter the destination URL for final panel in your ad.
For example, if you were displaying ebooks on the topic of social media, your "See More URL" could be a page displaying all your social media-related ebooks.
7) Under "See More Display URL," enter the See More URL you want to show in the ad.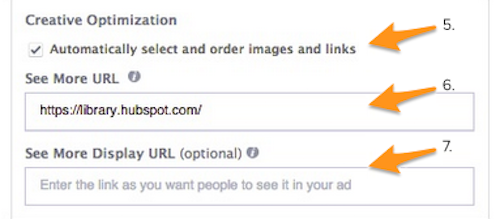 8) If you are using any custom tracking tags or parameters, enter those in the "Tracking" section.
9) Click "Upload Changes" on the top navigation to save your new ad.
How Can You Make the Most of Multi-Product Ads?
Early results and case studies have suggested that Multi-Product Ads are leading to above-average clickthrough rates and below average cost per click. For example, ecommerce company Nomorerack used Multi-Product Ads and saw its clickthrough rates increase as much as 42% and its cost per acquisition decrease between 42% and 45%. 
But how can you make the most of this new ad format? How can you use multi-product ads to generate leads for your business?
There are a number of options when it comes to retargeting using multi-product ads. Here are a two get you started:
Combine multi-product ads with Custom Audiences. This allows you to do a number of things, including retargeting to people who didn't make a purchase with similar products to what they showed interest in.
Showcase your top three best sellers. This could increase your chances of getting clickthroughs. Try targeting these at Lookalike Audiences of people who have converted or simply people who fall within the parameters of your target customer base.
Remember, the early bird catches the worm when it comes to new ad units. Don't wait for other people to try and test them — do it yourself!
Stay tuned: Yesterday Facebook also launched dynamic product ads, which will allow advertisers to upload entire product catalogues to Facebook. In turn, Facebook will then generate ads for the advertisers (in the multi-product ad format), much like Google's Product Listing Ads. Facebook will also recognise when products are out of stock, and stop showing ads. These ad units have not been rolled out in Power Editor just yet, but they sure do look like a game-changer for retailers.
Have you tried these new ad units yet? In the comments below, let us know how they are working for you.