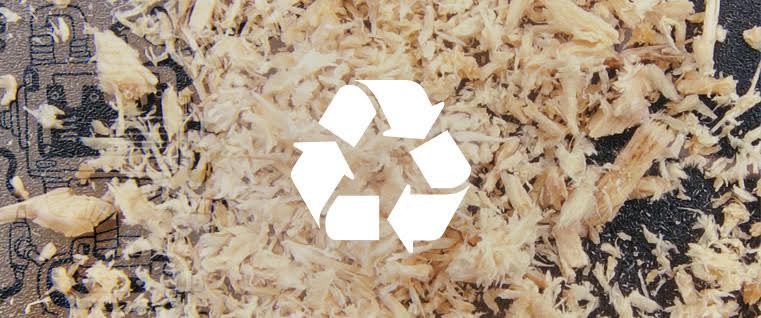 As a Yale Entrepreneurial Institute Venture Mentor, I have the privilege of working with some of the world's most creative and inspiring future business leaders.
Currently, I'm mentoring a startup called Tuckerman & Co — a mission-driven clothing brand hell-bent on creating environmentally sustainable clothing to address the abundance of unnecessary waste in the textiles industry. And as is often the case in mentoring, I am learning as much, if not more, from them as they are from me.
As a result of this relationship, I've begun to critically assess wasted value at my creative agency. In doing so, I've realized that many of our endeavors have brought about leftovers that could be treated as valuable byproducts, rather than waste.
Enter the "Sawdust Principle" — a new concept aimed at finding value in the byproducts of each of your efforts.
What's the Sawdust Principle?
Lumberyards faced with increasing international competition and rising energy costs are able to stay profitable by monetizing their biggest byproduct — sawdust. Essentially, sawdust can be sold for any number of uses from farm bedding to particle board to mulch.
For businesses, there's a lesson to be learned here: despite hyper-competitive markets, businesses should be focused on maximizing value from their current output, regardless of what product or service they offer.
To do so, you'll need to start by narrowing your focus and honing in on what it is that your business actually does. Are you a restaurant? A software design shop? A photographer? No matter what your line of work, there are most certainly byproducts that you might be overlooking.
10 Tips for Maximizing Your Business' Output
1) Leverage Big Data
These days, we work in an era of "big data", where an unfathomable amount of information is collected, stored, and exchanged. If your business has access to a large database of information, consider what you can do to leverage this insight to help others.
Something as simple as remixing and anonymizing your latest survey results or data-points into a shareable infographic serves as a great way to provide your audience with something valuable that they can learn from.
If you think about it, entire global businesses — Experian, Nielsen, Gartner, Forrester — have made on aggregating data.
2) Consider Open Sourcing
Got code?
Consider releasing components of your code as open source to help out the surrounding tech community. (Open sourcing your software or code means making it available to the public for modification or improvement.)
At Digital Surgeons, open source projects like the now-retired Gumby Framework and the new framework Toggles and Switches have been a source of pride for our developers. By helping the tech community we have gotten back far more then we have given. In fact, as a result, we've landed consulting contracts, press, and attracted great talent from all over the world.
3) Turn Unused Pixels Into Profit
Whether you're an independent photographer or videographer or your business has an in-house team, there are a ton of opportunities for you to make the most of your work.
Rather than let your unused b-roll or photos collect dust in an untouched folder on your desktop, consider selling them to a stock photography website like Getty, Istock, or Dissolve.
(You could even take a page out of HubSpot's book and give them away for free! Click here to gain access to the free stock photos you've been searching for.)
4) Transcribe Your Video Content
Using video services like Wistia, it's easy to transform video content into SEO-friendly transcripts that help drive traffic to your site. For entrepreneurs who prefer being on camera instead of creating articles, this can be a quick ticket to win.
Moz's Whiteboard Friday does this to great effect by transcribing Rand Fishkin's instructional videos into text displayed right below the video.
5) Adjust Your Distribution Strategy
The digital landscape offers more channels than ever to publish and distribute your content.
This means that you can take a single blog article and adapt it to fit appropriately across a handful of different mediums. Whether you pull quotes to be used as tweets, share images from the article on Instagram, or rework the text into a video script, there are a ton of opportunities to squeeze more traffic and leads out of the content you're already creating.
6) Think Like a Maker
Have you joined the "maker movement" yet?
According to Adweek, "The maker movement, as we know, is the umbrella term for independent inventors, designers and tinkerers. Makers tap into an American admiration for self-reliance and combine that with open-source learning, contemporary design, and powerful personal technology like 3D printers."
Essentially, the movement is founded on the belief that individuals have the right to be more than just consumers. So if you find that you have unused or obsolete materials around your office — old desks, computers, projectors — don't just let them sit there. By finding unique ways to evolve the products you already own, you could come up with a new solution, resource, or potential business venture.
7) Maximize Your Office Space
If you have extra office space that's going to waste, you may be overlooking a source of revenue.
To make the most use of what you've got, consider using your office as an event space. Whether you host your own events, or invite friends or partners to use your space for a project or event after hours, there are plenty of opportunities to leverage your office for more than just your typical day-to-day.
Another interesting way to maximize your office space is to rent out furniture that you're currently not using. Whether it be a couple of desks or chairs that aren't occupied or a piece of tech equipment that you rarely use, this is a simple way to drive some extra income.
8) Share Your Expertise
Have a great process at work that has reshaped your business? Share it.
Consider packing any subject matter expertise you have into an ebook that can be used to educate potential customers in exchange for their contact information.
Hate writing? No problem. You can easily create a video on YouTube for the online learning community for creators, Skillshare.
Not very video savvy? Still not a problem. Consider repurposing your success stories as case studies on Growthhackers or Inbound.org to establish yourself as a thought leader among your peers.
Even something as simple as an internal presentation can be transformed into SlideShare content that could be of use to those outside your office's four walls. (I first presented my 5 Steps to Creative Problem Solving at a company lunch and learn … then it went viral on SlideShare and resulted in six figures of direct business for Digital Surgeons.)
9) Treat Your Evangelists Well
Have extra inventory on your hands?
Whether it be something as simple as mug or a t-shirt, sending your loyal customers a small thank you for their dedication demonstrates that you value their business.
Not only does this type of "giving back" behavior works to create a great customer experience, but it also has the potential to boost your NPS (Net Promoter Score).
10) Reduce, Reuse, and Recycle
Come the end of the week, many office refrigerators start to look (and smell) like some sort of starnge science experiment as a result of uneaten snacks and lunches. While the simple solution would be to toss them and move on, consider the benefits of creating a compost pile that can be used to add nutrients to the soil of an office garden.
And if you find yourself with fresh leftover catered food, donate it to a homeless shelter. Knowing that you're helping out the surrounding community can do wonders for team morale.
As for stray paper boxes from shipments, consider recycling them into furniture for a fun team building project.
Good luck finding your sawdust! Let us know in the comment section below if you try out any of these tips in your office.