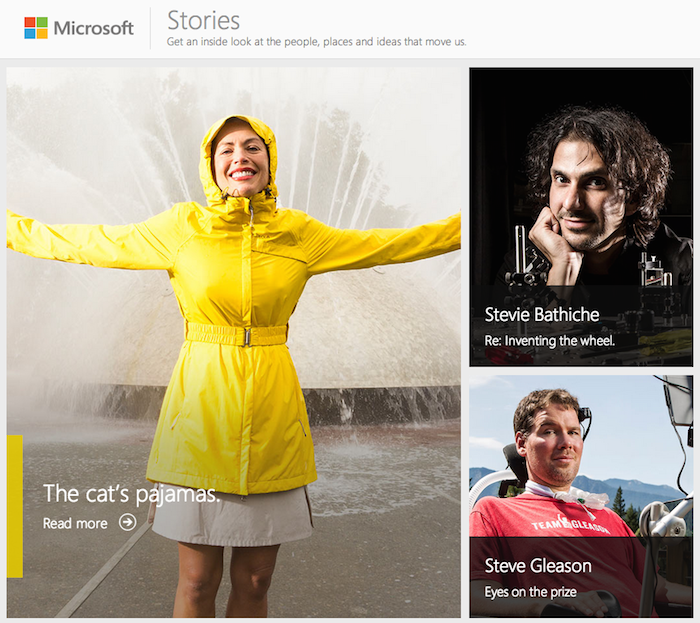 Crushes are weird sometimes. Even though lots of people tend to have a "type," sometimes a crush just doesn't fit that mold. It's hard to explain: You're just drawn to that other person, regardless of all the times you've spent fixating on your "type."
Content crushes are no different. Last month, we published a post on the top company blogs HubSpot's content was crushin' on, and one addition to the list completely surprised me: Microsoft's Stories.
Somehow, this relatively geeky, old-school company was creating beautiful, interactive, and inspiring branded content. Most recently, they published an interactive, create-your-own-adventure story to announce the release of a new Xbox video game — and it completely blew away my team.
Luckily, with content crushes, it's a little easier to get to the bottom of things. We had the pleasure of sitting down with the folks who run Microsoft Stories to learn about how their team was formed, what their days are like, what they think about when developing and measuring quality content, and what they're hoping to do in the future for Microsoft.
How Microsoft Stories Began
Microsoft Stories is only one part of Microsoft's editorial team. The team of five spends their days writing long-form, interactive, and beautiful pieces of content. Each story is hand-crafted with custom photography, video, and code to build the entire story format.
A little over a year ago, the team didn't even exist — they were all part of the larger Microsoft News team. But then one man did something amazing at Microsoft, and the first Stories piece was born.
That first story was "88 Acres" published in 2013. The story's protagonist, a man named Darrell Smith who runs Microsoft's facilities, wasn't your typical feature piece subject — but what he was doing was fascinating: using software to control and monitor the entire Microsoft campus, which spans over 8 million square feet, without spending a fortune.
Normally, Microsoft would pitch this story to journalists to cover — which is what they did. But they weren't getting any bites.
According to Steve Wiens, Managing Editor for Microsoft Stories, Microsoft decide to take matters into their own hands. "We were really taken by this story — especially because Darrell was such a mild mannered guy," he said. "We had gone out and pitched this story a few times to a few different outlets. Ultimately, we decided the story was so great that we wanted to tell it ourselves."
Inspired by The New York Times piece "Snowfall," the Microsoft team decided to use a long-form feature format to tell Darrell's story — and it was a huge hit, not only with the press who had ignored them before, but with the rest of the team.
"It sparked an awareness in us that we have a way to tell stories about Microsoft from the inside that is, in some ways, more compelling than the folks on the outside," Wiens says. "We have day-to-day access to really incredible folks like Darrell who have amazing stories to tell. We have the ability to work with them to show sides of Microsoft that folks don't always get to see."
Since that first story, they've stopped "begging, borrowing, and stealing" from internal resources to publish content about the people inside Microsoft, and built out their team to include:
Since their team is so small, they've continued to be nimble. Though they've now gotten more internal buy-in and developed partnerships with external shops to get pieces ready to publish, the whole team gets their hands dirty in every stage of the production process. Now, let's get into what that process actually looks like.
What Goes Into a Microsoft Story?
The Microsoft Stories team doesn't think of themselves as creating content for a typical corporate blog. Instead, they compare Stories to digital magazines like Wired — and in the magazine world, editorial processes are much different than those for your typical corporate blog.
Unlike a company blog, Microsoft Stories has long lead times on posts — typically four to eight weeks from the concepting stage to the time they hit "publish." For the in-depth, interactive pieces, it can go even longer than that. For example, "The Keys to the Kingdom," a story inspired by the Microsoft app Project Spark, was supposed to take three or four months — but it ended up taking a full six because the Project Spark product launch got delayed.
Warnick tells us this pace plays a significant role in their ability to produce the high quality content they want to publish. "I've been a blogger before, too, where something gets a quick, second glance before going into the universe," she says. "Microsoft's editorial process is definitely more hand-crafted than that because we are trying to create something that is different, excellent, and has a really great shelf life."
Because of longer lead times on stories, the team can focus on finding that perfect person to interview at Microsoft. Yep, that's right: The software company doesn't want to spend time talking about their shiny new products.
"Product makes a pretty crappy story," says Tamblyn. "By leading with the story behind the product, you get a far more interesting narrative that people can wrap their arms around."
Often, these stories involve the people who created the product. That's what happened with the Project Spark piece. Warnick spent an hour with the team who created the product way back in March to discuss their vision for the game. "That meeting sent me spinning," said Warnick. "I thought about it the whole way home and for the next few weeks." The meeting immediately reminded her of a choose-your-own-adventure books she read as a kid — so she set out to tell the story through that format. Six months later, "The Keys to the Kingdom" became a reality.
The team also feature stories of people who have been affected by a Microsoft product. Wiens tells me of one of his favorite stories that falls in this camp: a piece about former Saints player, Steve Gleason. Steve has ALS and uses Microsoft products to guide his wheelchair. "It's incredible, inspiring, and humble to see someone using our technology in a way like that," says Wiens. "For us, it's about what the technology enables someone to do, much more than why it's a marvel in its own right."
When they're building these stories about interesting people inside and outside Microsoft, they have two rules about length:
1) There is no set length; just make the story great.
"This means that we can write a 300-word piece or something that is 7,000 words," says Tamblyn. "It all starts with great content. If the content isn't great, no one is going to read it."
2) Use the "Two Minute Rule" to make longer stories accessible.
Tamblyn describes this rule as, "For every two minutes of reading time, you need to have something in that story that helps immerse the reader in that story, rather than distract. It's not a trick. I think anyone can read text for about two minutes before your mind starts to wander. If there's a way to get you further immersed in the story, that's a good thing."
You'll notice that there isn't a third rule: Drive sales for new products and releases. Tamblyn describes "The Keys to the Kingdom" as the first piece with a direct product tie-in — the story entirely about the game and also featured a call-to-action at the end that links to the game's download page.
"That's probably one of the first long-form stories where there's been a very, very clear call-to-action at the end of the story to go and download something," he says. "To a certain extent, it's an approach we typically don't do, because we want to make sure that first and foremost we're telling a good story. It's not like we're trying to deceive or anything like that, but we want to make sure the story can stand on its own."
What made Project Spark different? Tamblyn describes the CTA as a logical progression of the story. "It almost felt logical that you'd say, 'Hey, I want to go get a look at this thing,' after reading that story," he says. "It was much more authentic to take this approach with this story, but we haven't done it a lot in the past. Our primary goal with this piece was to make sure people had a very clear understand of what Project Spark was. A fringe benefit is if someone goes and downloads — that's fantastic, but it's absolutely not our primary goal."
For many businesses, not having leads and revenue in mind when creating content seems outlandish — Microsoft judges success a little differently.
What Makes a Microsoft Story Successful?
While most business bloggers would look to views, leads, customers, and generated revenue to assess whether they've created an awesome piece of content, Microsoft doesn't care so much for those metrics. Yes — they do track lots of metrics like views and engagement, but that's not the only thing they use to define a piece as "good."
So what do they use then? Well, it's all about their readers — and their readers' readers.
Wiens says, "We're very passionate about telling great stories. I think we have a great sense of whether we're telling a great story, divorced of any of the usual metrics that the web runs on (for better or for worse). So we ask ourselves: Did we tell a great story? Did we get across the heart of this? Did we give people something interesting to experience? Because that's what we're trying to do: Take people inside and let people experience these stories they wouldn't otherwise get to experience."
Harkening back to the original reason they started writing Stories, Tamblyn also uses press pick-ups as a supplementary guide to tell if stories are great. "Seeing your story is that kind of a success metric," he says to me. "It's the people who ultimately write about the stories we've created, it feels like a much better measure than 'How many people read this story?' or 'What was your Twitter amplification?' It's far more important that people read it and enjoy it."
Besides focusing on traditional metrics, most other corporate content teams would be obsessed with scaling their efforts. For Microsoft Stories, that's not the case.
Because they are just one part of the Microsoft content team, they can fall back on their other teammates to help them scale. The Microsoft News center and social media channels put out shorter-form content to address more traditional metrics, leaving Stories to focus on developing new, interactive, in-depth pieces of content.
"Slowly but surely, we're starting to build a number of different mediums through which we can tell stories," says Tamblyn. "It's very very similar to a digital magazine — I think that's ultimately our goal. We're not going to be the BuzzFeed. That's not the business we're in. That has it's place as well — it's very very valuable content, but it's not for us."
What the Future Looks Like
Just because they're not focused on scaling doesn't mean they don't care about experimenting and evolving their content. When asked what things they would love to do differently, Warnick says that her team would love to develop new tools for storytelling.
"We've had a lot of success with long-form narrative and that's been really fun," she says. "I think in our tinkering, we'd love to find other new and creative ways of storytelling, whether that's with video, social media, or very short written stories. I have an endless wonder for finding new ways to tell stories and capture people's imaginations. That's what I would do: venture out into the unknown."
And they've certainly tried to think on what the unknown is, and how they can get there. When asked a similar question on what they'd like to do next, Tamblyn has a (in his words) "batshit crazy" dream: appealing to all of the human senses to tell more compelling, interactive pieces.
"When I think about the stories I read when I was a child, not only do I remember the feeling of the paper I was reading the stories on, but I also remember the smell of the room that my grandparents used to tell me the story in," he says. "Any really great story — they're experiences that you remember. This is why I say it's really crazy: The more we can really use every single sense — not just sight, not just hearing, but smell and taste, too — I think we get to a place where we're doing something that's quite amazing."
Tamblyn says that he's seen this happen already in Warnick's piece on Project Spark. Warnick made an allusion to the song "Waterfall" by hip hop and R&B group TLC. Since then, hearing that song has made him remember the piece. "You have that mental model that takes you back to a particular place or time with everything you do," he says. "The more we can work out if there's a way to recreate those types of experiences so that what people remember from our stories isn't 'hey this is how it looked on a webpage,' but 'this is how this story made me feel,' the better."
To create a story like that, one idea Warnick and Tamblyn have is to do a musical. Yes, you read that correctly. While the idea may not ever come to fruition, the process to come up with the idea opens doors to other content opportunities.
"I want to make sure we take the time and the space to think of wild ass crazy stuff like that," Tamblyn says. "Now, it's not likely we're going to produce the next Cats tomorrow, but at least if we start thinking in those terms, it allows us to get to a place where we can be as creative as we possibly can."
And it seems like the team is excited to use that creative freedom to tackle new and exciting stories. "If there's any format people think can't be used to tell a story about Microsoft, I want to find a way to do it," says Warnick. "People think that cake decoration or interpretive dance or a musical can't be used to tell a Microsoft Story — I want to find a way to prove them wrong."