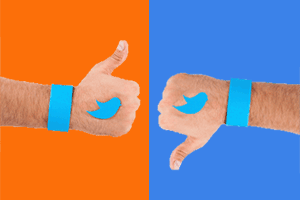 Images are crucial to making your marketing stand out, especially on Twitter. Ever since Twitter made photos automatically display in-stream, they've been helping marketers get even more results out of the 140-character social network — in fact, an A/B test we ran found that tweets with images get 55% more leads.
Though images themselves can help boost your presence, some are better than others. It's not just enough to slap any ol' image onto a tweet — you need to choose the right image.
But what does right really mean? Let's dig into it. Keep on reading to learn some essential do's and don'ts for using images on Twitter.
1)

Do

use proper Twitter image dimensions.
When you upload new images for your Twitter header image, profile picture, or tweets, there are certain dimensions you must stay within to make sure your images look great. Your header image should be 1500 pixels wide x 500 pixels tall, your profile picture should be 400 pixels x 400 pixels, and your tweet images should be 876 pixels wide x 438 pixels tall to show up properly in your Twitter timeline.
When you upload a photo you have the option to crop it to these sizes, but it is helpful if you do this in advance so nothing gets cut off. You should also keep in mind that the profile picture covers a small section of your header image, so make sure to design accordingly.
2)

Don't

lose out on the opportunity to include a picture when you link to an article.
When you use an image, it stands out in your followers' streams. Twitter users follow thousands of accounts, and only using text with links can make someone get lost. Images help change that.
You don't need an image in every tweet that you post, but if you are linking to an article, there is most likely an image that you can use to complement the link — usually an image from the article or something relating to that article.
3)

Do

use a Twitter header image that best reflects your brand.
The next time you update your Twitter header image, think about how the image you select reflects your brand. When someone lands on your Twitter profile, what will your header image say about you? It should reflect your personality and give an indication of what your company actually does.
Let's take JetBlue for example. What do you think their header image is trying to convey? To me, it shows that JetBlue isn't your typical airline. They have a fun and engaging brand (and crew). It also tells me that if I use their airline, I won't have an experience like those with any other airline. All of this conveyed just through an image!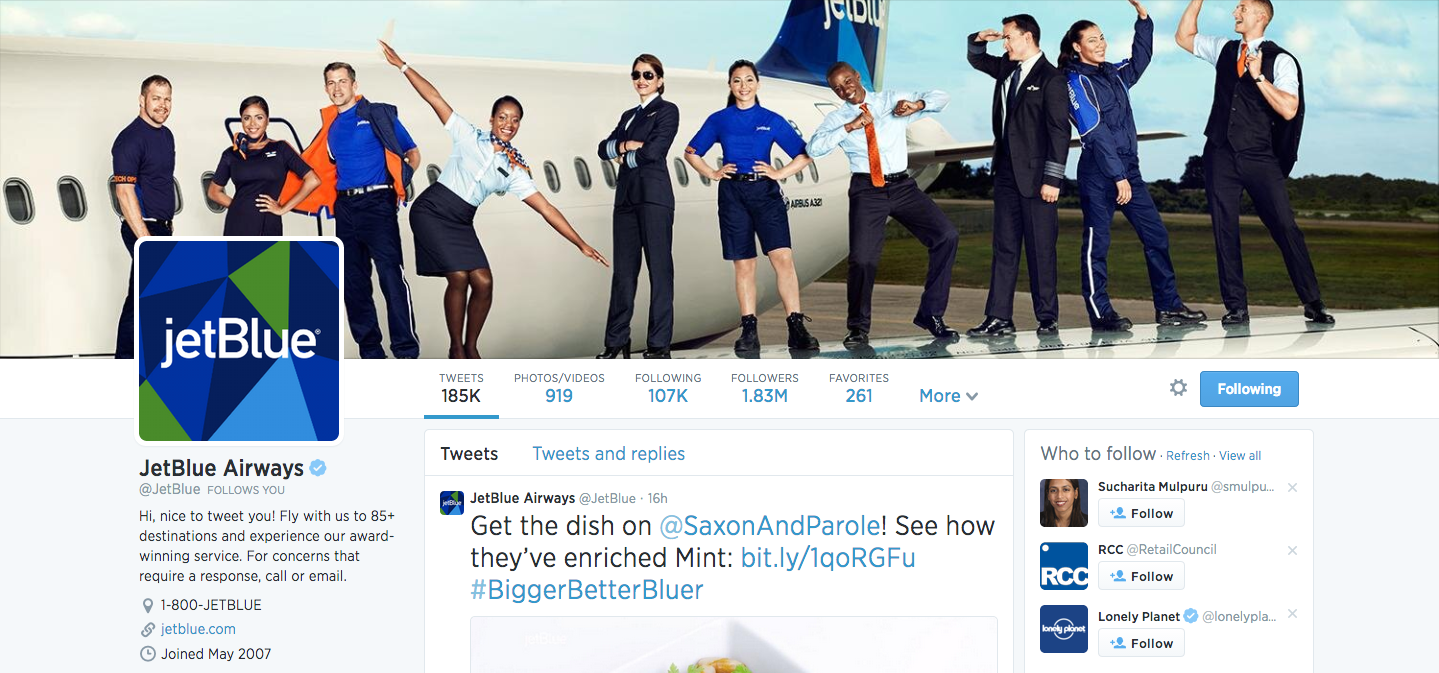 4)

Don't

push images directly from Instagram to Twitter.
When you upload a picture on Instagram, you have the option to push it to Twitter to share with all of your followers — that doesn't mean you should. A while back, Twitter stopped showing Instagram photos. Instead, Instagram photos pushed to Twitter show up in tweets as links.
The next time you take a picture on Instagram and want it to go to Twitter, take the extra time to post the picture separately so it appears as an image in your Twitter stream instead of just a link. You can also use Zapier to automatically do this. Looks like LeBron should have set up a Zap!
Just posted a photo http://t.co/lmByEY8T7Q

— LeBron James (@KingJames) July 11, 2014
5)

Do

use photo collages to upload up to 4 pictures at once.
Twitter recently came up with a new feature allowing you to add up to four pictures to your tweet in a collage. So the next time you use an image, think about whether or not your tweet could be improved by having more than one picture. It isn't always the right or necessary thing to use a your collage, but it can add some more flair to your tweet and attract more attention from your followers.
Here's an example of what a collage looks like:
14,000 already registered for the World's Largest Webinar! Save your seat: http://t.co/Nr7M6B9q2Q #WLW14 pic.twitter.com/aUAVCQcHPg

— HubSpot (@HubSpot) April 8, 2014
6)

Don't

use photos that could be interpreted as offensive.
There is a fine line between funny and offensive, and it is important for brands to not offend their followers. Before you post a joke, consider how all of your followers will react to it. Similarly, if you are posting an image relating to a current event, ask yourself the same question. How will your followers react to it?
7)

Do

use images as a way to squeeze in extra characters.
Sometimes it is hard to squeeze in everything you want to say in one tweet. But when you use images, you actually get some more real estate to add additional text to your tweet.
For example, back in January, we ran the 30-Day Blog Challenge. To promote the contest on Twitter, we tweeted pictures of advice from seasoned bloggers. If you are tweeting a contest or something else where you really want to get more words in there, consider using images to help you get there.
30-Day Blog Challenge Tip #26: Speak Visually http://t.co/PFkWHRI9aJ #blogfor30 pic.twitter.com/kILzaD9yoA

— HubSpot (@HubSpot) January 27, 2014
What other Twitter image do's and don'ts should people know?