When Facebook CEO Mark Zuckerberg testified before Congress last month, one of the biggest criticisms to follow it was the lack of preparedness among the lawmakers asking questions.
So when European Parliament president Antonio Tajani confirmed that Zuckerberg would be appearing before its Conference of Presidents, many took it as a sign that he would finally be forced to answer the challenging questions U.S. lawmakers failed to ask but the public was eager to hear.
After all, today's session took place three days before the General Data Privacy Regulation (GDPR) comes into force this Friday — a set of laws that reflect the European Union's (EU) overall stricter nature toward consumer data privacy.
Many expected this sense of urgency to appear in today's questions. When we asked 302 consumers in the UK — which will only remain a member of the EU until Brexit takes effect in March 2019 — if they thought members of European Parliament (MEPs) will be tougher on Mark Zuckerberg during his testimony than U.S. lawmakers were, 48% of respondents said "yes."
As expected, MEPs did ask more difficult questions, ranging from GDPR compliance (Zuckerberg says it will be fully compliant by May 25) to Facebook's perceived monopoly over the social media space. And the challenging remarks weren't limited to questions.
One MEP, Guy Verhofstadt, implied that Zuckerberg will be remembered as "a failed genius who created a digital monster destroying our democracies" if Facebook doesn't seriously address the recent scandals that have rocked it.
But there was a problem: The format of the session didn't allow any time for Zuckerberg to even come close to effectively answer these questions.
Here's why — and what some of those questions were.
Tough Questions, No Answers in Mark Zuckerberg's European Parliament Appearance
The Session Format
Approximately 75 minutes were allotted for today's meeting with Zuckerberg — a considerably shorter time frame than the back-to-back, five-hour hearings that were held with the U.S. Senate and House of Representatives, respectively.
And while fewer MEPs were present at today's session than there were lawmakers at last month's congressional hearings, there was no pre-determined limit on how long each could spend on remarks and questions for Zuckerberg.
But here's where the problems truly began: Each MEP asked his or her questions consecutively — which ended up accounting for roughly 68 minutes of the session's time, leaving only seven minutes for Zuckerberg to answer them, and no requirements for how to do so.
The format was poorly received from most, ranging from politicians across the globe to other members of the press. "This format sucks," tweeted Buzzfeed's Ryan Mac, alluding to the lack of time for Zuckerberg to answer some of the toughest questions posed to him. 
House of Commons Culture Committee chairman Damian Collins, meanwhile, called the format a "missed opportunity," and pointed to that as one reason for Zuckerberg's staunch resistance to appearing before members of UK Parliament (MPs).
For context, Collins issued a formal summons for Zuckerberg to appear MPs when next he travels to the UK, to which Facebook Head of Public Policy Rebecca Stimson responded with, "Mr. Zuckerberg has no plans to meet with the committee or travel to the UK at the present time."
Today's session in the EP was a missed opportunity. An hour of questions, followed by a lengthy statement from Zuckerberg, with all difficult questions dodged. The format, which was agreed by Facebook, led to no real scrutiny. It is time that he appeared in front of @CommonsCMS

— Damian Collins (@DamianCollins)
May 22, 2018
The Format's Origins
But upon the session's conclusion, some debate arose over the origin of this meeting's format. Was it typical? Was it created by MEPs? Or, did Zuckerberg request it?
That last speculation was made by one MEP's exclamation at the end of the testimony — "you asked for this format" — when Zuckerberg tried to leave. (President Tajani, meanwhile, also urged MEPs to end the session to end at that time, apparently, to prevent Zuckerberg from missing his flight.)
The origins of the format remained unclear, however, even after many inquired about it. During a press briefing that followed the testimony, two reporters asked Tajani whose idea it was.
A reporter is asking Tajani who came up with the format of today's session — was it him, or Zuckerberg? "Who insisted on this format?" Tajani said the Conference of Presidents were the ones who decided — "he's [Zuckerberg] not obliged to come"

— Amanda Zantal-Wiener (@Amanda_ZW)
May 22, 2018
Even so, Tajani remained ambiguous, suggesting that the Conference of Presidents decided on the format and pointing to the voluntary nature of Zuckerberg's appearance. Subsequent claims from MEPs countered that, including one from Verhofstadt.
Today's pre-cooked format was inappropriate & ensured #Zuckerberg could avoid our questions. I trust that written answers from Facebook will be forthcoming. If these are not accurately answered in detail, the EU competition authorities must be activated & legislation sharpened.

— Guy Verhofstadt (@guyverhofstadt)
May 22, 2018
According to The Verge's Casey Newton, a Facebook spokesperson denied any involvement from the company or Zuckerberg in the format decision, remarking, "No, the format was President Tajani's design."
Tajani defended the format during the press briefing, again emphasizing that Zuckerberg was under no obligation to make today's appearance, and suggesting that it was the most efficient way to handle questioning in a condensed time period.
"It could have been longer," he said at one point, but didn't elaborate on why it wasn't.
The Questions and (Non) Answers
One of the leading (and most crucial) questions posed to Zuckerberg today concerned the fallout from revelations that consulting and vote profiling firm Cambridge Analytica improperly obtained and compromised the personal data of 87 million Facebook users. 
Although Facebook claims it has removed 200 apps that might be guilty of the same mishandling — European People's Party chair and MEP Manfred Weber asked, "Can you guarantee to Europeans that another scandal will not take place in six … months time?"
One of the first pivotal questions to Zuckerberg: "Can you guarantee to Europeans that another scandal will not take place in six … months time?" (My guess is no, he cannot.)

— Amanda Zantal-Wiener (@Amanda_ZW)
May 22, 2018
Weber also pressed Zuckerberg on Facebook's monopolistic nature, asking if its portfolio of companies — including WhatsApp, Instagram, and Messenger — should be broken up into separate entities. In the U.S., a six-figure digital ad campaign called "Freedom from Facebook" launched on Monday in efforts to convince the Federal Trade Commission to do just that.
In response to the question regarding the potential for future data misuse, Zuckerberg — in his seven-minute window to answer — largely alluded to the actions Facebook has taken to audit any apps on its platform that had access to personal user data.
It was something of a repetition of what Facebook has said in official statements and announcements over the past two months, such as results from its inaugural Community Standards Enforcement Report and many of the new requirements it's making of advertisers.
On the topic of a possible monopoly, Zuckerberg has repeatedly said that Facebook does, in fact, have competition, citing a statistic that the average online user has eight core apps to communicate with personal networks. He floated that number to Congress last month and repeated it today, but as Bloomberg's Sarah Frier notes, the origin of that statistic is unknown.
He also gave the same stat he gave Congress, that the average person has 8 apps they use to communicate with friends and family. Neglects to mention how many of them are owned by Facebook. (Also not sure where that stat is from)

— Sarah Frier (@sarahfrier)
May 22, 2018
Verhofstadt challenged those claims today, likening them to a (hypothetical) car company that says it doesn't have a monopoly since airplanes and bikes also exist as modes of transportation.
Verhofstadt remains one of Zuckerberg's most vocal opponents and was one of the first to voice his dissent of the original decision to make today's testimony a closed-door one. (It wasn't until Monday that Tajani announced the session would be live-streamed.)
"I will not attend the meeting with Mr. Zuckerberg if it's held behind closed doors," he tweeted last week. "It must be a public hearing."
He was also one of the most visibly frustrated MEPs with the outcome of today's session — particularly the vague nature of Zuckerberg's answers and the abbreviated amount of time he spent answering them. At one point, Zuckerberg seemed to escape from having to verbally respond to the questions any longer, saying that he wanted to be cognizant of the allotted time — which Tajani eventually acquiesced.
But he wasn't alone in his outrage, with MEP Philippe Lamberts telling Zuckerberg at the session's conclusion, "I asked you six yes-and-no questions. I got not a single answer."
"And of course, well, you asked for this format," he continued, "for a reason." 
What Happens Next
The combination of the difficult nature of these questions and the format used by Congress could create a force to be reckoned with: a situation where Mark Zuckerberg cannot selectively choose which questions to answer, and the officials asking them are prepared and well-versed in the crucial issues concerning Facebook.
And as Collins suggested, that's exactly what would happen were Zuckerberg to appear before UK Parliament, and is likely the reason for the resistance to doing so. But the public demand is there, too, despite the refusal — for instance, here's what 302 UK consumers said when we asked them to weigh in.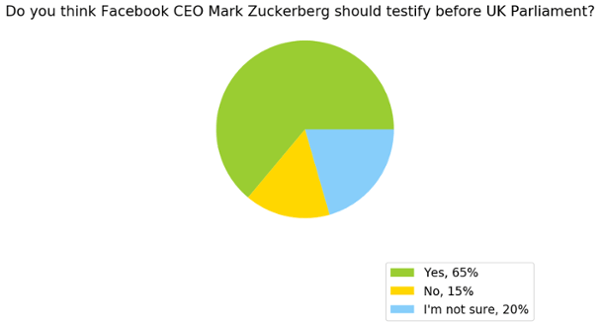 Zuckerberg verbally committed to following up on questions — those from Lamberts, in particular, after his closing remarks. He also noted that "someone" would appear again to more technically answer questions, though that is likely not to be Zuckerberg himself.
Tajani confirmed this yet-to-be-scheduled secondary session with another Facebook representative during the press briefing.
While many found the outcome disappointing, some were unsurprised by it, pointing to the pattern of Facebook's appearances and public communication since the scandals around its role in election interference and personal data misuse began.
"Zuckerberg is doing these apology tours to absolutely minimize any regulation specifically focused on Facebook," says Henry Franco, HubSpot's Social Media Editor. "He knows that he might not be able to get a good word in, but as long as he can keep Facebook specifically from being regulated, it's a good outcome for him and the company."
And really, says Franco — at this point, that might be all lawmakers can or should expect.
"What outcome can MEPs, Senators, and Representatives really want here?" he asks. "They want their opinions on the subject to be heard."
Featured image credit: "Mark Zuckerberg F8 2018 Keynote" by Anthony Quintano, used under CC BY / Cropped from original