Visual content is the most powerful tool your brand can use to engage your fans on social media. It allows you to express ideas quickly and effectively, which is a valuable tactic to set your brand apart from the vast amount of written content published online every day.
So which kinds of visual content works best on social media? The best answer: a variety. Finding clever and creative ways to mix up your visual content will boost your fan interaction and help your build your brand's identity on social.
In this article, I'll show you how to create a series of visual social media posts quickly and effectively. I'll also offer a few ideas to help you get started creating inspiring and effective visual posts.
10 Ways to Mix Up Your Visual Content on Social Media
1) Optimize your designs for different social networks.
Every social platform has different preferred image dimensions for its posts. Always have these guidelines in mind when publishing visual content to different channels to ensure the images are showing up, look good, and aren't getting cut off. (Click here to learn how to craft perfect posts for Twitter, Facebook, and LinkedIn, including image dimensions.)
2) Plan visual content for every day of the week.
Posting to multiple social media platforms can be time consuming, so it's important to have a detailed plan and stick to it. Many brands ask: How often should I be posting to each platform? Although the answer to this question will vary from case to case, here are the daily post frequencies recommended by Buffer for any content type:
Twitter: 14 times per day.
Facebook: Twice per day.
LinkedIn: Once per day.
Google+: Once per day.
But your Fans and followers are 44% more likely to engage with content on social media that contains pictures, so be sure you focus a chunk of your effort creating visual content like designs and photographs for these posts.
3) Use consistent design templates.
Templates are a clever design solution and a huge time saver. Create a primary design that you want to use as a template (or download one of HubSpot's 60 free customizable templates), and then save it, use it, and reuse it to create multiple designs.
A consistent color palette is another important way to maintain consistency in your designs. Canva CEO Melanie Perkins suggests choosing two to four colors to use consistently throughout all your social posts.
4) Share quote graphics and industry tips.
Quote graphics and industry tips are great ways to add a personal touch to your social pages. They help your Fans connect with the meaning and message behind your brand — not just your product. Here are two examples from Dove's Facebook Page:
Fans love to share and tag their friends in these kinds of posts, so they can help boost user engagement. Note how the positioning of Dove's logo is consistent across both Facebook posts above the fonts and colors are also similar. As well as being great visual content, this is also a nice example of consistent branding.
5) Use visual content to link to your blog.
Blogs are a valuable tool to build your brand's public profile and make your company more accessible. But good content needs to be shared, and social media is the fastest bridge to get your fans there. Use visual content as a hook for your blog. Lululemon Athletica does this consistently on its Twitter page:
What to eat after your workout? How about this Butterfinger Smoothie Bowl: http://t.co/HARXGiUi2T pic.twitter.com/MEQKZub8HJ

— lululemon athletica (@lululemon)
December 6, 2014
In this example, a text overlay has been placed over an image from within the post to create on original design. This is a quick and easy way to repurpose your visual content.
6) Present data using infographics.
Infographics are a powerful addition to your visual content strategy – did you know that publishers that use infographics grow in traffic 12% more than those who don't? Use infographics to teach your readers insights about their interests, industry, or to track the work that your brand is doing. Here's an example from Fairtrade's Facebook Page: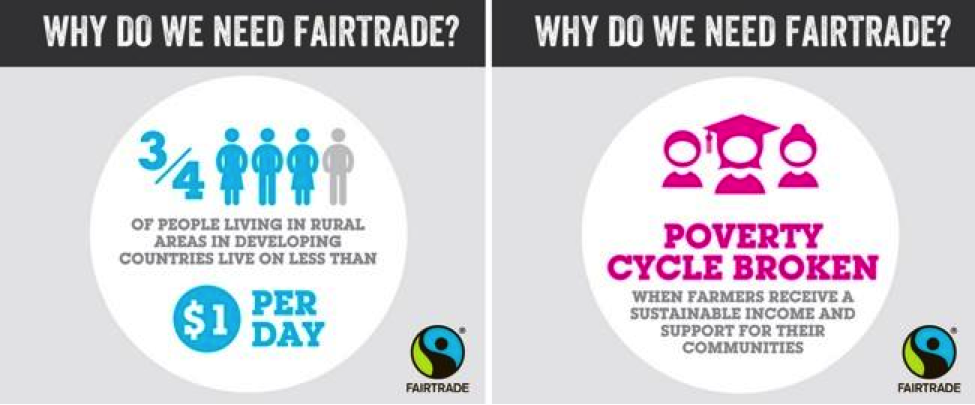 The key to great infographics is to use as little text as possible, add interesting icons and use colors to make your information stand out. (Learn more about how to create amazing infographics here.)
7) Create visual posts for hashtag campaigns.
Hashtag campaigns boost user engagement by starting a conversation around a particular topic. In order to maximise the chance of getting your content shared, create visual posts around a theme and assign that theme a hashtag. For example, check out the user engagement on two of Nike's Facebook posts for its #findgreatness campaign: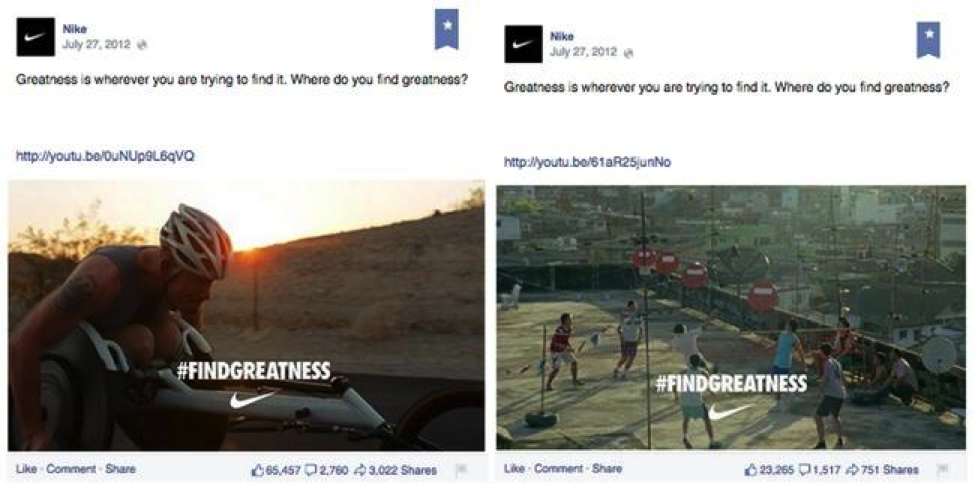 Using only a text overlay and Nike's logo, this is a great example of visual posts that are simple, yet effective. (Click here for more design layout ideas.)
8) Use a mix of photographs and designs.
We've all heard the old adage "a picture speaks a thousand words." Add photographs to your visual content strategy to break up your design posts. Ben and Jerry's uses this approach clevely on its Facebook page: They break up its design content with (rather enticing) pictures of ice cream.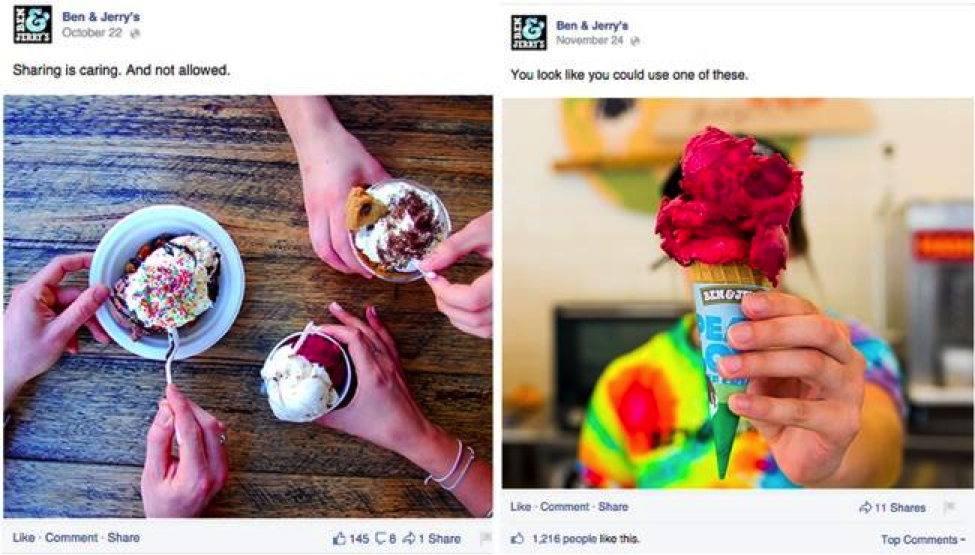 You can make your images pop by applying a photo filter. Like your other brand elements, make sure you apply the same filter consistently across all images to maintain consistency.
9) Use humour to stand out.
Humour gives your brand a human element while making your content more shareable. Humorous content may be more relevant to some brands than others, but it's sure to get a good response from your Fans when used effectively. Nutella and Pringles do a good job harnessing humour — here's an example of social posts showing their lighthearted side: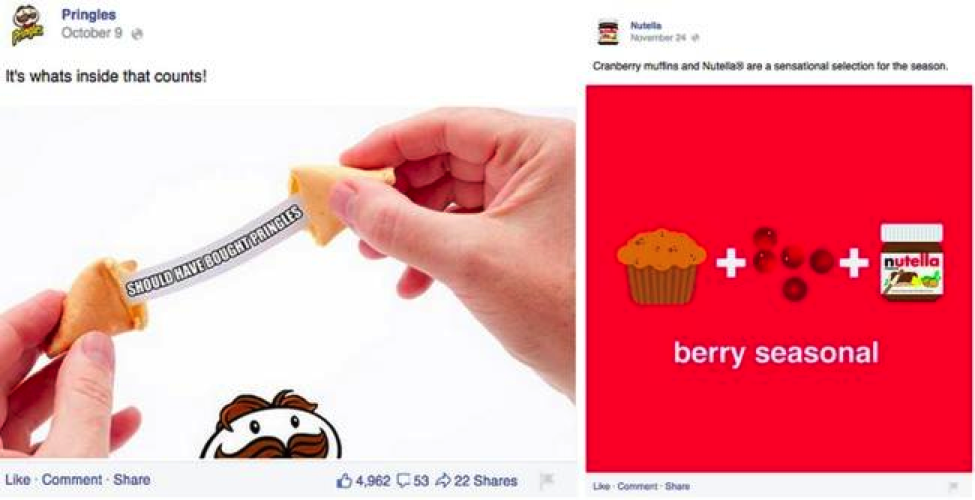 Notice how simple these visuals are — they're funny because they're simple, clear, and digestible. Avoid overcrowding humorous visual posts with text or too many graphic elements.
10) Acknowledge company milestones.
Your fans are the most important part of your journey as a brand, so a nice way to say "thank you" is to keep them in the loop with what's happening with your business. Posts marking company milestones shouldn't be as frequent as your other visual content, so make sure to treat them as something special during their design.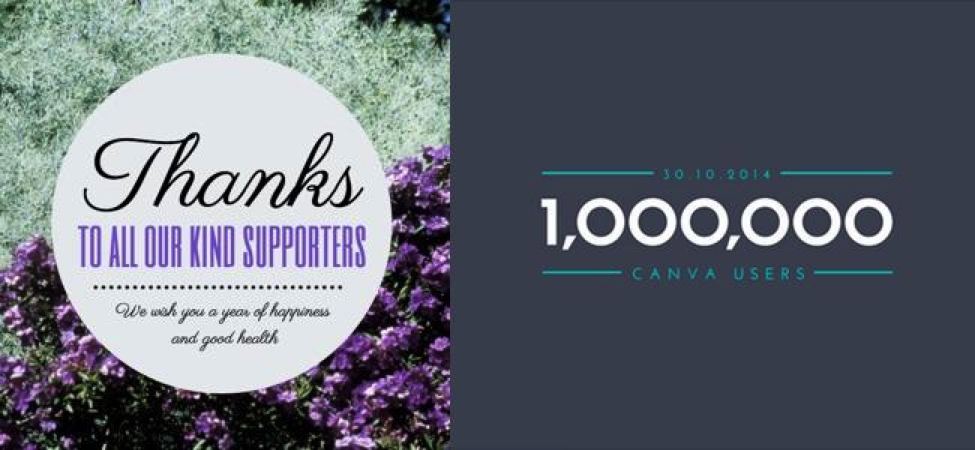 Visual content is a key player in the success of your social media campaigns, and creating a variety of visual posts will help your brand stand out and engage your fans with energy and enthusiasm. Happy designing!