Video production is not just about making videos for awareness purposes. In our experience, using video strategically can help you at every step of the marketing funnel from lead generation to revenue growth.
In order to reach these goals, savvy marketing teams want to make videos that drive conversions. Whether you're hoping someone will find your website organically, sign up for a product demo, or even purchase your product — a well strategized video can help boost your conversion rate.
A video that converts needs to be clear in its goal. What do you want this video to accomplish? What should be the next step that your viewer takes in their journey after watching your video? You want that next step to be as clear as possible, making conversion a seamless experience for your audience.
Identifying and Leveraging Conversion Opportunities
Increasing Your Video's Play Rate to Boost Conversion
With just a few simple tweaks, you can dramatically boost your videos' play rates. Small changes can make all the difference for someone watching your video — whether it be a product video or a webinar.
1) Make the Thumbnail Friendly
The video thumbnail is the first thing your audience sees when they look at your video. Think of it as your video's CEO. It represents your video to your audience, just like a CEO represents her company to the world. When putting up a video, many companies use the generic thumbnail image — usually a frame somewhere in the middle of your video. Using a custom thumbnail, however, can increase your play rate by 34%.
Your thumbnail should be something to consider before you put your video out into the wild. Each video's thumbnail is either encouraging or discouraging engagement from your audience. If you have a person in your video, choose a thumbnail that features the face of an actor. A smiling, friendly looking person will encourage a viewer to click play and see what the video is all about.

2)

Show Off Your Brand's Colors
Your brand's look and feel is crucial to brand recognition. You wouldn't want your video player to stand out in the wrong way. Adjusting your player color will bring your website or email together in a cohesive and branded way. We've found that choosing a custom player color that represents your brand increases your video's play rate by a full 19%.
You can choose to use a color that is the same as the elements on your website, landing page, or email to bring the content together and make it look more professional, influencing a higher percentage of your audience to click play and ultimately convert.
3)
Keep It Short
You've probably heard it a million times — in today's age, humans have short attention spans. We're bombarded with content, and much of that content is in video form. In order to keep your audience's engagement strong and convince them to convert, your video should stay within a certain time frame.
We've recently pulled some numbers around video length and engagement, and unsurprisingly, two minutes is the ultimate cutoff. Videos that are up to one minute long have an average 70% play rate — that's huge! For one minute, 70% of your audience is engaged, willing to stick around and learn more about the content in your video. Once your video gets just over two minutes, however, you're in hot water. Engagement drops by 5% at two minutes, and starts to freefall after that.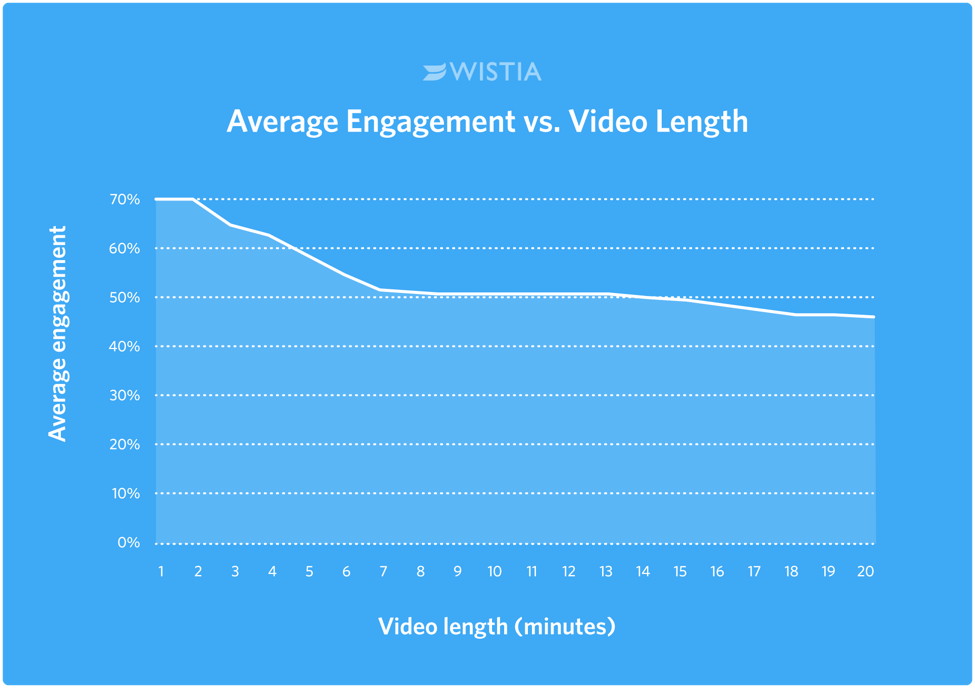 These simple changes can really make a difference in your play rate, engagement rate, and ultimately, your conversion rate. Just changing your video's thumbnail and player color can increase your play rate by 53%, making it that much more likely that your audience will convert or follow your CTA. Keeping your video under two minutes long will hold your engagement rate right where you want it — above 65%. These simple actions have a huge impact, and there's so much more you can do to increase your video's conversion rates. Let's look into some of the more in-depth ways where conversion is the main attraction.
Boosting Your Conversion Rate
Whether your call to action is asking someone to sign up to your email list and become a lead, to register for a webinar, to come to a physical event, or maybe to simply buy your product — your call to action is what makes the conversion. There are many different ways to include a call to action in your video. There are several different options for how to include video CTA beyond just changing the text or color — consider your video's goal before choosing a type
4) Leverage CTAs and Annotations
When considering where to put your call to action in a video, whether it be an annotation or a lead generation form, think past the usual places. CTAs are most often put at the end of videos, but we've found that CTAs in the middle of the video perform way better, with conversion rates at 16.95%, as compared to 10.98% at the end.
You can make your CTA engaging in the middle of your video by pointing it out in your script. Script around the CTA and weave them together to create an interesting viewer experience that will make folks excited to click. Your CTA should be very clear and have a very specific goal. You can then measure how your CTA does depending on how you weave it into your video. The more custom and clear it is, the better it will convert your viewers.

5) Put the Turnstile Where It Counts
A turnstile is basically a lead generation form. Using a turnstile in your video allows you to capture your audience member's email address by pulling up a form in the beginning, middle, or end of your video. Where you put this turnstile really matters, and the conversion rate differs depending on where in your video the turnstile appears.
Many video marketers choose to put their turnstile in the beginning or the end of the video, so it does not interrupt the viewer's experience. However, we've found that the highest converting position for a turnstile is actually in the middle of the video, with a conversion rate of 22.17%, over a 3.05% or a 8.49% conversion rate for post and pre-roll turnstiles, respectively.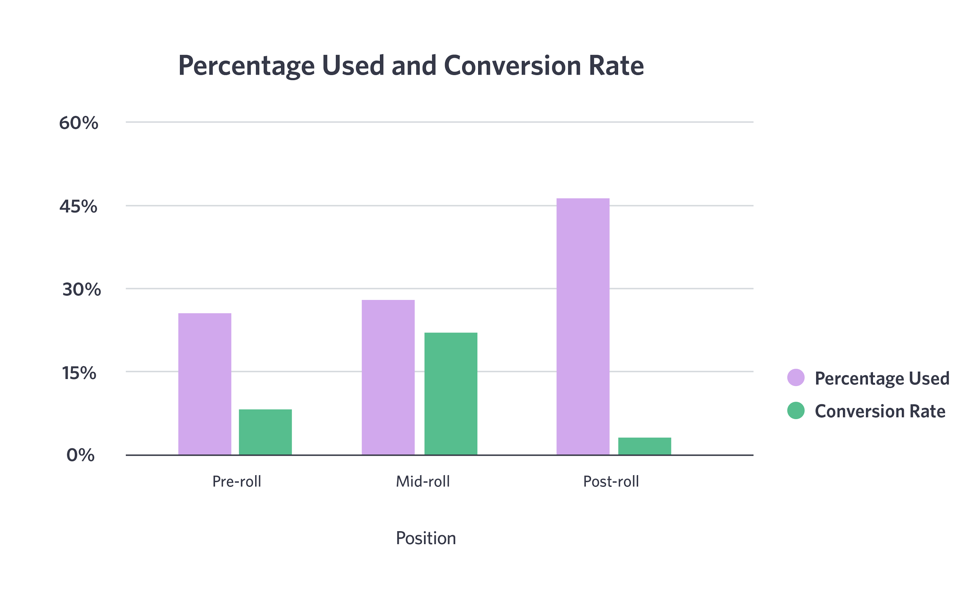 Adding your turnstile to the middle of your video may seem tricky — doesn't interrupting the viewing experience leave your audience with a bad taste in their mouth? You can incorporate a mid-roll turnstile without making the viewer feel cheated. Add your turnstile into your script in order to work around the lead generation form. Creating a script that flows around the turnstile and warns viewers that it's coming up prepares them for what's next. Try something like "Interested? Enter your email address and let's get in a little deeper", or "Enter your email for more information.
After the Video
Phew! You've gone through the whole process. You've created a custom thumbnail, added your custom player color to match your brand, and made sure your video doesn't go above the two minute mark. You've even woven in a CTA and/or turnstile into your video's script to make it flawless and engaging. You're set up for success–but what now?
6)

Leverage Post-Production Analytics
Make sure you're tracking your video's analytics. It's important to keep in mind where folks watched and re-watched your video. Was there a bump in re-watches at a certain point mid-video? That may mean that folks are especially interested in what was conveyed at that time, meaning you have an opportunity to create another video specifically focusing on that topic. Re-watches help you figure out where your audience's interest was piqued, letting you create more relevant content for them in the future.
See how many folks converted on your turnstile and CTAs. You can take that data and test future videos depending on what you've done in the past. Each piece of data counts when making a high-converting, high impact video.
7)

Invest In Videos For Lead Nurturing
Once your viewer has converted, you want to take them one step further in the process. Videos can be perfect for nurturing leads that have already raised their hand for your content. Making a short video that welcomes folks who have converted on partnership content, for example, can delight your audience and act as a great reminder of your company and the problems you solve. We do this after large lead generation campaigns, and especially after co-marketing projects.
When it comes to onboarding lead nurturing campaigns, video is a great asset in boosting your click through rates, increasing the probability of your audience taking the action you want them to take. You can easily tweak your onboarding workflow to reap the rewards video creates! For example, we've found that using a video thumbnail with a play button in an email, instead of a plain image, resulted in a 300% lift in our CTRs! You can't beat those numbers.
Your onboarding lead nurturing emails should have a goal, and video can help you test that goal. Our onboarding emails, for example, contain a video thumbnail that links new Wistia users to a video that walks them through uploading a new video to their account. We've found that 48% of users who start watching the uploading video actually do upload their video—this is huge! Without that video thumbnail in our onboarding workflow, we'd have missed a huge opportunity to get folks to engage more with the product.
8) Focus On the Close
Of course, once you've converted and nurtured a lead, you want to focus on the close. If your final goal is to get your leads to become customers, using video can help you get your close rates up. Specifically, try making videos that are personal and human, creating a relationship with your potential customer. Sending one-on-one videos to prospects introducing yourself and letting them know that you value their business will help create trust, and may just raise your chances of sealing the deal.
Marketing agency Bluleadz does a great job pioneering one-on-videos in the close stage of their prospective customer's journey. They send out a video when the prospect has already talked to sales in-depth and is in decision mode. Their videos look something like this:
These one-on-one videos help create the human element behind Bluleadz business — and they work! Bluleadz has found that prospects who receive these videos before a purchase decision close at a rate of 63%, as compared to 46% for prospects who do not receive videos. That's a big difference!
With all these tips, it's time to put your videos to work! How do you make videos that convert? Let us know in the comments!