This post originally appeared on Agency Post. To read more content like this, subscribe to Agency Post.
Native advertising grew up in 2014.
Advertisers went beyond asking, "Is this a fad?" and tried to understand how to measure the success of sponsored posts and native ads. Publications considered who should write sponsored content, and even Last Week Tonight host John Oliver weighed in on the discussion. Overall, native advertising and sponsored content pieces were everywhere. Even traditional publishers such as the Wall Street Journal, The New York Times, Fortune, and Washington Post were joining in.
And they likely did so because of the numbers: Spending on native advertising is expected to reach $21 billion by 2018. 
Here's a review of 2014's advancements in native advertising. Check out the best examples from the year. (And if you need a quick primer on what native advertising is, see here.)
1) Supercompressor and GE
For the 45th anniversary of the moon landing, Thrillist Media Group created articles around the history of the landing with clicky titles like "11 Things You Didn't Know About the Apollo Missions" for GE. Their hope: to bring to light the role the company played in the 1969 mission.
GE also released sneakers on Jack Threads (Thrillist's ecommerce site), which sold out in seven minutes. Bidding on eBay brought the limited edition shoes up to $2,000. The draw? Taglines like: "CX6 stabilized carbon fiber: Lighter and stronger than metal, and found in the belly of badass machines from jet engines to wind turbines, carbon fiber reduces weight while increasing durability."
2) Wired and Netflix
In May, Wired released an in-depth, interactive piece on how technology is changing advertising. Sponsored by Netflix, the article was written by Anthropologist and Culture Expert Grant McCracken, who discussed everything from binge-viewing to movies stars migrating to TV to the increase in risk-taking in the industry.
The single page features a parallex scrolling effect in the header, stats, a video interview with the producer of "Arrested Development," a reader survey, a timeline of TV history, and audio commentary. Many compared it to The New York Times' "Snow Fall," but applauded its lack of disrupting banner ad units.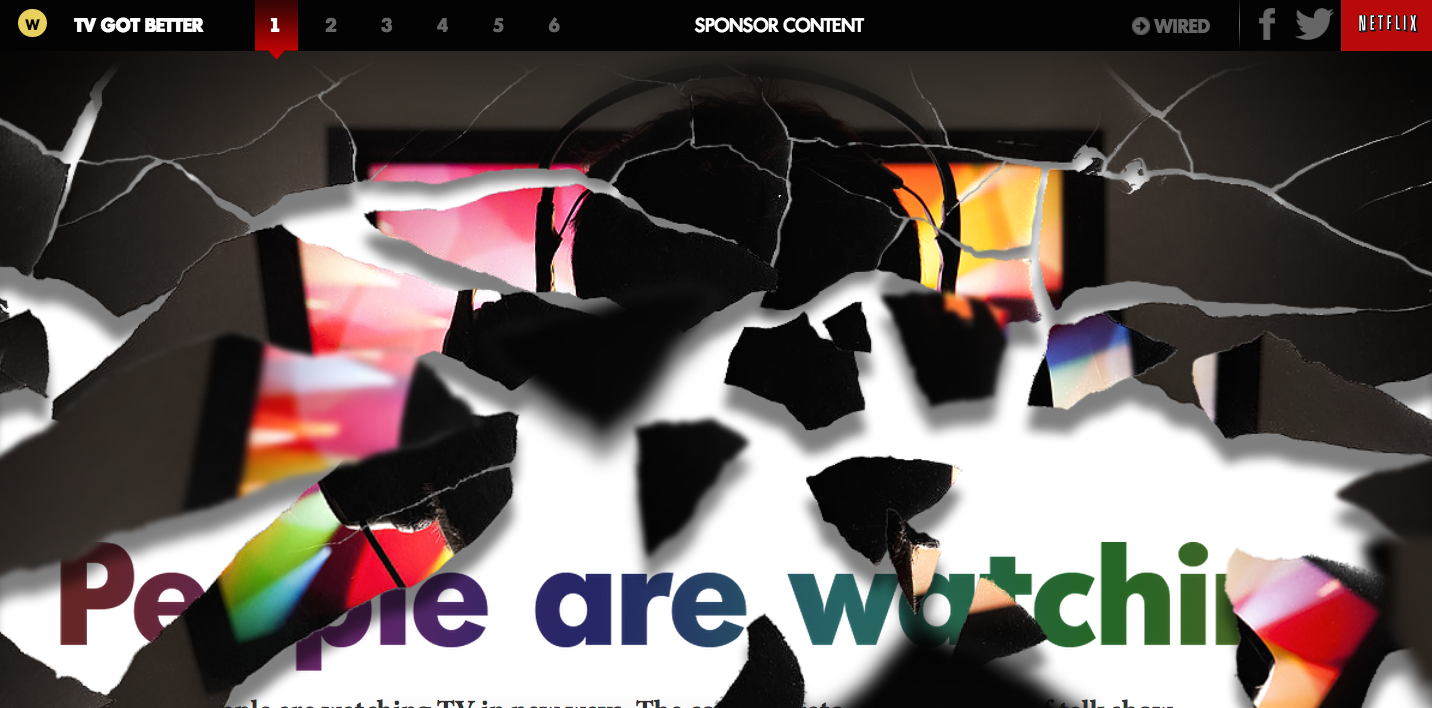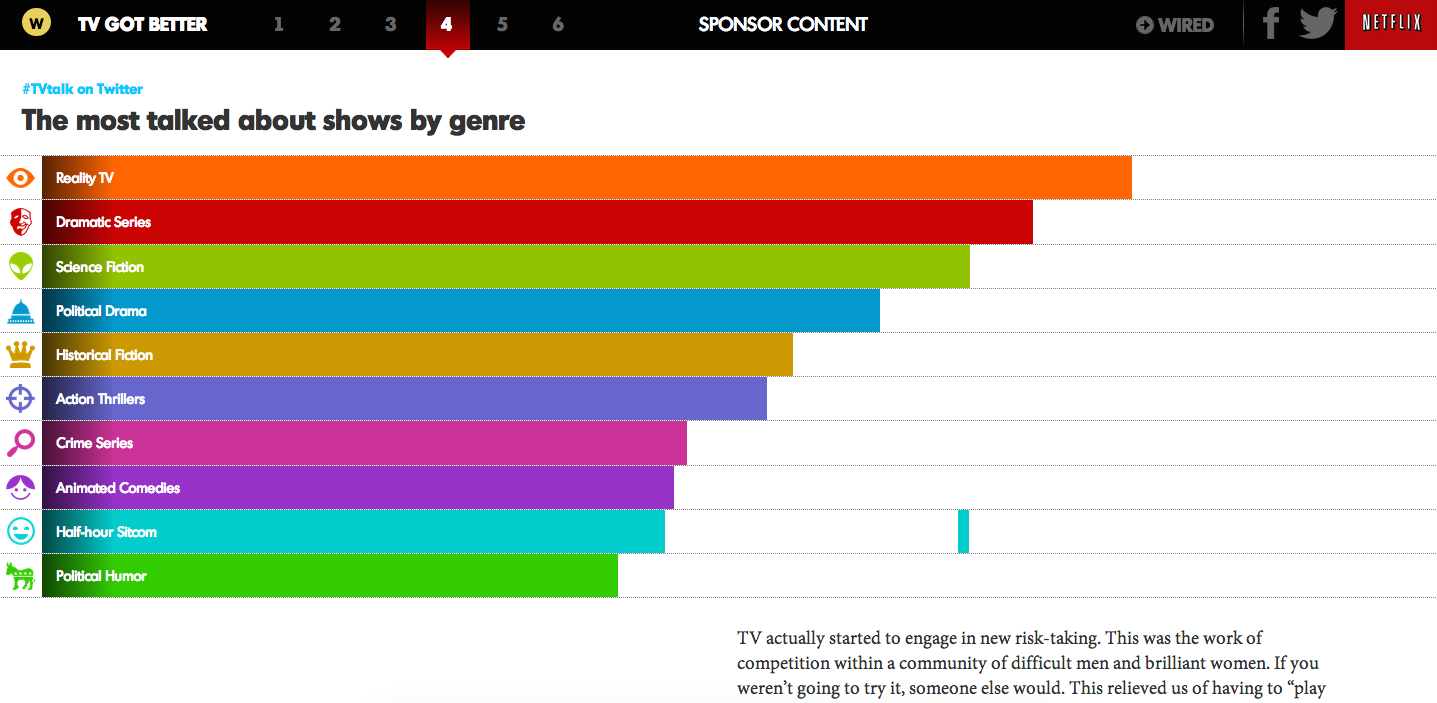 3) Slate and Wells Fargo
For Wells Fargo, Slate did a profile on students from Lavelle School for the Blind and Visually Impaired who attend B.E.A.T. NYC's music and beatboxing class. The piece featured audio commentary from teachers and clips of students playing instruments or beatboxing.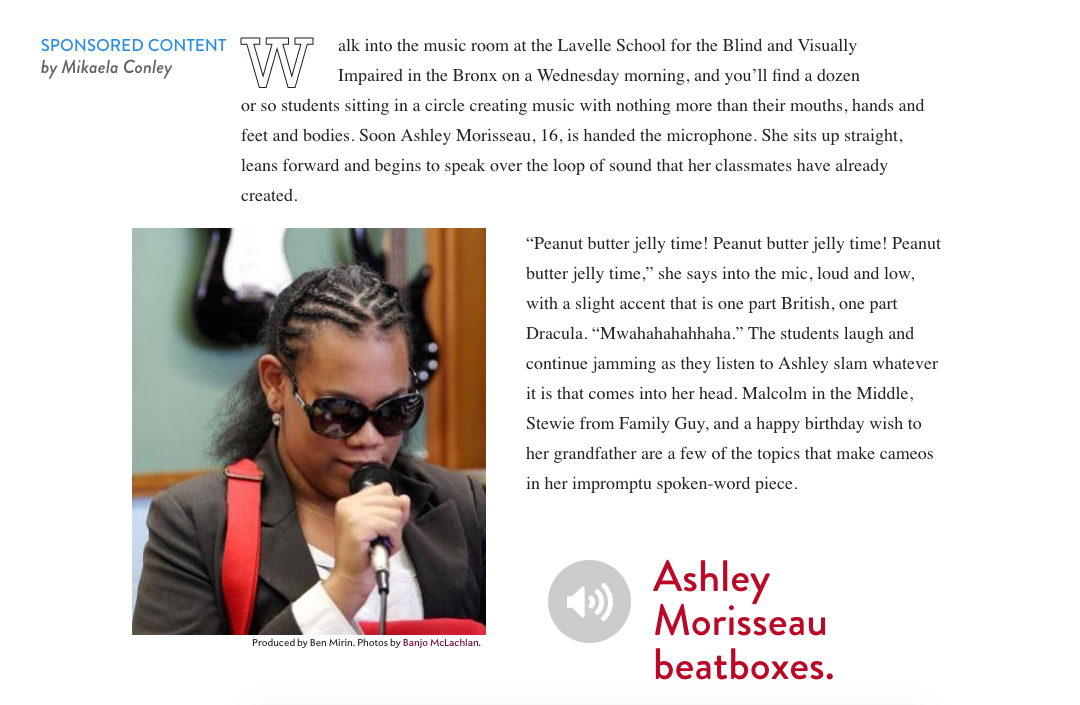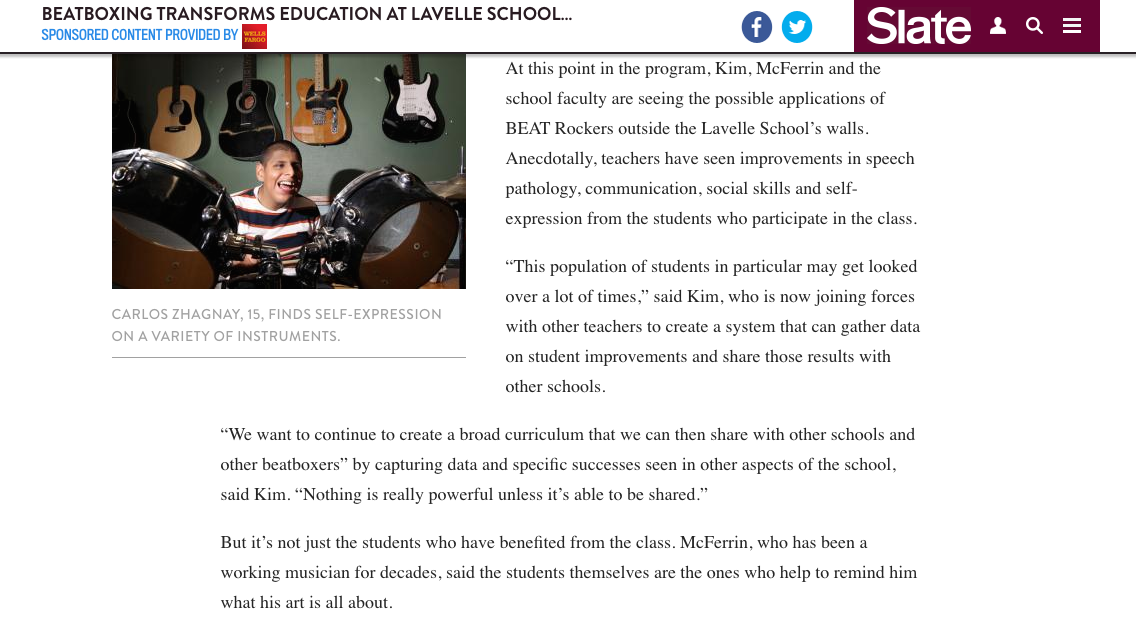 4) The New York Times and Netflix
The New York Times launched its sponsored content in January 2014, and the publication has become an example for the media in regards to how to present native advertising — from the use of a subdomain to the labeling in the header.
"Women Inmates: Separate But Not Equal," published in August 2014, is a paid post to promoting the release of the second season of the Netflix series "Orange is the New Black." The in-depth article discussed the many problems women face in prison, the effect of incarceration on their family, and prison reform — issues that are also highlighted in the popular show.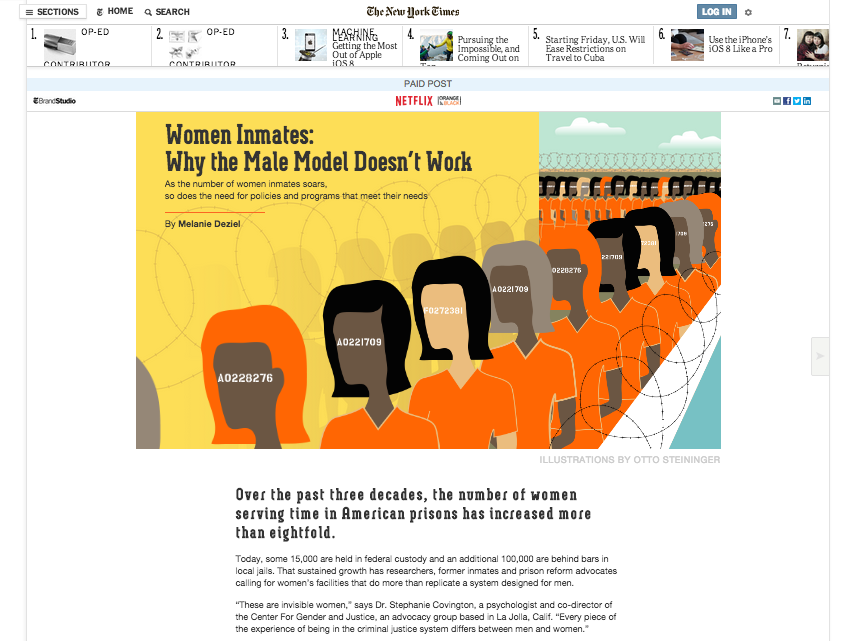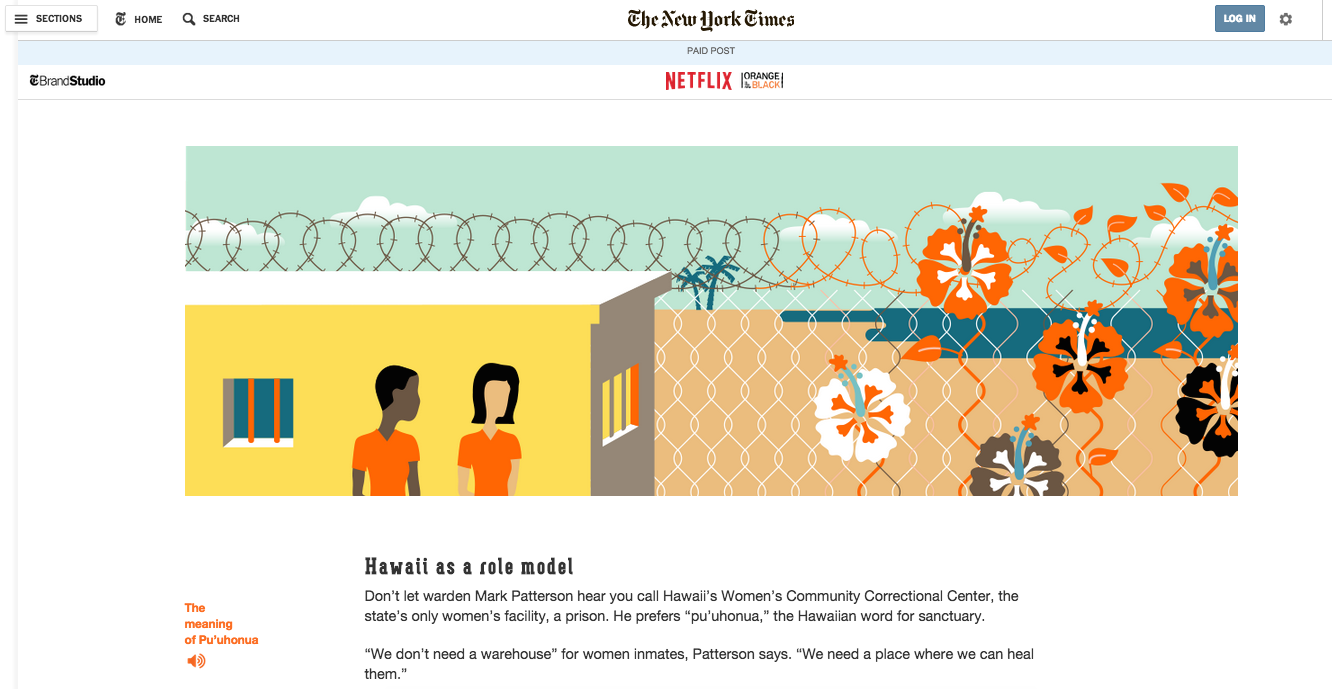 5) Gawker and Newcastle
Remember Newcastle's famous not-a-Super-Bowl-commerical Super Bowl commercial featuring Anna Kenrick rambling while getting her hair curled? Gawker Studios created a piece to coincide with that, which they titled, "We've Disguised This Newcastle Ad as an Article to Get You to Click It." And it managed to both sell beer and question the native advertising format. Maybe research found that people who care about marketing and Gawker also drink beer…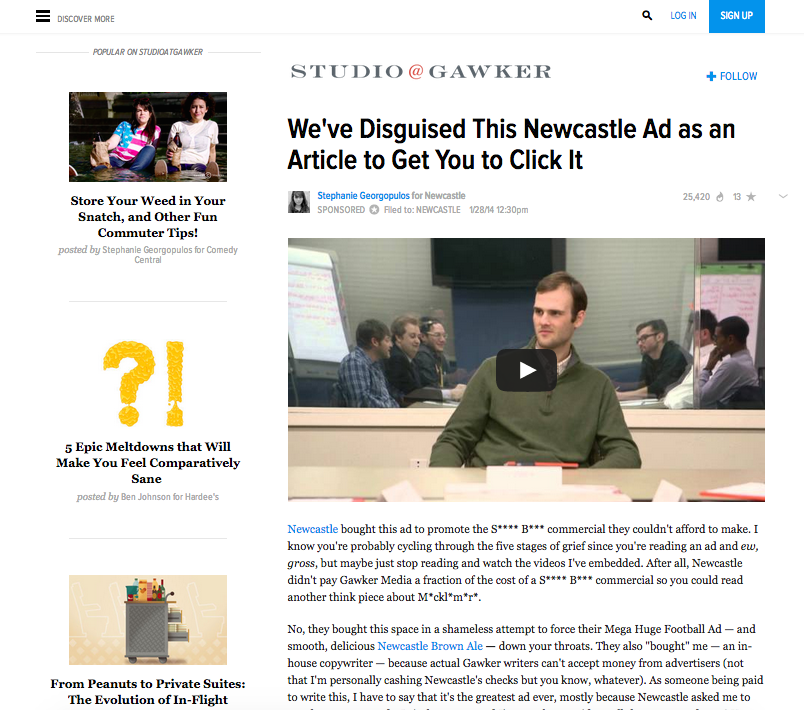 6) SB Nation and Nike
SB Nation published "First & Long," a sponsored section featuring six NFL athletes who return to their high schools for summer training. Each athlete created a video pep talk encouraging young athletes to keep pushing themselves.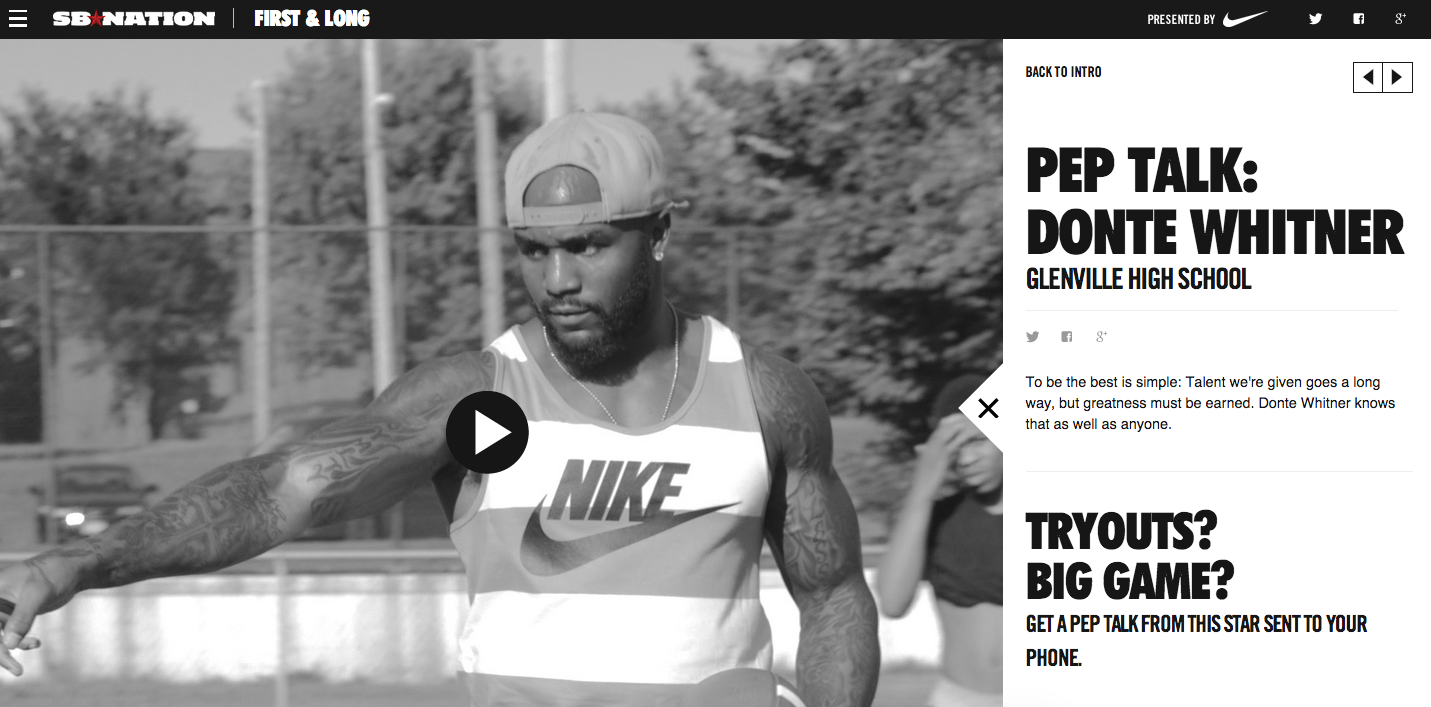 7) Mic and Cole Haan
Mic, an online publication that attracts millennial readers, partnered with Cole Haan for its leap into native advertising. This piece was the first in a series that profiled young women making an impact on business.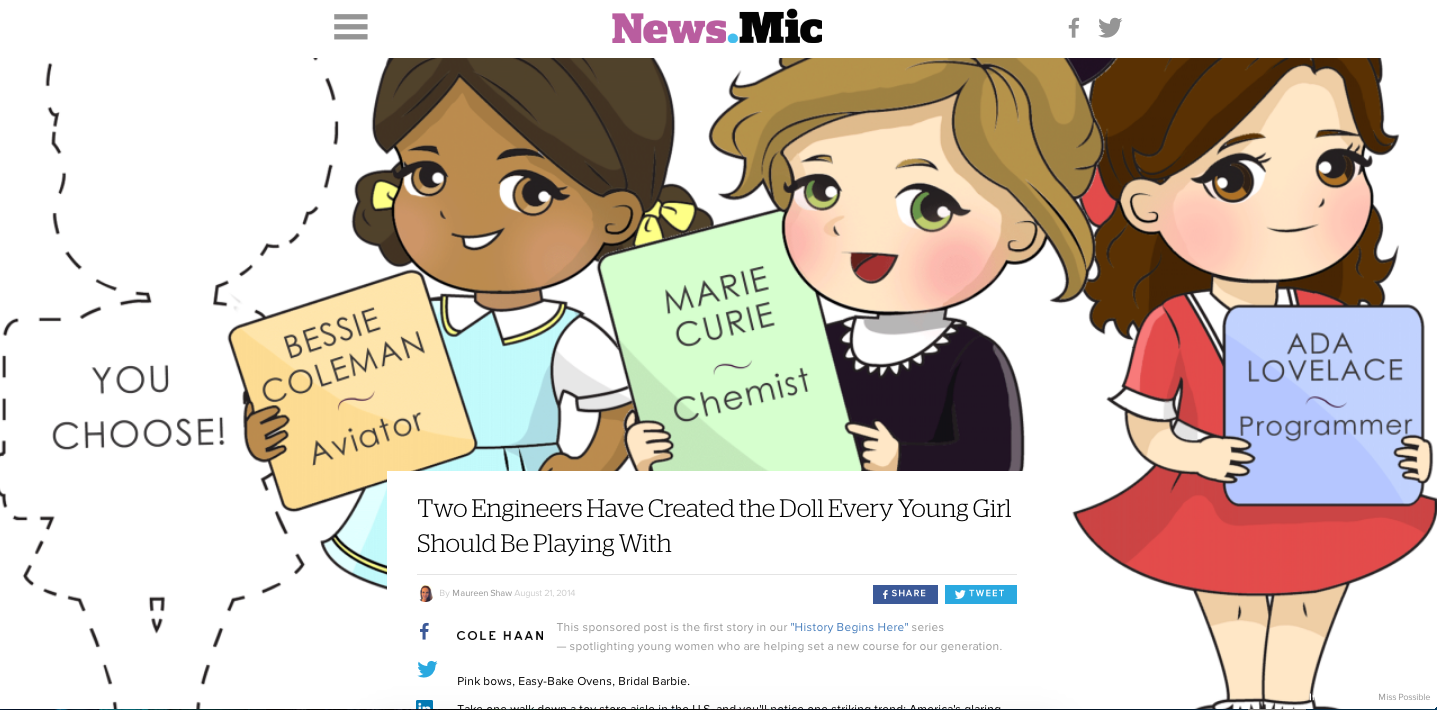 8) The Onion and Starbucks
Starbucks partned with The Onion to promote its Doubleshot Espresso by sponsoring a post on productivity on the weekends. It reads:
Perhaps within our lifetime we will even see to-do lists whittled down or even eradicated by Sunday nights, reversing the current trend of growth over the 48-hour weekend period. It's truly a transformative prospect." Olevich told reporters that her team is currently testing whether the phenomenon can be synthesized by combining certain levels of intrinsic motivation with an as yet undetermined volume of Starbucks Doubleshot Espresso.
9) Mashable and MasterCard
MasterCard and Mashable worked together to release a graphic-heavy article on how people use their mobile devices and how our relationships with our devices has changed. The sponsored post includes a large section at the beginning of the post detailing MasterCard's digital payment system.
What was your favorite example of native advertising? Let us know in the comments!