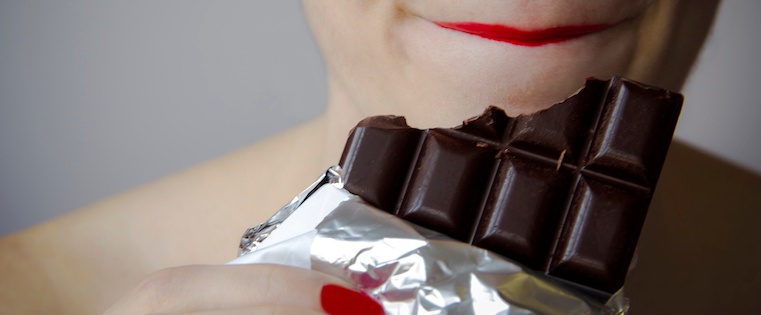 This post originally appeared on HubSpot's Agency Post. To read more content like this, subscribe to Agency Post.
There's an old saying that goes, "The best way to a man's consumer's heart is through his stomach."
Think about it: We swoon over free samples at the mall, grab one too many treats when we come face-to-face with a candy bowl on someone's desk, and broadcast practically every meal we eat on Instagram.
As a society, we love food. That's really all there is to it.
Traditional advertising on the other hand … not so loved. When it comes to mediums such as billboards, many businesses struggle to determine whether or not it's worth the investment anymore — except for these brands, that is.
By combining food and advertising, the following 10 brands were able to create some jaw-dropping creations that commanded the attention of their hungry audience.
10 Billboards That Make You Want to Take a Bite 
1) Virgin Media Cheese Billboard
This is nacho average advertising campaign. (Too cheesy? Sorry. I couldn't resist.)
In 2010, Virgin Media — with the help of artist Prudence Staite — created a billboard that proved that dreams really do come true. Weighing in at just under 250 pounds, the ad for its broadband campaign was made entirely out of cheese. Yes, cheese.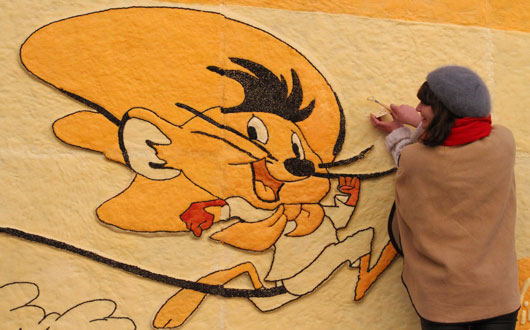 Image Credit: Virgin Media
The masterpiece took Staite and her team eight days to create. Once completed, it underwent a 100-hour chilling process before the big reveal.
"I have been asked to craft many a strange thing in my time, but a cheese billboard certainly takes the biscuit, or should I say cracker," joked Staite.
2) Mr. Kipling's Cake Billboard
"Let them eat cake," thought the British baked goods company Mr. Kipling when it decided to create a massive billboard made entirely of sweet treats.
Image Credit: The Drum
During the course of seven hours, artist Michelle Wibowo carefully placed 13,360 colorful cakes to create a design worth drooling over. With the words "Life is better with cake" piped playfully over the edible background, the display was a showstopper.
While it was almost too pretty to eat, the company handed out pieces of cake to lucky passersby at the Westfield shopping center in Sheperd's Bush, where the billboard was constructed.
3) KOO's Canned Food Billboard
In honor of World Food Day 2013, Owen Kessel and Levergy joined forces to help KOO (South Africa's No. 1 food brand) create the country's first edible billboard.
Image Credit: Levergy
To stay true to KOO's commitment to giving back, the team created a billboard made entirely of canned food. Once revealed, the 2,104 cans used in the process were passed out to members of the community.
When all the cans were removed, a hidden message was revealed: "KOO, helping to feed a nation."
For more on this inspiring campaign, check out the following video:
"In a country where 12 million people go to bed hungry every single night, it's beautiful thing for us in advertising to be part of an initiative that helps those people," said Nicole Glickman, who worked on the campaign.
4) McDonald's McFlurry Billboard
This past July, McDonald's in the Netherlands created a heat-activated billboard housing 100 McFlurry cups. The empty cups were locked behind glass that would open up if, and only if, the temperature reached more than 101 degrees Fahrenheit.
Image Credit: AdWeek
Many eager people waited in anticipation as the temperature climbed. And when it hit just the right degree, the glass opened allowing individuals to grab a cup that they could redeem for a McFlurry at the nearest McDonald's.
Check out the video below to watch the sweet release in action:
5) Coke Zero's Drinkable Billboard
75 valves, four high-pressure pumps, 16 sensors, and a whole lot of Coke Zero made up the 23,000-pound billboard found in White River State Park in Indianapolis during the NCAA Men's Final Four competition.
The massive advertisement functioned as a "drinkable billboard," equipped with an enormous straw which hooked up to a public drinking fountain. The straw stemmed from a large Coke bottle and sprawled across the billboard, taking shape into the words "Taste It."
Image Credit: AdWeek
Coke skillfully tied the advertisement back to basketball by reporting that the billboard ran on enough compressed air to fill all of the basketballs used during the tournament.
6) GranataPet's Food Dispenser Billboard
In 2011, Germany-based pet food company GranataPet, created an interactive billboard that encouraged people to check in to the location on Foursquare in exchange for a treat for their four-legged friend.
This campaign served as a creative way to engage potential customers while also introducing a new brand of food to pet owners.
7) Carlsberg's Beer Billboard
"Probably the best poster in the world," read the eye-catching green sign outside the Truman Brewery in London's Brick Lane this past April.
What was so special about it?
Well, other than the fact that it was a nice shade of green, it also came equipped with a beer tap. Enough said.
Image Credit: The Independent
Those lucky enough to stroll past the billboard could take five and enjoy a free, ice-cold beverage. (There were staff members on-site to check IDs, of course.)
8) McDonald's Lettuce Billboard
McDonald's attempted to grow its business … by growing a billboard?
In an effort to promote the fresh ingredients used in McDonald's salads, the fast-food chain planted thousands of heads of lettuce on a billboard and waited patiently for the seedlings to grow.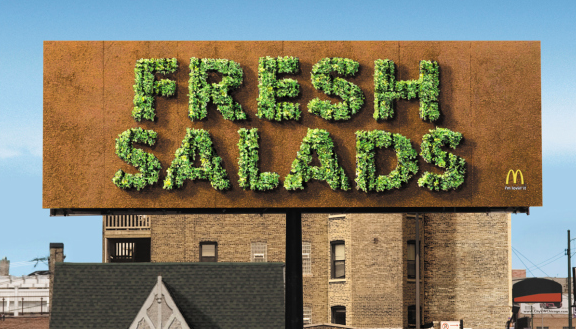 Image Credit: This is not ADVERTISING
When the seeds finally bloomed, they revealed a clever message, "Fresh Salads."
According to McDonald's Cannes Lions International Advertising Festival entry, more than 500,000 salads were sold during the campaign period, deeming it an overall success.
9) Thornton's Chocolate Billboard
After reporting a "difficult" start to the year back in 2007, British chocolate company Thornton's used 10 chocolate bunnies, 72 chocolate eggs, and 128 chocolate panels to turn things around.
Image Credit: PopSugar
The first of its kind, Thornton's chocolate billboard was a bold advertising move … while it lasted. The display — which took three months to prepare — was gobbled up by people in just three hours.
Sounds like a success, if you ask me.
10) The Fairtrade Foundation's Banana Billboard
To raise awareness for banana farmers living in poverty, The Fairtrade Foundation and banana farmer Foncho Cantillo worked side by side to create a billboard made entirely out, yup, you guessed it … bananas.
Image Credit: London24

The South London billboard — made of 5,000 bananas and taking 11 hours of assembly later — proudly displayed a raised fist holding a banana.
The best part? At the close of the campaign, all the bananas were donated to local food banks and Battersea Park Children's Zoo. (We imagine the latter resulted in some very happy monkeys.)
What was your favorite edible campaign? Let us know in the comments section below.