Nowadays, many marketers — especially those in the ecommerce space — are using Pinterest to achieve their business goals. After all, Pinterest boasts the highest average checkout value of all social media referral shoppers.
One way they're using Pinterest is by adding Pin It buttons to their websites to leverage the platform's shopping power. After all, adding these Pin It buttons gives fans another outlet for sharing your stuff with their networks — which helps drive more traffic to your website while organically increasing your Pinterest following.
But Pinterest's own Pin It button generator has some big limitations. For one, it doesn't allow marketers to promote pins on Facebook posts, emails, or anywhere else other than a traditional webpage. Secondly, it doesn't let the user choose what specific data is pulled from a product listing.
Want more control of the Pinning experience? So did I — which is why I built a Pin It URL Generator: a free tool that spits out custom Pin It URLs.
The tool is an Excel spreadsheet that generates URLs that lead users to a Pin It window customized with a specific product page, image, and description — rather than relying on Pinterest to pull that data for you.
I've found this so useful in my marketing that I wanted to share it with all of you for free. You can download the free Pin It URL Generator here.
To help you get the most out of this tool, let's go through where and how to use it.
How the Pin It URL Generator Works
To use the tool, all you have to do is input the three data points you want for a particular Pin:
The product or landing page URL
The image URL that you want to feature
A short description (HubSpot recommends between 100-200 words)
The tool automatically changes hashtags to HTML, so feel free to highlight a few keywords. And if you want to use UTM tracking, you should append the appropriate parameters to the product URL before entering links into this sheet. (Learn how to create UTM tracking codes here.)
And voilá! Once you've entered these three variables, the linkable URL in the yellow box will be generated automatically. All you have to do is copy the contents of the yellow box and paste it wherever you're building a Pinterest link. When a viewer clicks that link, a Pin It window will open in their browser that includes all the customized information ready to go.
An Example
Let's say I wanted to put a Pin It button on my website that links to a pair of shoes I found on Zappos. On Zappos' product page, the default color of the shoes is blue — but I want the pin's featuerd image to show the white version of those shoes. In this case, Pinterest's Pin It button would have generated a pin featuring the blue shoe using meta data from the product page. Using my tool, though, I can force Pinterest to use a specific image (the white shoe) over the default picture — and incorporate key hashtags to make the pin more discoverable.
I simply open up the tool and input Zappos' product page URL, the image URL of the white shoe, and a short description using key hashtags:
Now, when visitors to my website click on that pin URL, a Pin It window will open in their browser that contains the featured image of the white shoe and my customized description.
Other Ways to Use the Pin It URL Generator
Use a post-purchase email to push engagement. You could even tailor the description to indicate that the customer has already bought the item, baking in social proof for their Pinterest followers. You could apply a similar concept to general marketing emails, saved carts, and wish lists.
Cross-promote on your social profiles. You can post any image on Facebook or Twitter and provide a link to "Pin It with one click." This decreases the need for users to jump from one platform to another.
Reach your audience on Facebook and Twitter. While Promoted Pins are here, they don't (yet) offer particularly powerful targeting. Instead, you can use Facebook's and Twitter's custom audiences to reach your fans on those platforms with an ad urging followers to pin a particular item.
Offer influencers customized Pin It URLs. Pinterest allows you to message other users directly, which is great for reaching out to bloggers and potential influencers. Try politely offering these users customized URLs to share content that's relevant to their audiences. This approach is especially valuable now that Pinterest has killed off affiliate links.
Use them for curated blog posts. Unlike Pinterest's Pin it buttons, custom URLs don't guess at which data to pull from a webpage, meaning you can promote several items within the same article.
Use a Pinterest board as a landing page. This is a great way to keep things interesting. In the example below, a recent Charming Charlie email featured a Pin It button front-and-center: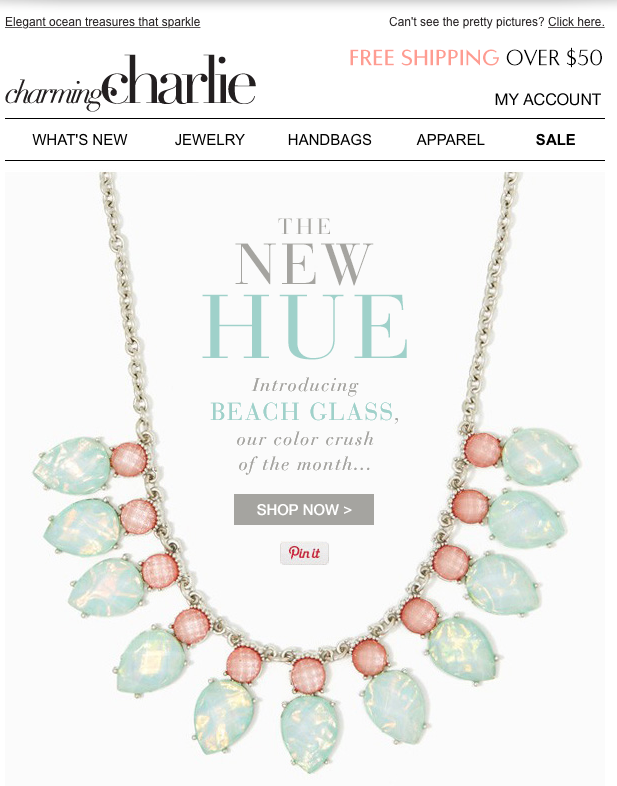 But instead of the Pin linking to a product page, it brought users to a board with related products. This application is best for promoting set of products tied to a central theme. In this case, Charming Charlie is showcasing its color of the month.
Customized Pin it URLs mean the only limit to sharing your products is your creativity. If you can think of an engaging place to drive Pinterest clicks, this tool can help.
Download the Pin It URL Generator for free here. Remember, you can use your customized Pin it URLs almost anywhere, so be on the lookout for unique opportunities to reach people when and where they're most likely to engage with your brand.
Have feedback or questions about how to use the tool? Feel free to reach me at info [at] ripenecommerce.com.