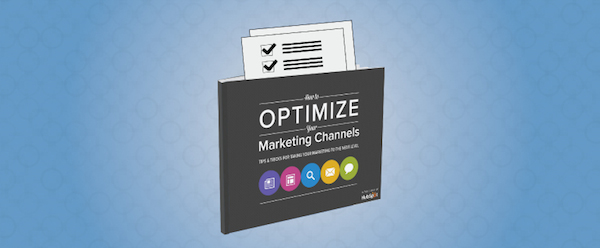 Calling all marketers who are totally, completely, 100% satisfied with how your marketing channels are performing. I have some bad news for you:
There's still more work to be done. A lot more.
You see, unlike Michelangelo's Sistine Chapel ceiling, or Da Vinci's Mona Lisa, marketing isn't a piece of artwork that has a finite end. With marketing, you'll never be able step back from the canvas and shout, "At last! I'm finished!"
Instead, marketing is an ever-evolving science. As we gain new, quantifiable insights about particular marketing channels, we use those insights to continually make adjustments and improve how our channels perform. Or, in other words, we optimize.
Need help optimizing your marketing channels? Check out this free ebook: How to Optimize Your Marketing Channels: Tips and Tricks for Taking Your Marketing to the Next Level.
The goal of this ebook isn't to overwhelm you with algorithms and formulas; instead, it's to highlight some best practices you can implement (and some experiments you can run) for tweaking:
Blog posts
Landing pages
SEO
Email sends
Social posts
Keep in mind that while we're addressing these marketing channels individually, the real power of inbound marketing comes from using them in unison. A holistic approach will ensure that your visitors, leads, and customers always have a great experience, regardless of the channel they're interacting with you through.
Want to share this ebook with your Twitter followers? Use the click-to-tweet link below!
Have any marketing optimization tips or tricks that you'd like to share? Leave a comment below!