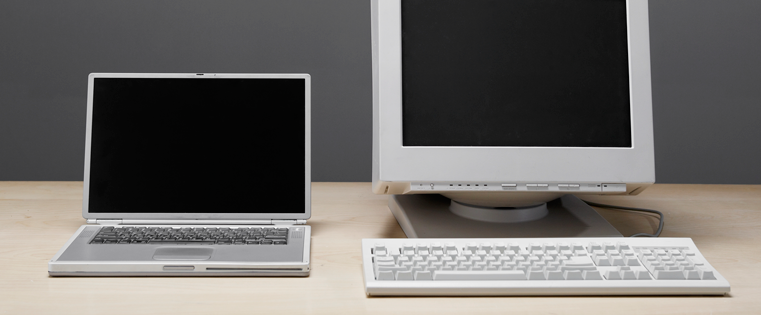 For almost a decade now, Apple and Microsoft have been engaging in an what some have called an all-out "ad war."
Remember those "Hi, I'm a Mac"; "Hi, I'm a PC" television ads from the late 00s? You know, the ones depicting a young, casual, cool Justin Long as Mac and an older, out-of-touch John Hodgman as PC? These funny ads, launched by Apple in 2006 as a part of their "Get a Mac" campaign, are what instigated the playful back-and-forths between Apple and Microsoft over the next few years. That particular campaign ended in 2009 after a total of 66 ads.
But Microsoft didn't stand idly by for long — they also released several series of ads in response that targeted Apple's prices and product design.
What did these battling TV ads look like? We've rounded up a few of the most memorable Mac vs. PC ads from both sides of the debate. So no matter where you stand, put your software preferences aside and enjoy this glance at the last decade of Mac vs. PC advertising.
May 2006: Apple, "Better"
In Apple's very first "Get a Mac" advertisement in 2006, Mac and PC speak cordially about what each of them is good at: PC at spreadsheets, Mac at "life stuff" like music, pictures, and movies.
2006: Apple, "Accident"
PC, who rolls in a wheelchair and a few limb casts, recounts the story of how someone tripped on his power chord and sent him crashing to the ground. Mac responds with sympathy, but adds that his magnetic power chord simply pops off when disturbed.
2007: Apple, "Stuffed"
In this funny ad, PC is fat and slow from being stuffed with trial software programs. "You know how it is," says PC, to which Mac responds, "Oh, actually, no I don't. Macs just come with the stuff you want." They shrug it off and are about to start the "real ad," when PC says he forgot something and starts hobbling off again.
2008: Microsoft, "Not Alone"
Microsoft's response to Apple's Mac vs. PC play began with ads like this, which show PC users aren't just people like the older, out-of-touch PC guy from Apple's commercials — they're actually from a wide diversity of demographics, backgrounds, and locations around the world. The ad begins with a man who looks and dresses just like the PC guy in Apple's "Get a Mac" ads saying, "I'm a PC, and I am not alone." Then, it jumps from person to person, all of whom state, "I'm a PC," too.
March 2009: Microsoft, "Laptop Hunters"
In their ad series "Laptop Hunters," Microsoft played the price card against Apple. In the ad below, a woman looking for a laptop under $1,000 was told if she found one, she could get it for free. She couldn't find one at the Apple store that had the features she needed, but she did find what she was looking from a Microsoft PC.
May 2009: Apple, "Elimination"
Apple continued their "Get a Mac" campaign with more ads highlighting PCs' weaknesses. In this one, a woman is deciding whether she wants to get a Mac or a PC, so PC brings along a line of people representing all the different types of PCs out there — while Mac stands alone. She goes through her list of must-haves, like big screens and a fast processor. The number of PCs that can accommodate her needs gets smaller and smaller, until no one else remains.
July 2014: Microsoft, Siri vs. Cortana
Last summer, Microsoft revived the old Mac vs. PC adage with a TV advertisement pitting Apple's digital personal assistant Siri against their own Cortana. In the ad, Cortana answers a user's questions with ease while Siri repeats she's unable to do what the user's asking. In the end, Siri admits about Cortana, "Now that is a smart phone."
August 2014: Microsoft, "Power"
Just a month later, Microsoft targeted Apple's laptop and tablet products with an ad showing how versatile Microsoft's tablet is. "Wait, are you running full Adobe Photoshop on a tablet?" one voice asks. "Yup."
November 2014: Microsoft, "Let's Dance"
A few months later, Microsoft recruited Lenovo to join their side in the classic war in a dance-off between the MacBook Air and the Lenovo Yoga 3 Pro. The competition highlights the Yoga 3 Pro's thinness, flexibility, and touchscreen, while the MacBook Air struggles to "dance."
What do you think of Apple's and Microsoft's ad campaigns? Which ones were your favorites? Share with us in the comments below!