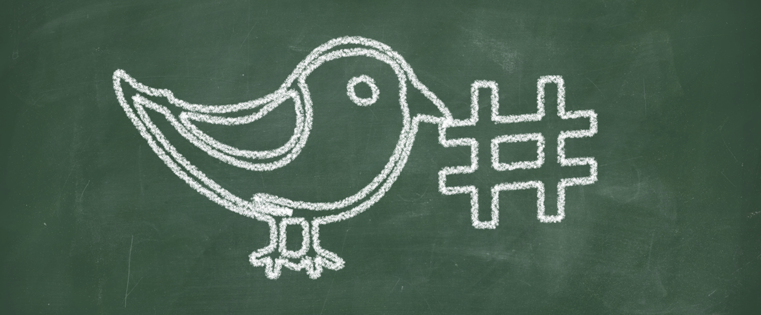 It's every event marketer's dream: Pulling up your phone during your event and quickly peeking at Twitter, only to discover that your event's hashtag is trending. After all of your hard work putting the event together, seeing people engaging in conversation online (lots of conversation online) is a huge validation.
But that seems like an incredible feat to accomplish when you've got so many other moving pieces in the event planning process. So how do you prepare for your event so you have a better chance of trending on Twitter?
To help you make the most of the chatter on Twitter, we put together the following tips. Check 'em out to see how you can join the conversation and get your event trending.
1) Showcase streams in real time.
Branded hashtags are a great way to connect with your audience both before and during the event. By using one hashtag consistently, it'll help keep the conversation all in one place. Also, keep your hashtag short and sweet — that'll make it easy to remember and free up more characters in people's tweets.
It's also extremely important to educate attendees and get them to engage with the hashtag before and the day of your event. Before the event, send out emails and tweets using the hashtag, and let people know they can network pre-event using the hashtag.
At the event, display it on screens, posters, collateral, giveaways, t-shirts, napkins, pre-presentation slides, and pretty much everywhere you can think. Also make sure you tell people to use the hashtag and follow the hashtag for event updates.
HubSpot's Social Media Community Manager, Chelsea Hunerson, also recommends choosing your hashtag's words carefully:
To me, setting people up for success means making sure that the hashtag is clear and is everywhere. Using easy-to-remember hashtags (ex: #humansofinbound) is the best way to jumpstart usage."
Pro tip: Boost Twitter conversations during the event by broadcasting tweets using the hashtag in real time on screens around the conference. This will encourage people to tweet more, whether it be about their favorite quotes or sessions, in hopes of seeing their own post on the big screen.
2) Designate a day-of social media manager.
Your on-site social media manager should be prepared with several things:
Have the streams they should be monitoring created ahead of time, so they can easily see all the conversations going on.
Create a list of FAQs you expect to come through, so that all a social media monitor needs to do is copy and paste the answer. This saves times and energy.
Have content created and scheduled through a social media monitor tool ahead of time so that they can spend more time posting ad-hoc things throughout the day. With everything scheduled, there's more time for real-time conversations.
Pro tip: Follow up all questions on Twitter with a tweet including the hashtag.
3) Post content that packs a punch.
Tweets with images receive 18% more clicks, 89% more favorites, and 150% more retweets. During the event, post pictures of speakers, parties, networking, and quotes; short video clips; and live-streams of the event. Seeing awesome content from the event will encourage people in attendance to share their own experience and memories.
Pro tip: Dedicate somebody from your team to take short videos and pictures around the event to help you post live media. If it's a large venue, try to have three or more people dedicated to taking videos and pictures, and posting directly to Twitter.
4) Run a contest to encourage people to use the hashtag.
To encourage more tweets, host a contest. To enter, all they need to do to is tweet with the hashtag and an image from the event.
Pro tip: Have a social leaderboard, showing top tweeters, and reward those who tweet the most after the event with free swag, a free ticket to your next event, or another great prize applicable to your attendees. Enabling people to share awesome content and get rewarded for it will certainly be a huge driver towards getting your event to trend on Twitter.
5) Geotag your tweets.
Enable location services on Twitter to geotag each tweet you post about the event. This feature is off by default, so make sure to activate it before Tweeting at your event.
Why geotag tweets? Adding your location to every post will allow another layer to getting your event trending. People can click the location and see other pictures and videos from the event, allowing the opportunity to engage and share with other attendees.
Pro tip: Use the attendee geotagged posts as user-generated content — retweet great videos and images that you didn't get a chance to capture or record. It's also a great way to share the perspective of the attendee rather than the organizer, which is your POV. The more content, the more shares and likes that will allow your event to trend on Twitter.
6) Give 'em photo opps.
Eventbrite's study with Mashworks found that 78% of media posts during events are pictures. So make your venue photo-worthy by paying attention to the details, such as purchasing wine glasses stamped with your logo or setting up a branded photo booth. Encourage photo taking with signs and hashtag mentions anywhere you have a great location for a photo. If you purchase wine glasses for a happy hour, for example, put a notecard next to the wine glasses that asks people to tweet a photo of them with the glasses.
Pro tip: Hire someone to take photos of people and send the photo to them directly on Twitter. Don't have a huge budget? Send one of your teammates around the event with a smartphone — there are tons of free and inexpensive photo editing apps they can use.
7) Get support from sponsors.
Partnering with sponsors on social media can help you encourage participation and increase use of your hashtag. Ask sponsors to use the hashtag in all their tweets as well. If they run contests, follow the same rules you made about requiring use of the hashtag to enter. For example, your sponsor can offer a reward to participants who complete and post a photo scavenger hunt at the event. Both your sponsor and event get more coverage, and your attendees get a fun, interactive challenge.
Pro tip: Offer a sponsorship discount for a specific number of sponsor tweets with images at the event to harness their influence on Twitter.
8) Tap into your speakers' influencer power.
It's likely that the speakers at your event have some sort of influence in your industry, which is why they are presenting in front of your attendees. Tap into the influence they have on stage and ask them to do two things:
Tweet a picture or video (e.g. selfie or scan the audience) on stage and use the hashtag in the post.
Have a Q&A session in the last 10 minutes of their presentation, and have people enter questions on Twitter using the hashtag. (If you go this route, make sure you have someone in the room dedicated to fielding these questions for the speaker.)
Pro tip: Encourage competitive fun at events with speakers by having a contest of the most re-tweeted stage selfie. Encourage other speakers to participate and see who can get retweeted the most.
What other tips do you have for getting more attention for your event on Twitter?