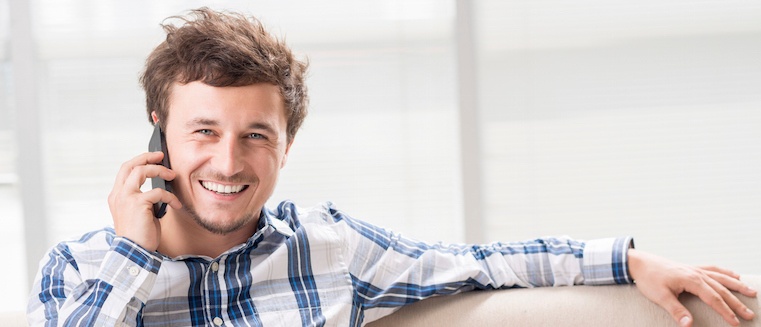 I've got a pretty big thing for phone calls. (I bet your sales reps do too.)
Why? Often times, it takes a lot of interest to get someone on the phone. In fact, inbound phone calls are 10-15X more likely to convert than website leads, according to Conversion Scientist.
The trouble is that many marketers don't know where to start when it comes to driving more inbound phone calls to their business. Sure, digital is your native language, but truth be told, digital marketing and phone calls are a powerful duo.
So how do you take matters into your own hands and start actively using your marketing prowess to drive calls? Here are three easy steps to get you started.
3 Ways to Make Phone Calls Part of the Customer Journey
Promote Your Phone Number
I know it feels counterintuitive to use your digital properties and offers to lead people offline, but nothing can replace live human interaction. According to Invoca's Call Intelligence Index, 54% of consumers say mobile websites don't provide enough information. Not to mention, 75% say a phone call is the quickest way to get a response.
The first step is simply putting your phone number on your website. Here are some quick tips:

Put your company's phone number in the website's header and throughout the site — landing pages, your blog, etc. Above lead forms is also a great spot.
Make sure your phone number is clickable on mobile.
Play with the style, size, and placement to find out what results in the most calls.
Track What Drives Calls
Now that you're using your inbound strategy to drive phone calls, it's time to dig into the numbers and find out what's working. Here are some metrics to consider:

Top web pages driving phone calls
Top content offers driving phone calls
Referral sources and marketing campaigns driving calls
Average call duration
Trends in peak times/days for calls
Trends in callers' geographic locations
Revenue from calls
With call intelligence solutions, like Invoca's integration with the HubSpot software, you can easily keep track of all these metrics right alongside your digital analytics.
Optimize for More Calls
Once you know how phone calls fit into the customer journey, you can start optimizing your efforts to drive more of your best leads towards a call. Start proving which programs and campaigns drive the most phone calls and revenue and put more resources behind them. You can also use trends in caller behavior and demographics to inform your targeting and lead filtering process.

The point is, you'll have all the insights you need to make smart decisions that result in more high-converting inbound calls. To learn more about phone calls and the new customer journey take a look at Invoca's new infographic below.