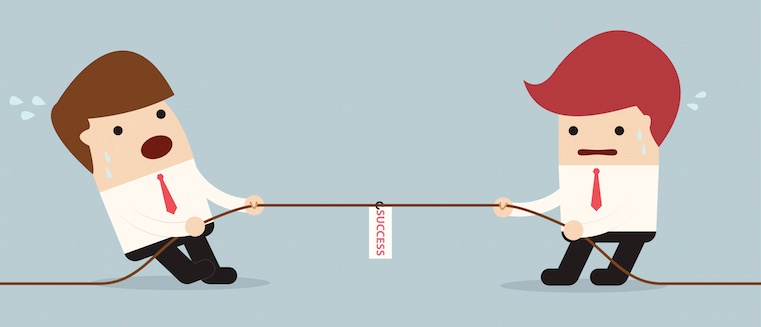 This post originally appeared on HubSpot's Agency Post. To read more content like this, subscribe to Agency Post.
A few weeks ago, Burger King propositioned McDonald's in an effort to press pause on what it called the "burger wars" and support the International Day of Peace on September 21.
Its grand idea for bringing together the two chains fighting for market share? The creation of the McWhopper.
But unfortunately for those who face the struggle of choosing between a Big Mac and a Whopper, McDonald's response was less than ideal.
"We love the intention but think our two brands could do something bigger to make a difference. We commit to raise awareness worldwide, perhaps you'll join us in a meaningful global effort? And every day, let's acknowledge that between us there is simply a friendly business competition and certainly not the unequaled circumstances of the real pain and suffering of war."
While McDonald's didn't wind up participating in Burger King's "burger mashup" with fellow chain restaurants Denny's, KrystalGiraffas, and Wayback Burgers, it did announce that it would be supporting the U.N. World Food Programme's response to the migrant crisis in Europe and the Middle East.
While we support both brand's initiatives, this failed attempt to "squash the beef" between the two chains got us thinking about what other brand rivalries exist. Will they ever reconcile their differences? Or is their shot-for-shot approach simply baked into their strategies?
We took a look at five infamous brand battles to learn more about how they came to fruition and where they stand today.
1) Apple vs. Samsung
If I'm being totally honest, I'm an Apple person. I'm like the way it balances familiarity with innovation … and I seem to tap and swipe in confusion when faced with anything other than an Apple product.
That said, my affinity for the brand doesn't change the way I feel about Samsung's witty commercials mocking Apple launches. At the end of the day, they're actually pretty entertaining.
Haven't caught one? Take a look at some of Samsung's most noteworthy digs:
Over the years, these snarky advertisements have poked fun at the Apple brand and its cult-like following by highlighting the strides Samsung has made to deliver a comparable — if not more advanced — product. However, we'd argue that competitiveness got the best of them when they released this ad mocking a quote from the late Steve Jobs: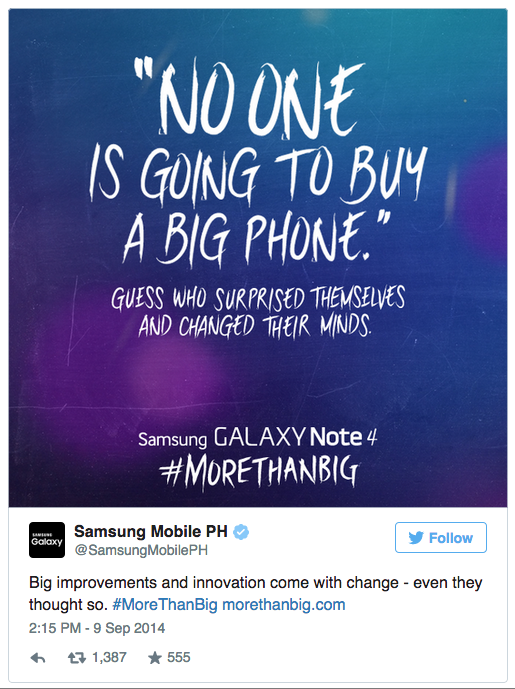 As for Apple's retaliation, well, there hasn't been much. Confident in its brand and loyal following, Apple has taken a less explicit approach in defending the brand by taking steps such as launching a campaign around its iPhone, which employed this website headline:
The brand has also committed to creating compelling website content around why its products — such as the iPhone — should be the obvious choice for consumers, like this page.
Considering everyone knows it's no fun to pick a one-way fight, it will be interesting to see how long Samsung continues to use this beef to fuel its strategy.
2) Coca-Cola vs. Pepsi
Dating back to the early 1900s, this soft drink rivalry is still alive and on today.
Between then and now, we've seen a lot of "shots fired" in both directions, as each brand has taken to advertising to defend its spot on top or vie for a better position. Here are some of the most memorable competitive campaigns they've launched:
The Pepsi Challenge (1975)
Source: ABC News via CNW Group/PepsiCo Canada 
Max Headroom & Coca-Cola: Don't Say the "P" Word (1985)
The Joy of Pepsi (2007)
Source: Coloribus
Pepsi Halloween (2013)
Source: AOTW
Pepsi's "Larry" Ad (2015)
Similar to the Apple versus Samsung feud, it seems that Pepsi has been a little more heavy-handed in its competitive approach over the years. But has the brand's haste been enough to help them win over more business than Coca-Cola?
According to Beverage Digest's annual industry report, Coca-Cola continues to hold the No. 1 spot. Although Pepsi finally managed to knock Diet Coke from its No. 2 spot in 2014.
For now, it seems this soft drink war will continue to carry on.
3) Dunkin' Donuts vs. Starbucks
The competition between these two major beverage companies has been brewing for quite some time. While Starbucks has yet to step up to the plate, Dunkin' Donuts has made its fair share of attempts to diss its competition — both directly and indirectly.
For example, back in 2006, Dunkin' Donuts launched its "Fritalian" commercial, which lent itself to the confusion people felt when tasked with ordering from confusing, more fancy coffee menus:
While there was no direct mention of Starbucks in the commercial, most viewers were able to extract the competitive dig. And to further exemplify its commitment to the everyday coffee drinker, Dunkin' Donuts followed the "Fritalian" advertisement with one:
While the term "dieci" was used in place of "venti," it's obvious that Starbucks was the object of Dunkin' Donuts' remarks when crafting the clever script for this commercial.
After a few attempts at "subtlety," the folks at Dunkin' Donuts decided it was time to kick things up a notch. Following an independent taste test — in which 54.2% of respondents preferred Dunkin' Donuts coffee compared to 39.3% who chose Starbucks (6.3% expressed no preference) — Dunkin' Donuts wasn't shy about spreading the word of its success.
In fact, the brand went as far as introducing this shirt for sale in its online store: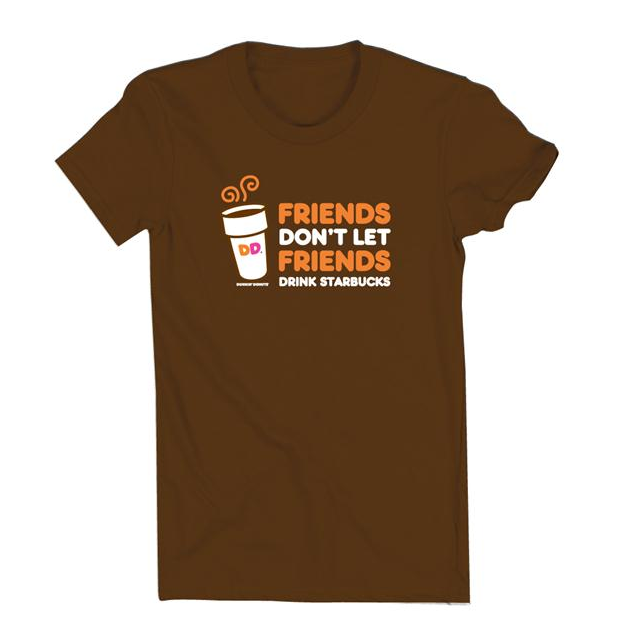 With Dunkin' Donuts continuing to stir the pot, it seems that Starbucks hasn't suffered from its rival's mockery. But will the brand ever retaliate? Only time will tell.
4) Campbell's Soup vs. Progresso
Back in 2008, the competition between these two soup companies was just heating up. In an effort to gain a leg up on the competition, Campbell's Soup attacked Progresso with an ad that accused them of selling soup that contained MSG.
Source: Branding Value Now
Progresso quickly retaliated by turning the tables on Campbell's with this advertisement:
Source: Business Insider
Unwilling to accept the brand's accusation, Campbell's countered Progresso's advertisement with this revised variation:
Source: Branding Value Now
Outside of print ads, the two soup brands have also gone blow for blow in a series of commercials, such as this one from Progresso:
And this one from Campbell's:
While it seems that today both brands have invested in marketing strategies that don't involve name-calling, this heated debate does aim to re-teach marketers and advertisers a good lesson: Don't throw stones if you live in a glass house.
5) Apple vs. Microsoft
We named it once, and we'll name it again: Apple has earned themselves both the opening and closing spot on this roundup, and it's not unintentional. When you have a company as successful as Apple, you're practically inviting other brands to pick a fight with you. Haters gonna hate, right?
Serving as perhaps one of the most iconic brand rivalries of all time, the great Apple versus Microsoft debate boils down more specifically to Mac versus PC. (And if you say you don't have a preference, you're lying.)
The brand beef all started with the "Get a Mac" campaign from Apple that ran from 2006 to 2009 that went on to be declared the best advertising campaign of the first decade of the new century by Adweek.
In an effort to challenge the campaign, Microsoft — with the help of ad agency Crispin Porter + Bogusky — launched the "I'm a PC" campaign in 2008:
This technological power struggle was fueled by years and years of previous competition, which has never really gone away.
Although, there is something to be said about the fact that a Microsoft executive, Kirk Koenigsbauer, made an appearance at Apple's latest event. Could it be? The beef is over?
Not so fast. According to an article from Fortune, it seems likely that Apple invited a Microsoft employee to demonstrate the company's popular Office software on the new iPad in an effort to make the Apple brand seem more business-friendly.
So while we're not convinced the beef is settled between the two companies, we are interested in seeing who throws the next "punch."
What brands would you like to see make peace? Let us know in the comments section below.
Featured Image via Burger King McWhopper Proposal Video