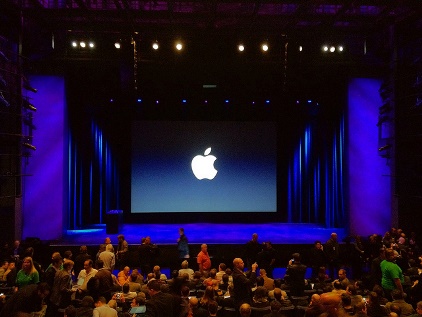 Today was the day. Apple was finally about to announce its brand new iPhone and a slew of other new gadgets — and Apple was finally hosting a live stream of its own. In anticipation, we all blocked off our calendars for the event's duration, glued ourselves to the computer, and pulled up the live stream.
That's when the problems began. It didn't work in any browser but Safari. The audio began playing in several languages simultaneously. The video cut in and out. And when the video did start working again, one of the people demoing the new features had a very interesting outfit choice — a burgundy infinity scarf.
It was a perfect storm of mistakes — and of course folks on Twitter began to poke fun at the craziness of the whole situation. Catch up on some of the funniest ones below:
— Denny's (@DennysDiner) September 9, 2014
An inopportune time to say, "We've made incredible advances in video."

— Marco Arment (@marcoarment) September 9, 2014
what's happening guys?

— TV Truck Schedule (@TVTruckSchedule) September 9, 2014
I feel like I'm taking @rosettastone, #AppleLive

— Matt Prince (@Matt_Prince) September 9, 2014
YOU WILL LEARN MANDARIN AND ALSO BUY ALL OF THIS Love, Apple

— Nate Bolt (@boltron) September 9, 2014
This keynote is running like a PC. #AppleLive

— Dane Cook (@DaneCook) September 9, 2014
Don't let this happen to you! #applelive pic.twitter.com/k0ZgREK8i9

— Dawn Wright (@deepseadawn) September 9, 2014
You had one job, Apple http://t.co/pCc0ZgrZO1 pic.twitter.com/Afipcy4Znm

— i100 (@thei100) September 9, 2014
To simulate the #applelive experience, open up several separate YouTube vids, play them simultaneously, minimize, stare at a test pattern.

— Mark Reed-Edwards (@mreededwards) September 9, 2014
"It just works." – Apple on anything but their livestream.

— Stuart Elmore (@digitalgravy) September 9, 2014
You laugh now, but in the future all livestreams will be in Chinese. Apple ahead of the curve once again.

— Rick Klau (@rklau) September 9, 2014
"it just works" is all i heard in-between the crashing video and chinese-english audio. #AppleLive

— Kenji (@kenjitsuk) September 9, 2014
1 Infinite Scarf, Cupertino, CA

— Mike Rundle (@flyosity) September 9, 2014
The iWatch will come in eight colors. pic.twitter.com/1tEkZmUvNJ

— Chandra Steele (@ChanSteele) September 9, 2014
You had one job TV Truck.

— Nate Boateng (@nateboateng) September 9, 2014
Have you tried turning it off and on again? #applelive

— Fred Emmott (@fredemmott) September 9, 2014
Image credit: deerkoski
Did you tune into Apple's live stream? What were some of the funniest tweets you've seen?