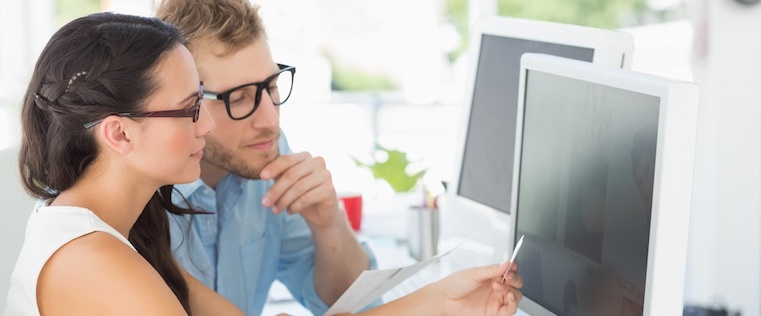 Time for another brainstorm session …
After scratching out a list of possibilities, you turn to your computer for inspiration. Consider your go-to sources: Do you immediately navigate to your competitor's blog? Are your bookmarks filled with favorite content from companies in your industry?
Constructive thinking doesn't happen inside of a vacuum. Instead, our best ideas come when we take a step outside the scope of our work and seek inspiration from unlikely sources. For B2B marketers, this means that the creative spark you're looking for might not be found directly within your industry. In fact, there's actually a lot B2B marketers can learn by observing the approach of B2C companies.
Of course, B2B and B2C marketing have their long list of differences. With B2B marketing, the door is open to technical jargon and long, deliberate marketing funnels. Yet, B2C marketers often have more room to stretch their imagination with lofty expectations for either witty or tear-jerking campaigns.
But despite the dissimilarity between the two, there is an opportunity to surface fresh ideas to by exploring out-of-the-box examples. And with a bit of inspiration and original execution, your B2B campaigns can rival the creativity of the most buzz-worthy consumer marketing.
11 B2C Campaigns for B2B Marketers to Learn from in 2016
It is easy to think that only companies with an extensive catalog of products can pull of beautiful visual marketing. But what about when you specialize in one item?
With colorful photos of kale Caesar salad, mushroom flatbread pizza, and peach cheesecake, Chobani is a great example of a brand that leverages diverse photography to highlight a single product.
Even if you market for a niche B2B business with one main product, there are still endless possibilities for your visual marketing. As you determine a visual strategy for social media, especially Instagram, start by thinking beyond the product itself to the many ways or locations your product can be used.
Based in the UK, Tesco is an international grocery store and a reliable source of information for anyone hoping to make their home run a little smoother. On their blog, Tesco Living, shoppers can find how-to articles with easy-to-follow instructions and ample pictures. Topics range from family favorite holiday recipes to summertime craft ideas for your preschooler.
By thoughtfully identifying common challenges of grocery shoppers, Tesco Living proves to be an exceptional example of helpful inbound marketing. Tesco then continues to impress by providing the solutions on a clean, easily navigable platform.
Starbucks was an early adopter of social media and today continues to use industry-leading photos to attract customers. However, most B2B marketers can't say they have a product as enticing as a cup of coffee to fill their social calendar. Nevertheless, marketers of any industry would value from the coffee chain's omni-channel approach to marketing and selling.
Starbucks creates a user-friendly experience through a myriad of special features on its Facebook page, including special contests, a store locator, international links, and job postings.
To streamline the buying process even further, Starbucks created an app to simplify mobile payments and bypass lengthy lines. While it's unrealistic that all companies should aspire to create their own native app, Starbucks shows how brands should smooth the buyer's journey with each interaction.
Few brands master personalization quite like Spotify. By leveraging the user's music interests, Spotify only sends emails with content that is both relevant and rewarding — whether it's an announcement of their favorite band releasing a new album or news of a local concert.
However, the music streaming platform shows that personalization is no longer just for email marketing. Spotify now curates Discover Weekly, a customized playlist filled with songs an individual user has yet to uncover. To close out the year, Spotify presented each user with a "Year in Music" microsite telling the story of their 2015 music habits.
As you consider how to add a human touch to your marketing campaigns, think how you can expand beyond email personalization tokens to impress your customers.
Adventure is the theme of Herschel Supply's visual marketing. Browse the backpack retailer's Instagram account to find breathtaking photos of mountaintop views and chaotic city streets.
However, Herschel Supply gives marketers more than just high quality photos to envy. The majority of the brand's visual content comes directly from their customers posting with the hashtag #WellTravelled.
Like Herschel Supply, consider how your brand can use social media to create a community, not simply a list of followers. This way, customers become stakeholders in your marketing and voices in how your product story is told.
No matter the platform, each piece of Everlane's content works toward the same goal: transparency. By illustrating the "how" and "why" behind what they do, Everlane breaks down the barrier between the customer and their favorite brand. For example, the fashion retailer uses Snapchat to send messages to their customers that feel honest and personal. And the brand's Instagram account features backstage shots of the clothing production process.
If you are looking for a new approach to gain trust and loyalty from the businesses you sell to, consider how you can increase transparency as you explain sourcing and pricing on your social media and blog.
There are few ways to illustrate your brand personality quite like including humor. But before you decide there is no room in B2B marketing to pull a joke, consider the approach of Taco Bell. On the fast food chain's Twitter account, you'll find a robust collection of hand-drawn doodles and goofy GIFs.
However, it's not just Taco Bell's young audience that allows them to execute their humor so well. Credit goes to the brand's bold, consistent voice. Taco Bell does not test the waters with a few jokes here and there, but commits completely. Whatever you determine your brand voice to be — from witty and sarcastic to encouraging and empowering — strive for consistency.
There is no doubt that Threadless knows their audience well. On the retailer's blog, you'll rarely catch the writers talking about their funky t-shirt designs. Instead, Threadless has created a content haven for graphic designers and illustrators with just the right touch of quirkiness and personality.
Each post is packed with images, showcasing doodles straight from the desks of their customers. Meanwhile, Threadless understands the reader's desire for visual inspiration and keeps the copy to a minimum. Of course, this approach is not right for every brand. But the more you know your audience, the more you'll be able to cater your content to the style your readers like best.
Visual storytelling has always been a key ingredient in the marketing success of TOMS. By sharing the stories behind their one-for-one giving model, TOMS is able to gain customers who are all-in with the company's mission. Therefore, it's of little surprise that their social media accounts often look more like the work of photojournalists than marketers.
So, when you already know you do something well, why not pursue it further? This is exactly what TOMS has done with the release of their latest piece of visual marketing, a virtual reality video that takes the audience alongside on a giving trip. Viewers can drag the frame or tilt their smartphone for a seamless 360-degree view of the surroundings. While visual marketing may not be your strongest asset, determine what you do best and consider how you can push the bar and build more buzz around your brand.
EDEKA reminds marketers that commercials don't have to feel quite like commercials. In their 2015 holiday advertisement, the German supermarket tells the story of a grandfather who will do just about anything to get his busy children and grandchildren home for the holidays. If you're looking to explore video marketing, make note of both the empathy and character development used to transform this commercial into a sharable piece of inbound content.
Unsure how your B2B brand could use storytelling to market your product? Remember, you don't have to bring your audience to tears. But making a human connection through storytelling could be just what your brand needs to add interest to your B2B marketing.
Once you pinpoint your winning campaign idea, challenge yourself to imagine all the possible formats your content could take. Consider Purina as an example. The pet food company partnered with BuzzFeed to create an adorable video sharing the first day of bonding between a man and his new puppy. But, Purina didn't stop there. Sequels were made to continue the tale, including "Our First Poop" and "We Met a Girl." The campaign is then wrapped up in a microsite to guide people through the adventure of raising a puppy.
As content marketing blurs the line between retailer and publisher, consider how you can expand the scope of your campaigns and experiment with new media and storytelling trends.
Looking for more examples to spark your inspiration? Check out our latest ebook: 32 Enviable Examples of Inbound Marketing.