Taking a great idea and turning it into a real, functioning, successful business requires quite a bit of work, sweat, and coffee.
There are documents to be signed, prospects to be called, emails to be sent, and tweets to be posted. In other words, there's never a shortage of tasks on your plate on any given day.
Sure, you could hire a bunch of extra hands, but if you're not in a financial position to onboard new talent right away, then that wouldn't make good business sense, now would it?
Trouble is, while keeping costs down is a critical piece of the puzzle, it can make finding the right tools to simplify your day-to-day responsibilities a little challenging.
That's why we've come up with a list of must-have tools for anyone running a business … and they're all free. From heat mapping software to help inform your website design to a project management tool to keep your team on track, you won't know how you did your job without them.
14 Free Tools to Help You Run Your Business
Ever want to send an email on a Friday but don't want it to get lost in the recipient's mailbox over the weekend? With Boomerang for Gmail, you can write an email now and schedule it to be sent at a time that's more convenient.
But that's not all. Boomerang boasts a ton of other features designed to make your life easier. For example, if your inbox is feeling a little unruly, you can pick and choose which emails you'd like to temporarily archive until you need them. Simply pick the time and date that you'd like it to reappear, and it'll be there. Magical.
Keeping your team on the same page — whether you're working remotely or side-by-side — isn't always easy. With new ideas, changing deadlines, and last-minute adjustments happening through out the course of a day, you need a place to keep everything unified. That's where Trello comes in.
At a glance, Trello makes it easy for users to visualize what tasks are on their plate, what their team members are currently working on, and what's already been completed. Functioning like a virtual bulletin board, the tool offers boards and cards to help you and your team organize a project, or just keep tabs on your day-to-day work.
With cards, users can upload file attachments, add comments, create checklists, assign due dates, and so much more. And whenever a change is made to a card, Trello's notification system can send an update to the members of the board to keep everyone in the know.
Ah, paperwork. One of the worst timesucks in your day.
Luckily, there is a tool to help free up some of that time. Rather than spending your day tracking down the right people to sign the right documents, HelloSign makes it easy for users to sign documents and request esignatures from up to 20 different people. And once the document is completed, everyone that signed will get a copy delivered straight to their inbox to keep for their records.
Worried about security? You don't have to be. HelloSign uses SSL encryption during file transfers to keep your documents safe. (Want to learn more about SSL? Check out this article from my colleague, Jeffrey.)
To make your life even easier, HelloSign integrates with many of the apps you're already using — Gmail, Google Apps, Dropbox, Evernote, etc. This means you can sign legally binding documents in 30 seconds or less, without leaving your Gmail inbox.
In sales, speed matters. Think about it: In the time that your salespeople spend digging through their inbox for bit of information about a prospect, they could be losing a sale to competitor.
HubSpot CRM enables sales teams to work more efficiently by providing reps with a detailed history of their interactions with a prospect. Unlike other systems, HubSpot CRM is both intuitive and automatic, making it easy for users to log emails, record calls, and manage their data. This type of easy access to touch points helps to ensure that reps aren't sending repeat emails or mismanaging their time with prospects that aren't interested.
Meetings, emails, and unexpected desk visitors can sometimes make it difficult to actually get work done during the day. Well, with an internal team communication tool like Slack, your team can collaborate, share files, give feedback, and provide quick solutions all using real-time messaging.
According to Slack's website, teams using its software find a 25.1% decrease in meetings and a 48.6% reduction in internal email, resulting in a 32% increase in team productivity.
Slack also offers fully native apps for iOS and Android, making it easy for you to pick up where you left off after you leave your desk.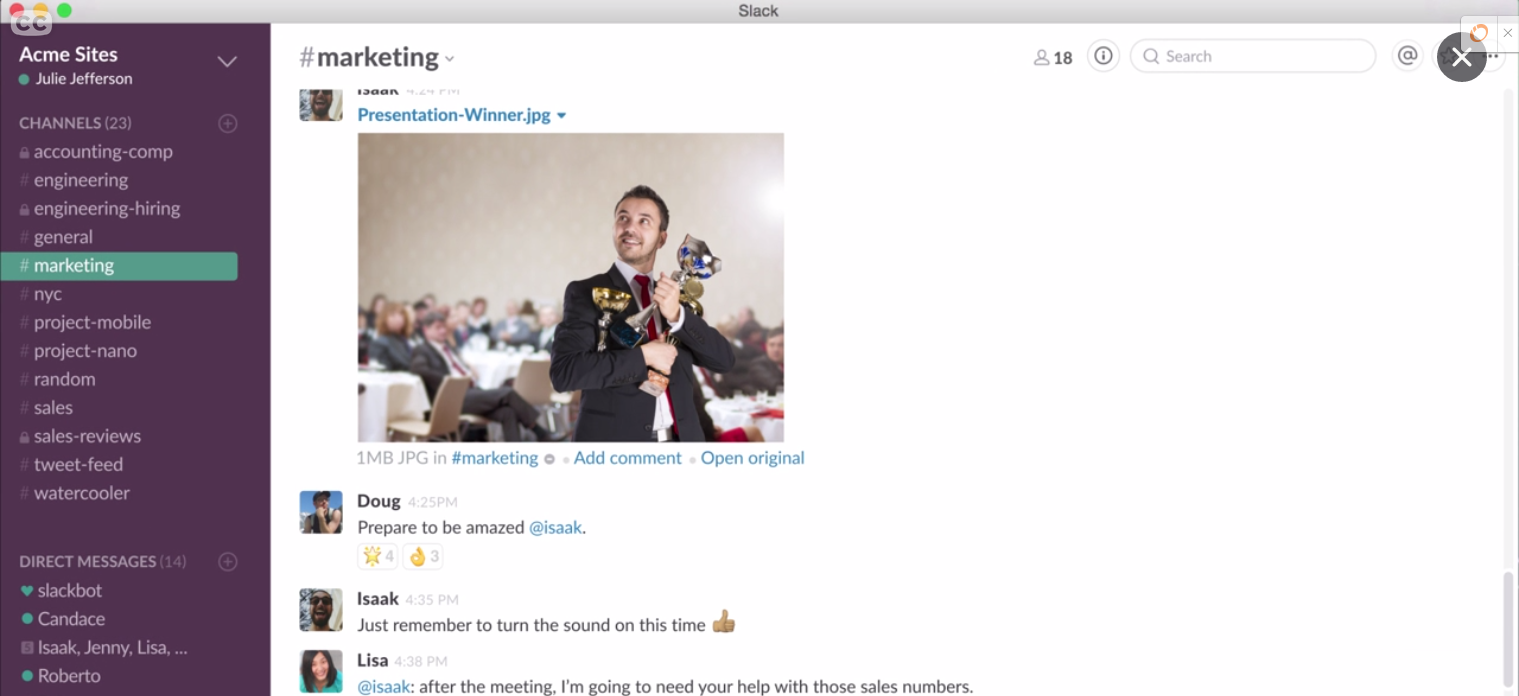 LeadIn is a free WordPress plugin designed by our team here at HubSpot. Built to help you understand your website visitors better, this tool makes it easy to find out not only who is on your website, but also what they're doing.
With LeadIn, users automatically get insights into everyone who fills out a form on their website. From pages they've visited to social networks that they're on, these details can help you make more strategic marketing moves.
LeadIn integrates with email software like MailChimp, Constant Contact, and Campaign Monitor, so you can push the contacts who fill out a form on you site straight into an email list.
Dropbox provides businesses with an easy way to share and store photos, videos, documents, spreadsheets, and other files, using both desktop and mobile devices. Eliminating the need for flash drives, Dropbox makes it easy for users to access the information where they need to, when they need to.
In terms of collaboration, the tool aims to simplify the way teams collaborate and share files — proving to be especially useful for teams in which some members telecommute. Users can even add comments to shared files, which saves time and eliminates the need for another email in your inbox.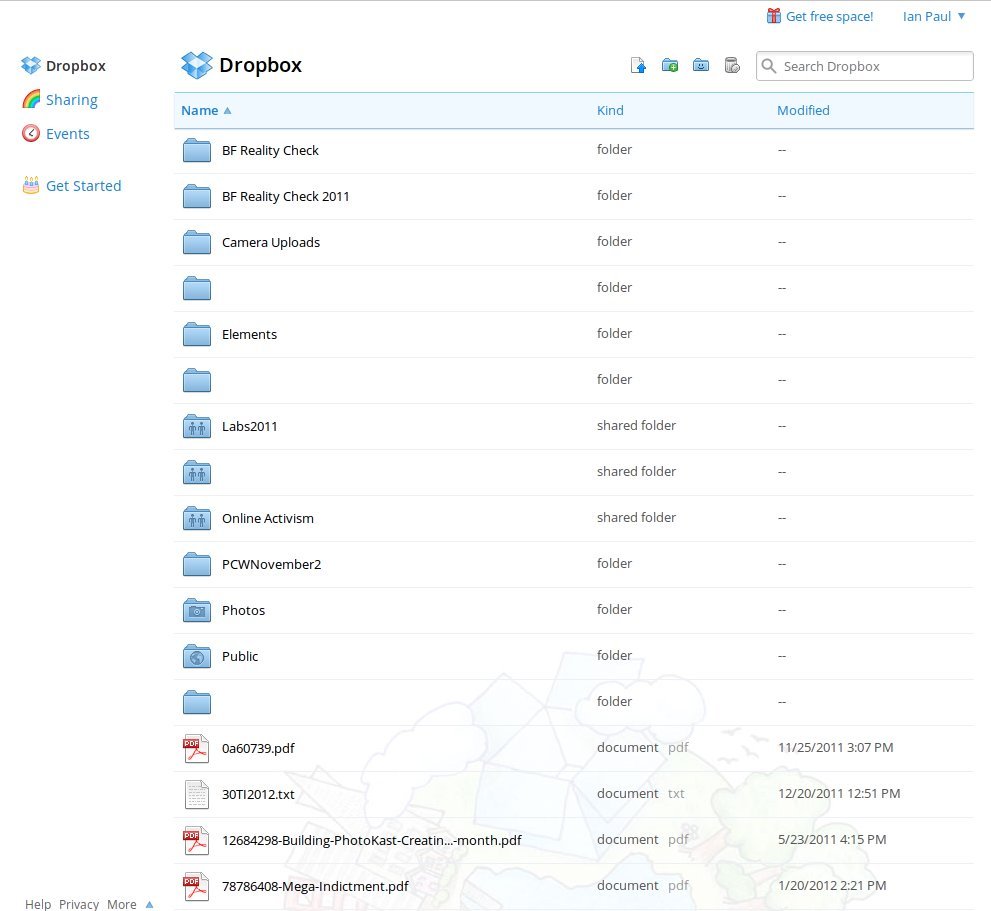 Image Credit: PCWorld
Google Apps is a package of cloud-based productivity services that make it easy for businesses to collaborate in real time.
With access to apps like Google Docs, Sheets, Slides, and Sites, you and your team will have the means necessary to innovate, brainstorm, and document all of your great ideas. To give you a better sense of how you can make the most of the suite, check out this post from my colleague Corey on how we use Google Sheets to crowdsource our blog posts.
To get started with the free version of Google Apps, you simply need a Gmail address. But if you want to use Google Apps with a business email address (such as yourname@yourcompany.com), you'll need to pay. Pricing for Google Apps at Work starts at $5 per month.
Running a business requires a lot of hands. Trouble is, your new business budget might not stretch enough to cover new talent. In other words, you've got to work with what you've got.
Rather than allowing routine tasks to eat up all your precious time, try IFTTT. Short for "if this, than that," IFTTT is a productivity tool that employs "recipes" to automate your important online processes. (Essentially, it's like autopilot for your day-to-day tasks.)
Recipes link together some of your favorite cloud-based services, and can trigger a specific action based on particular events. To clarify, here are a couple examples:
If an email is starred in Gmail, then save that email (and its first attachment) to Evernote.

If you create a new link post on Facebook, then post a tweet with the same link on Twitter.
The health of your business often has a lot to do with how visitors interact and respond to your website. But how can you optimize for the user when you don't know what the user wants?
With Hotjar, you can leverage heat mapping technology to turn up a visual representation of you website visitor's clicks, taps, and scrolling behavior. These behaviors serve as strong indicators of what your visitors are looking for and where they're getting stuck.
By identifying these opportunities for conversion optimization and improvement, you can then make iterations to your website design and copy in an effort to streamline the user experience.
Looking for more ideas on how you can use the insights you gather using Hotjar to strengthen your website? Here are a few suggestions from its website:
Discover how visitors react to longer or shorter pages.
Overhaul forms to generate more leads.
Remove or rethink ignored content.
Reveal anxieties about trust or confusing policies.
Canva is an easy-to-use tool that allows both designers and non-designers to create designs and documents without a ton of technical knowledge.
Thanks to features like the drag-and-drop functionality, free icons and shapes, collections of fonts, and helpful templates, users are equipped with everything they need to pull off quality designs for presentations, social media, reports, and even business cards.
Canva even offers a Design School, where users can go to learn more about design 101, branding, color theory, design trends, typography, and much more.
Ever find yourself on the train or at a red light when a great idea strikes? With Evernote, you can catalog your thoughts on any device to ensure that you don't forget to execute on it. And because Evernote syncs across all of your devices, it's easy to jot down an idea when it hits, and then run with it when you get to your desk the next morning.
The free online workspace provides users with a platform for writing, collecting images and snippets from around the web, and communicating, collaborating, and sharing with colleagues.
Thanks to the tool's screen-friendly layout, you can even transform your notes into a quick presentation for an impromptu meeting on your latest project.
Want to save time and money? Who doesn't?
Manager.io makes free accounting software for small businesses. Noteworthy features include: General ledgers, cash management, bank reconciliation, expense claims, accounts receivable, accounts payable, estimates and quotes, purchase orders, billing and invoicing, and so much more.
The folks at Manager.io place a heavy emphasis on design, and that's highlighted through the functionality of the tool. Unlike traditional accounting software, Manager.io doesn't require users to enter opening balances or configure tax variables before they can issue an invoice or record a payment. In fact, getting started requires very few configurations, so you get straight to what's important: your accounting needs.
According to its website, "Google Analytics' solutions can help you turn customer insights into action for your business."
For small businesses, Google Analytics' free services aim to simplify the way users view and improve the performance of their websites. Not only does the solution provide you with the means necessary to report on your website's progress each month, but these insights can also help you better understand your visitors so that you can create a marketing experience that keeps bringing them back.
If you're looking to improve your analytical skills, Google offers expert lessons, tests, and community forums, all available in Analytics Academy.
What free tools do you use to run your business? Share your favorite in the comments section below.