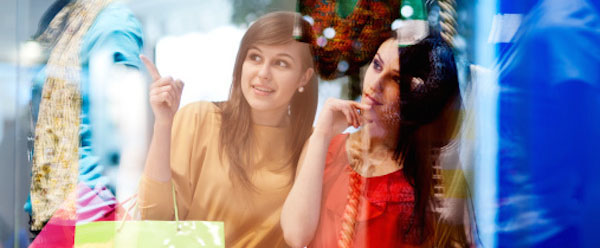 A pop-up shop, by simplest definition, is a temporary retail location, with the goal of making a permanent impact with your audience. More and more brands – ranging from established retail giants to ecommerce companies – are using pop-up shops as a mechanism to build stronger relationships with their customers.
Notice that the goal is relationships, not sales? Sales are nice, but pop-ups have a unique ability to build relationships between customers and brands, so the goals are often driven more by marketing and awareness than revenue.
Regardless of which industry you're in, we live in a hyper-connected world where consumers are exposed to more options than they can possibly digest – from fashion to food to social causes. Everything is a click away, yet the level of interaction can sit on the surface, often on a superficial level.
In this environment, consumers crave personalized interaction. They crave an experience that will surprise and delight them.
Let's explore how a pop-up shop can be a critical tool for your ecommerce brand to create an immersive experience that conveys your brand promise, lifestyle message, and bridges the "touch-feel" gap that can be common in our online world. While there are numerous reasons why you would launch a pop-up, here are three of the most common ways that it can make an impact on your business.
Focused Learning and Testing
When UK based online retailer, boohoo.com, came to the U.S. this fall, they created a shoppable showroom, fully integrated with technology and social media initiatives. Through a partnership with the tech company Stylinity, they were able to truly connect to online and offline worlds. Customers could photograph their boohoo looks and a record of it was sent to both them and the brand. Moreover, they could share these outfits on social channels and garner feedback from friends on which look was best. On the last day, guests could tweet for clothes and take home whichever look they wanted. The hashtag #theboohoostore blew up! And from this, the boohoo.com now has data on most popular styles and which pieces moved (and didn't) at a number of different price points. They have word clouds of data on most used words and how the U.S. market felt about the fast-fashion UK retailer. And, as a bonus, they saw a boost of online sales in the last week from student websites and the NY & NJ region.
This is a great example of how designers, brands, and retailers can utilize pop-ups to test numerous "ingredients" of their product mix. They could be testing usability of a newly launched product. They could analyze customer engagement, price point sensitivity, or color choices.
Step one for a brand looking to use a pop-up to learn is to define the question. What is it they're trying to figure out? Once they're clear what they're looking for, they must establish a certain number of constants, factors that never change (the scientific "controls" of this grand experiment, so to speak). Finally, they must use their pop-up activation to begin collecting data to analyze.
A common way to do this is by monitoring social media. If your target audience are digital natives and social sharers, you can collect a lot of data through these platforms. Set a hashtag for your campaign and be sure to have someone on your team ready to listen and interact. The key word here is listen! You can collect data on what words were said most often — positive or negative — in association with a designated hashtag during that activation. You can also gain valuable feedback about what your customer cares about.
Maybe something different really inspired them other than what you thought it would be? Maybe they explain the reason they were hesitant to convert? Maybe you learn there's a whole segment of fans out there that you didn't even realize existed?
In-Depth Customer Education
Canadian-based technology company, Shopify, is a wonderful example of a company who successfully utilizes pop-up shops to educate its customers and ultimately establish a deeper connection. Through Shopify's retail initiative, businesses owners who use the platform for ecommerce, or who are thinking about it, have dedicated destinations to visit where they can sign up for workshops and work side-by-side with experts and elevate how they utilize the technology via design, app integration, product photography, and more. It instills the message that by using this platform, they have a true partner in their success, and that Shopify is more than just a tool. Instead, these pop-ups brand them as an expert community that users can rely on to learn best practices for growing their business.
Companies with complex offerings, new formulations, or a special mission can benefit from giving customers an in-depth, in-person demonstration of their product at a pop-up shop. By allowing a customer to take a deep dive into real-time, hands-on, live demonstrations, you're giving them a clearer idea of who you are. When this is done properly, the environment makes the customer feels like this brand is educating them, not just selling them a product.
Immersing Your Customer in Your Brand
The #DaisyMarcJacobs Tweet Shop is a great example of a brand that understood their customers and delivered an immersive brand experience pop-up shop. No matter how many times they went to the Marc Jacobs store a few blocks away the following weeks or months, they would never have the same experience that they got in those three days during New York Fashion Week, where they could participate in the brand conversation and get free products for it.
They could hear DJ Jilly Hendrix spinning, have coffee from a solar-powered coffee truck, get free manicures, see great artwork by Langley Fox Hemingway, and receive free Marc Jacobs products in exchange for a Tweet. They had an opportunity to engage with the brand in a way that they wouldn't be able to do the next week.
Brand message is the number-one thing that could make or break your company: it's the promise you make to your customer. By creating an immersive experience, you allow customers to experience your brand on a whole other level, and empower them to feel like they're truly involved in your brand.
In order to achieve this immersion, your imagery, product quality, and lifestyle message must be consistent, and the temporary spaces you create should deliver an environment that makes your brand feel approachable and attainable. It should allow customers to step into a world that might have otherwise seemed beyond the realm of possibility.
Conclusion
While a brand will always care about sales, it's important to remember that's only one benefit to be gained from a pop-up shop. If you also use your in-store experience to learn, the impact it can have on sales can be longer term and much more significant. Data collection has gotten better and better, and anything from foot traffic, to sales conversions to social media activity can help inform your brand about decisions to make in the future.
Ecommerce brands that approach temporary stores as a way to learn, educate and truly immerse their customers in the brand promise and lifestyle experience are the ones who get the most long term benefits from their pop-ups. Remember, although it's temporary in nature, the impact of a pop-up can be permanent.