Sometimes, it's easy to get overwhelmed by all the questions that arise when you're creating or analyzing your Twitter strategy.
Who follows you? What kind of Tweets do they like (or hate)? How often do they want to hear from you? How quickly do they expect a response?
As an SMB Marketing Manager at Twitter, I hear these questions from a lot of businesses. The good news is you've got a great tool at your disposal: Twitter's free analytics. With a few clicks of a button, you could be on your way to finding out what's working (and what isn't).
Not sure which Twitter analytics features you should be using? Below are a few you may not know about (but should).
1) Get monthly reports.
Your Account home provides a handy overview of your Twitter statistics, with monthly averages for engagement rates, replies, and more. So the next time your boss is asking for a wrap-up, you're just a click away.
Want an even deeper dive? Visit the Tweet activity dashboard to see in-depth metrics for your individual Tweets. You'll see stats like impressions and total engagements — and Twitter will even calculate your engagement rate, too.
If you click on a Tweet, you'll see engagement broken down even further into Retweets, Favorites, clicks on media, replies, link clicks, follows, and more. If that's still not enough data for you, you can download the data on your last 3,200 Tweets, going back as far as October 2013.
2) Uncover your influencers.
It's not just about statistics — your Account home has even more in store! It'll let you know who your top follower is every month, in terms of reach. You can also see whose Tweet mentioning your handle drove the most engagements. This is a great place to start when you're looking to kick-off a co-marketing venture or find a business partner.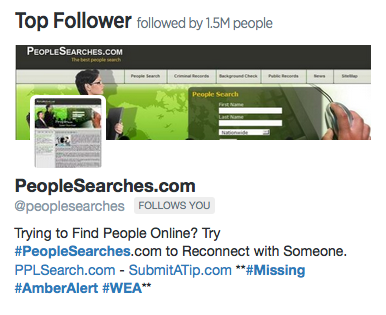 3) Get to know your followers.
Aside from the fact that they all made the (great) decision to follow you, do your followers have anything else in common? The followers dashboard is loaded with audience insights that can help you answer that question, and many more. You can track your follower growth over time, see their tops interests, and uncover their demographics. You can also benchmark your numbers against the total Twitter user base, and find out what makes your community stand out.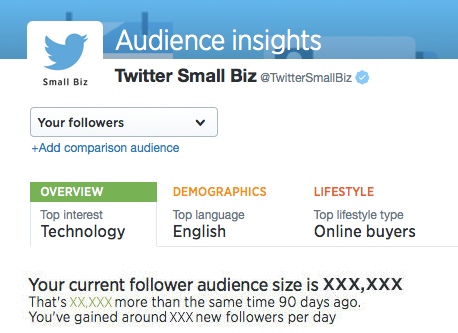 We've also recently introduced personas. This means that, in addition to your followers, you can now get to know specific audiences on Twitter such as parents, millennials, or small business decision-makers.
Once you find the persona that matches your desired audience, you can easily target them in an ad campaign — it's just one click on your audience insights dashboard. Personas are currently only available to advertisers in the U.S., but we're working to roll out this new tool more broadly.
4) Check analytics on your mobile phone.
Out and about, but with Tweets on your mind? You can hit the graph icon to check in on a Tweet's engagements.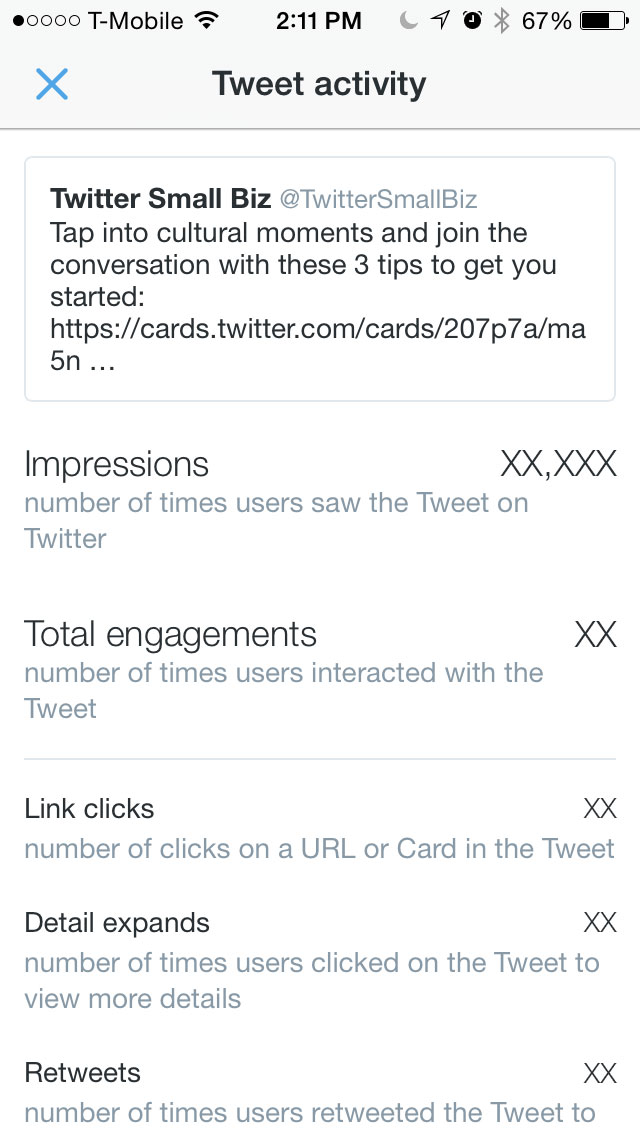 If you're checking in on the Promoted Tweets in your Twitter Ads campaigns, you can go even further: the new Twitter Ads companion allows you to monitor and edit your campaigns from your mobile phone. You can change your campaign start and end dates, pause or resume a campaign, and edit your budget and bid.
5) Promote individual Tweets in 1-2-3.
Now that we've gotten you into the good habit of checking in with analytics.twitter.com every day, you'll be ready when one of your Tweets starts to get noticed. If you see that something is resonating with your audience and racking up the faves and Retweets, it could be ready for a wider audience. With quick promote, you can click on the Tweet in your timeline or your Tweet activity dashboard, and promote it with just two clicks.
You'll be able to target people who are similar to your followers, and those that are likely to be interested in the topics mentioned in the Tweet. You can also refine by geography, to make sure you're quickly promoting content to the most relevant country, region, or metro area. Our easy budget slider makes it simple to choose the amount that makes the most sense for your business and goal.
We're stopping at five, but once you start exploring analytics.twitter.com you'll be amazed at how much you can learn about your content and your audience. Of course, data is only as valuable as the insights it brings to businesses, so take time to get familiar with all the reports and identify the best for your business. We'll be sure to keep the dashboards actionable, easy-to-use, and up-to-date with new, helpful features. Deal?