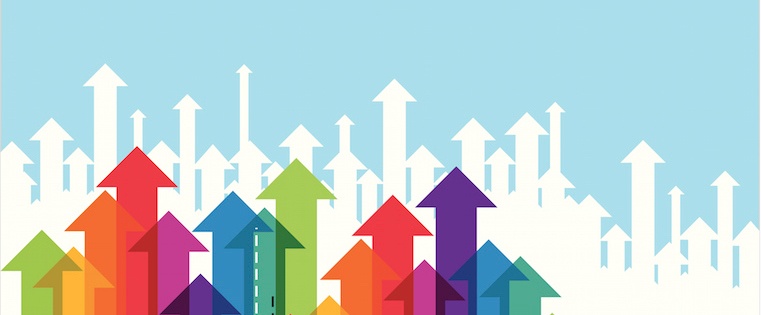 Creating and maintaining a presence for your brand on social media can be a 24/7 job for an entire team of people. But what happens when you're on a content team of one? How do you find time to dedicate to social media without neglecting your other responsibilities?
That's the position I've found myself in. For me, checking in on social media happens between editing articles, managing freelance writers, building gated content, optimizing our CTAs, distributing our content, and growing organic search referrals.
Thankfully, I've learned some approaches that scale social production and minimize time spent. While I primarily apply these tips to Justworks' Twitter account, they're applicable for Facebook and LinkedIn as well.
Why Does Social Promotion Matter?
Despite limited bandwidth, keeping our social accounts active is a high priority. Why?
Research has shown that social media has a 100% higher lead-to-close rate than outbound marketing. Providing social users with interesting, informative content helps bring in quality leads.
Not to mention, social fans are powerful: 51% of Facebook fans and 67% of Twitter followers are more likely to buy the brands they follow. But more than half of Twitter users expect audience responses from brands within an hour. Staying engaged with users is a straightforward way to earn and retain that brand loyalty.
6 Helpful Tips for Scaling Your Social Media Strategy
1) Automate routine social media tasks.
IFTTT — short for "if this, then that" — is a go-to tool for anyone looking to streamline social processes. Users can build "recipes" according to their needs, or leverage the recipes that already exist.
Want Twitter mentions sent to you via Slack? IFTTT can do that. Want every Facebook image you're tagged in sent to Dropbox? IFTTT can do that, too.
Not only does this tool help me keep our company's accounts active without constantly being online, but it also helps me automate social "admin" tasks. Here are a few of my go-to recipes:
New Twitter followers in a Google Drive Sheet. This recipe is straightforward, and incredibly helpful. It saves our Twitter followers' names, locations, follower count, following count, and profile link. I can easily review top followers from the continually updating document.
Save all #justwomen tweets to a Google Drive sheet. We host a quarterly event celebrating female entrepreneurs called Justwomen, which I live tweet through the #justwomen hashtag. This recipe saves the author, text, and post URL of all #justwomen shares for easy post-event analysis.
Add all #justwomen mentions to a Twitter list. This recipe helps me stay engaged with influencers interested in the Justwomen (and Justworks) brand. It also ensures I don't miss adding accounts to the list in the chaos of a live hashtag promotion.
IFTTT has 232 channels and endless options for recipe triggers, actions, and ingredients. If you can think it, you can most likely automate it.
2) Auto-publish to social media when a blog post goes live.
Automatically posting new blog posts is a quick way to kick start social promotion. The goal here is to get the word out.
While my auto-shares to Twitter are simply the headline and link, I always go back and promote with more engaging copy, a funny GIF, or a pull quote later.
The best part? This only took me a few seconds to set up. If you're a HubSpot customer, all you have to do is simply enable the auto-publish function in your Social Media Settings. If you're using a different content management system, you should be able to simply turn on the function just the same.
3) Create multiple social posts for one piece of content.
Appearing to promote a large variety of content doesn't require publishing more content. For each blog post I publish, I draft four different versions of social copy. Doing so gives me the most bang for my buck with each piece of content.
I generally write copy using:
The post headline
A snippet or quote from the article
A subheader or thoughtful question
An attention-grabbing statistic
For instance, the social copy I crafted for the blog post, "3 Surefire Ways To Make Your Remote Employees Loathe You," looked like this:
3 surefire ways to make your remote employees loathe you.
.@Forbes says "telecommuting is the future of work." But what does that mean for teams working w/ remote employees?
What communication tools does your team use? @Slack is our go-to tool for communicating with remote employees.
Remote workers can be 20% more productive than in-office employees – so make sure you manage them effectively.
Having a variety of copy has multiple benefits. Our social accounts don't look repetitive. Our promotions appeal to a larger variety of followers. And we can promote one blog post more often.
Writing this copy takes me about five minutes in total. I draft it as soon as I've edited and scheduled my blog post, so the content is fresh in my mind.
4) Schedule in bulk.
Once I've written my copy, I schedule social promotion through the next six months.
Yes, through the next six months.
Scheduling multiple promotions for one blog post — with multiple copy variations — is guaranteed to boost its social reach. In fact, CoSchedule shared how repeated social promotionof one blog post doubled their social referrals to that article.
For Twitter, I rotate all four drafts through:
Two tweets today
One tweet tomorrow
One tweet next week
One tweet per month for six months
For Facebook and LinkedIn, I choose two drafts to publish:
One post each today
One post each on the next "off day."
(An "off day" is any day we're not publishing a blog post: weekends, holidays, and certain days of each week.)
Memory on social is short, but a well-written blog post deserves longevity. While this approach helps me save time and ensure my content has a longer shelf life, it's important that you don't use this as an excuse to neglect your social accounts for six months. Even though you've scheduled out posts in advance, you should continue to review their performance, and make adjustments to you schedule based on they engagement they're receiving.
It's also a good idea to pepper in timely, relevant posts as they surface to accompany your scheduled content. While your content might be really useful, sharing fresh content from other respected sources will help bring a new level of value to your social media feed and help you build and strengthen your relationship with other blogs and publications.
5) Review and repost top posts.
As a content marketing manager, I'm always reviewing what works on social and what doesn't. And if one post is particularly effective… why not repeat it?
Reposting top-performing posts takes less than a minute. And the repost regularly matches or exceeds the success of the first post. I check into Hubspot's Social Publishing tool often to review recent social posts' clicks and interactions. Once I find a top-performing post, I "clone" it to create a new, identical post to reschedule.
Alternatively, you can review top performers in Twitter analytics and Facebook insights. Export recent posts and sort accordingly, looking for posts that hit your social KPIs. Then, copy/paste the text into your social scheduler.
Disclaimer: this works best in moderation. As a one-man team, I rely on reposting when I'm in a crunch: sick days, holidays, or exceedingly busy days.
6) Organize and monitor your Twitter followers.
Segmenting your social media following makes it a lot easier to monitor and identify opportunities to engage with your audience. I've organized my company's Twitter followers into the following six Twitter lists:
Influencers
Justworks customers
Justworks team members
Journalists
Competitors
Justwomen
While sorting through our followers took a lot of time, it was a one-time commitment. Now, I add each new follower to a list as they come in (or rely on IFTTT). Most of our lists are private; the benefit is primarily to organize my social listening.
Thanks to this approach, I don't have to scour my newsfeed to engage with our community or resurface recent newsletters for relevant articles to share. These lists help me congratulate customers on successes, reshare pertinent articles, and engage with influencers.
Are you running a content team of one? What are your best tips for managing social media? Share them in the comments section below.