This post originally appeared on HubSpot's Agency Post. To read more content like this, subscribe to Agency Post.
Imagine that a couple of your friends convince you to give speed dating a try.
"It'll be fun," they insist.
The next thing you know, you're sweating your way through a seemingly never-ending carousel of two-minute dates. And when the hour finally winds down, you find yourself left with two options — accept a dinner invitation from the person who wouldn't let you get a word in edgewise or the person with whom you had a good back and forth.
The answer seems obvious, right?
Aware that the one-sided approach is less than desirable, why do marketers continue to pump out the content equivalent to this all-too-familiar bad date?
In a landscape where many organizations are increasingly focused on pumping out volume, companies that stand out are those that refuse to pile on. Rather than task their audience with consumption, and consumption alone, innovative companies are using interactive content to earn the attention of their audience and increase engagement.
To give you a better idea of what we're talking about, we've pulled together a list of seven easy-to-use tools for creating more dynamic content.
7 Easy-to-Use Tools for Creating More Interactive Content
1) Guides.Co
Guides.co's mission is to "connect people who know with people who want to grow."
In an effort to accomplish this, they've created a platform for users to create and share interactive guides on whatever they're passionate about. The guides employ text, images, video, and embedded files to create a rich, participatory experience for the reader.
By including a comment field within the guide, readers can share feedback and ideas to fuel meaningful discussions. This feature aims to promote a sense of community and open up a line of communication between guide users and consumers.
2) ThingLink
ThingLink is an interactive media platform that allows users to bring their photos and videos to life through the inclusion of rich media links.
By adding multiple engagement points to a photo or video, users are able to create a unique experience that encourages the user to interact with the content for longer.
To demonstrate, take a look at how New York Magazine enables mouseover points to make additional content easily discoverable in their weekly roundup:
This approach is not only interesting, but it works to reduce high bounce rates by providing readers with multiple content options that are related to the content on that page.
3) Ceros
Ceros is a platform that provides users with the powerful tools they need to create high quality, interactive content without having to rely on developers.
Through the use of a drag-and-drop functionality, Ceros enables users to create six different types of content:
Shoppable Catalogs
Lookbooks
Magazines
Infographics
Nanosites
Ebooks
All Ceros designs start simple and come to life through the implementation of interactivity and animations. To get a better idea of what to expect, take a look at these screenshots from an ebook made with Ceros:
Through the incorporation of elements like video and interactive buttons, transforming a static piece of content into something more dynamic is quite simple.

Unlike a traditional ebook, an interactive approach makes it easier for you to guide your readers through the content in its entirety with the hopes that they walk away from it feeling more educated and sales-ready.
4) ContentTools
ContentTools is an interactive content platform aimed at helping businesses generate leads, drive website traffic, and increase social engagement.
Much like Ceros, ContentTools offers seven different types of interactive content:
Personality Quiz – Engage your audience with personality-style quizzes similar to those Buzzfeed and PlayBuzz publish.
Trivia – Challenge your audience with trivia-style quizzes.
Polls – Survey your audience with our opinion-based polling tool.
Ranker – Collect crowdsourced rankings from your audience on any topic from politics to entertainment.
Can You Guess – Challenge your audience with informative, numerical-based quizzes.
Caption This – Encourage your audience to caption an image with this interactive competition.
Contests – Collect valuable information about your audience with giveaways from your site.
Here's an example of what you can create with their Caption This tool:
Hosting a caption contest incentivizes your visitors to hand over a bit of contact information and establish and strengthen your relationship with them.
If you're thinking about implementing this, consider using a candid office shot to humanize your brand and invite more personal engagement.
5) Brackify
Want to facilitate both social sharing and repeat site visits?
Enter Brackify.
While it can initially be difficult to imagine anything other than sports tournaments taking shape within a bracket, marketers have found a number of innovative ways to use this interactive tool. Here's a look at a creative bracket that helped BostInno score some viral success: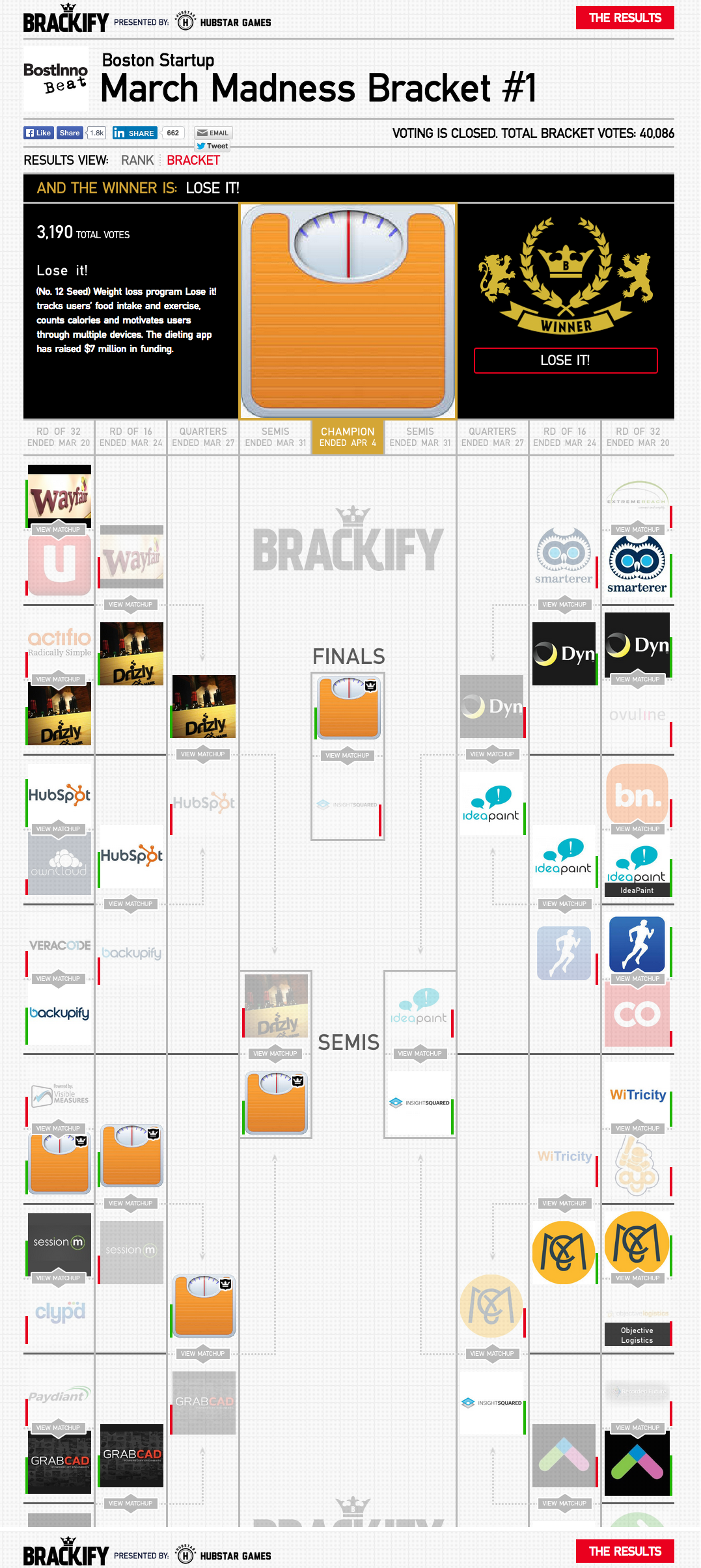 Looking to crown Boston's hottest new startup, BostInno was able to drum up a bit of friendly competition by creating this highly-shareable bracket.
Before you get started with Brackify, it's important to note the difference between the two types of brackets — Complete and Round By Round. While The Complete bracket allows users to fill out a bracket in its entirety with no round restrictions, The Round By Round bracket has specific start and end times for each round, meaning that users can only cast their vote when the round is active.
6) Zaption
Zaption is an interactive video tool designed to engage learners (of all types) by prompting them with clarifying questions throughout an educational video.
This is how it's typically formatted:
While this tool is geared toward teachers, it's perfect for anyone looking to provide and reinforce information and instruction.
This tool can be used as a great method of training. Whether you're looking to walk a colleague through onboarding a new software or easily explain a new marketing technique or approach, this type of video-based learning is designed to differentiate instruction and keep it interesting.
7) SnapApp
Looking to build a dialogue and drive more engagement for your brand? SnapApp is an interactive content platform that enables users to create and analyze nine different types of interactive content assets:
Assessments & Personality Tests
Calculators
Knowledge Tests & Quizzes
Polls & Surveys
Interactive White Paper
Interactive Infographic
Contests & Sweepstakes
Brackets
Galleries
Below is a compelling example of a SnapApp quiz created by Development Dimensions International (DDI):
This piece of content is effective for a couple of reasons. First, it helps DDI uncover insights regarding the participant's knowledge level, which can be used to create more relevant marketing experiences moving forward. Additionally, it creates a sense of competition, as the copy encourages participants to share their results on social to see how they stack up against others.
Want to get more content like this in your inbox? Subscribe to Agency Post.