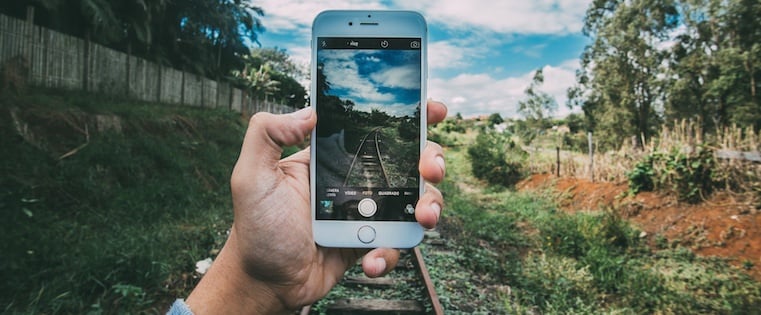 This week, Facebook announced grand plans to take their already successful live broadcasting platform to great heights. The announcement included product updates like two-person broadcasts, waiting rooms for viewers, and Snapchat-esque filters all in the works.
With these updates in mind, carving out a strategy for Facebook Live seems like a no-brainer.
Oh, and did we mention the potential live video has for Facebook engagement? Initial data from Facebook revealed that people comment 10X more on Facebook Live videos than on regular videos.
Now, we get it. Going live, well, it's kinda scary. What if you mess up? What if the camera wigs out? There are a number of things that could go wrong. But while you're contemplating the risk, a ton of brands are out there engaging their audience in some really exciting and personal new ways.
To help you shake the nerves, we put together a list of some of the best Facebook Live broadcasts we've ever seen. From live debates to intense trainings, you'll get a little taste of everything to inspire you to fire up a stream for your own company.
(And read this article for more tips on how to get started with Facebook Live.)
7 of the Best Facebook Live Videos We've Ever Seen
Tough Mudder is an endurance event series known for its military-style obstacles and enormous sense of community. A few weeks ago, they took to Facebook Live to broadcast their Merrell Michigan Training Event with Coach T. Mud, a.k.a. Kyle Railton. Infectious energy aside, this stream made the list for a few reasons.
For one, it serves as a great use case for how to keep your community engaged — even when they can't make it to your event. By bringing the event right to their audience's desktop or mobile device, they can choose to follow along with the training, or simply get a sense of what they might be signing up for.
At the beginning of the broadcast, Coach T. Mud gives a shout out to the Tough Mudder Snapchat handle to encourage those at home — and at the event — to follow along with the training there. This is a great way to cross-promote your channels and increase overall engagement.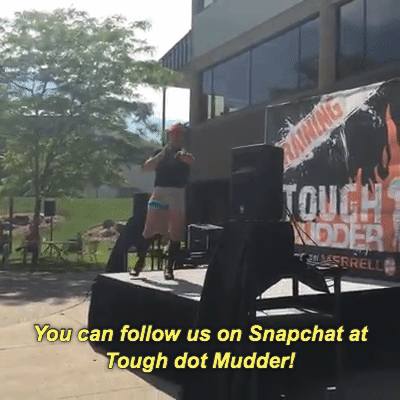 Around the six-minute mark, the person filming chimes in to reiterate where they are streaming from. She does the same thing again around the eight-minute mark. This is a great strategy for keeping those who might be joining mid-stream in the loop.
Finally, we really love the way Coach T. Mud gets up close and personal with some of the attendees around the 18-minute mark. While he mainly uses this time to get to know the Tough Mudder community a little better, he also sneaks in some subtle promotions, like this:
Well played, Coach.
(Want to learn more about Tough Mudder's growth strategy? Check out this episode of The Growth Show featuring Tough Mudder Founder and CEO Will Dean.)
One really interesting route brands have taken with Facebook Live is the series approach. In other words, they broadcast a themed video series on a set date and time, usually weekly.
Why does this work so well? As Author Laura Vanderkam explains: "TV shows come on at certain times so people get in the habit of watching them. You can do the same with Facebook Live."
One of my favorite examples of this come from the folks at Benefit, who host a series called "Tipsy Tricks" every Thursday at 4:15 P.M. Here's one of the episodes from a few weeks back:
One of the most interesting things they do throughout this particular video is ask questions of the audience to inform how the video will play out. For example, around four minutes in, the host polls the audience to determine which product they'd like to see them use in the makeup look they're creating.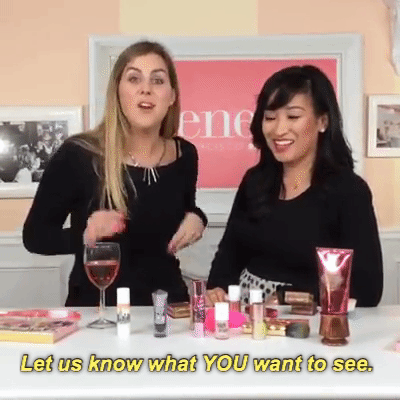 Then, they give a couple of minutes to let the audience weigh in before following through based on the responses — it's sort of like a beauty-themed, choose-your-own–adventure game.
This strategy aims to keep those watching engaged, while also helping the folks at Benefit learn more about their audience's product preferences.
Another way they're keeping the audience involved? Benefit allows their viewers to submit ideas via Facebook Live comments or Snapchat to help the hosts brainstorm future topics to cover. You can see this in action by checking out the comment thread on this video, where they ask viewers to Like the comment if they'd like to see an episode about concealing:
The next Facebook video on the list comes to us in two parts. In an interesting series of events, Jason Carr, a former news anchor for FOX 2 in Detroit, takes Facebook Live viewers on a ride to his new gig at WDIV-TV, Local 4 News … but he doesn't tell them that. At least not in the beginning.
The first video begins with Carr explaining that he's going Live to follow up on a promise he made during his final broadcast for FOX 2 earlier that morning. This was his first right move: Using Facebook Live to extend the conversation following something like a webinar, interview, or panel discussion is a great way to connect with your audience while they're already engaged.
Viewers watch as Carr — who is broadcasting live from the back of a Cadillac — takes a trip to what he refers to as "parts unknown." During the first half of the stream, he provides some context around leaving the station, while engaging with viewers in the comments and continuing to build suspense for where he's headed.
The whole suspense aspect is key, as it helps Carr spark his audience's curiosity. After all, a little curiosity can go a long way: Research from the University of California revealed that sparking participant's curiosity with the right question helped to prepare their brain for learning, while also making learning a more rewarding experience.
Just before the stream wraps up, we see Carr arrive at his secret destination — his new station — where he announces that he'll pick back up once he has a chance to go in and get settled.
A little over an hour later, Carr fires up his stream again to give viewers a behind the scenes look at his first appearance on the new job.
Talk about a creative way to announce a new hire.
This Grazia/Facebook collaboration just might be the most interesting use case for Facebook Live on our list. This month, the team at Grazia UK, an Italian women's magazine with international editions, headed off to Facebook's London headquarters to piece together their first "community issue."
They took to Facebook Live to document a week's worth of behind-the-scenes footage, allowing their audience to participate in things like their editorial meeting, cover shoot, and GraziaxFB Brexit Debate.
While all of the footage really helped to pull back the curtain for Grazia's audience, the GraziaxFB Brexit Debate was one of the most successful broadcasts of the week — and for good reason.
The debate, chaired by The Guardian's political editor Anushka Asthana, was centered around the UK's decision to remain in or exit the European Union. The panelists were each given time to discuss their views, while also leaving time for questions from both the live audience and Facebook audience.
Asthana encouraged Facebook Live viewers to submit their ideas via the hashtag #GraziaxFB at the beginning of the broadcast.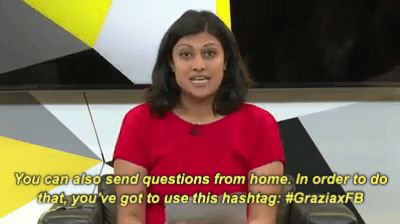 Note: If you're hosting a live debate, discussion, or training, coming up with a hashtag in advance is a great way to organize the submission process for questions. (Read this article for tips on how to use hashtags on Facebook, Twitter, and Instagram.)
Overall, the discussion was timely, well executed, and helped to get the Grazia community talking about not only the Grazia/Facebook collaboration, but also the larger political issue at hand.
In the words of Grazia Editor Natasha Pearlman: "This is a fantastic opportunity to bring Grazia to life for our readers, and at the same time launch our real-life community, in partnership with the biggest social media network in the world."
"The Grazia audience aren't just readers, they are part of the brand – their views and opinions shape our content and really matter," she went on to explain. "Now they can participate with us in real time."
When you live in an apartment and Boston (or any city, really), you quickly learn how to make the most of a small kitchen. But this video from Tastemade takes that concept to a whole new level.
According to Tastemade's Head of Productio Jay Holzer, the tiny cooking concept was inspired by one of Tastemade's Japanese partners. As it turns out, miniature cooking is quite popular in Japan, as a result of kawaii — the quality of 'cuteness' — which is plays a prominent role in Japanese pop culture.
While Tiny Kitchen started as a pre-recorded series, the folks at Tastemade tested their luck with Facebook Live by recording this real-time cooking demonstration:
What's great about this particular use case is that it can be enjoyed without sound. In other words, viewers can tune in without having to stop and adjust their volume, or put on headphones.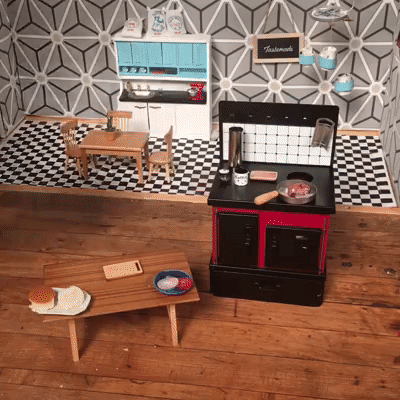 The strangely fascinating footage is really easy to consume, which likely contributed to the success of the original episodes. By going live, Tastemade simply added a unique interactive element. And 3.7 million views later, they've proved it works.
The lesson? Sometimes, less it more.
While BuzzFeed recently made headlines for their not-so-perfect Facebook Live attempt with none other than the president of the United States, we can assure you that they know what they're doing.
On a much less serious note, the folks at BuzzFeed took to Facebook Live this past March to host an epic live dance battle.
But this wasn't just any old dance battle: "Dance Craze Battle: Live" was an interactive competition that required the audience to vote on performances and submit suggestions for dance moves.
In between the first two rounds, the host took time to get to know each of the contestants a little better by asking them a few questions. This was really smart for two reasons:
It created an opportunity for Buzz

F

eed to show off their team and humanize their brand.
It gave time for viewers to submit ideas for the second round of dance battles.
With the help of user submissions in round two, viewers watched as their ideas came to fruition in the form of some pretty interesting dance moves, like "crying college student":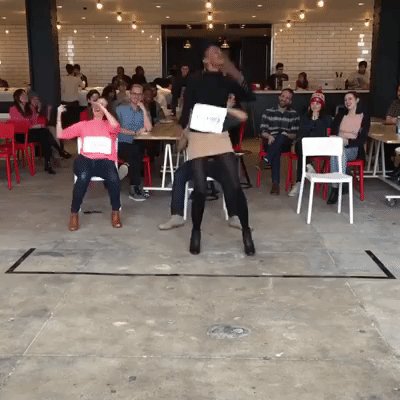 After each dance, the person monitoring the comments section prompted viewers to cast their vote:
And the entire thing came to a close with a spirited dance party … because why not, right?
Even though this broadcast carried on for half hour, the level of engagement likely helped them keep viewers interested all the way through. When you're planning a Facebook Live video, keep in mind that length isn't necessarily a bad thing, as it provides you with a chance to reach more people.
The folks at Callaway Golf are no strangers to live video. In May 2015, Callaway debuted a live show hosted by their SVP of Marketing and Brand Management Harry Arnett. While this particular live series didn't unfold via Facebook Live, it's likely that it made the transition to broadcasting content live on Facebook much easier.
According to Arnett, the experience of live video brings Callaway back to their roots: "We felt like if we could figure out a way to be unique in it, provide utility to it, and be a contributing citizen in the community of golfers, we could become sort of the people's brand," he told Golf Digest, "which was very closely connected to the DNA of the company when it got started 20 years ago."
A great example of their segue into Facebook Live is this exclusive tour of Arnold Palmer's office, led by Palmer's assistant and longtime friend Doc.
For golf enthusiasts, this is a dream come true. After all, Palmer is known to be one of the greatest players of all time. But it's the experience that the video delivers that makes it really interesting for those tuning in.
For one, the person behind the camera makes an effort to keep viewers involved throughout the tour. For example, around five minutes in, he thanks the audience for tuning in and checks in to see if they have any specific questions or things they'd like to see. This is a great way to keep people who might be thinking about dropping off engaged.
Around the 20-minute mark, the cameraman also takes a minute to reintroduce the tour guide, Doc, to clarify his relationship with Palmer for those just tuning in.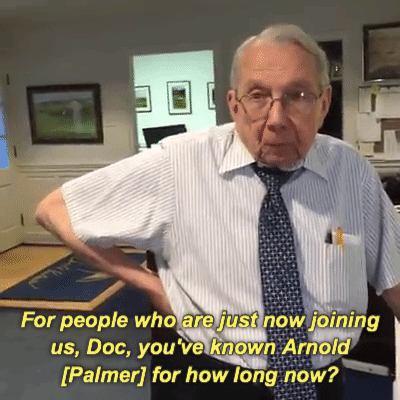 While there are mentions of Callaway products throughout the video, it's by no means the main focus. Instead, the cameraman works to surface interesting facts and stories from Palmer's assistant to keep those geeking out at home both entertained and engaged. For example, around the 23-minute mark, he prompts Doc to tell the story behind Palmer's infamous umbrella logo: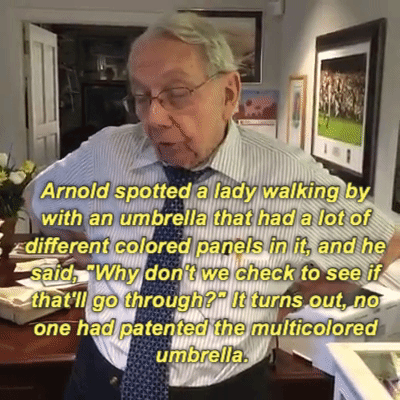 Pretty cool, right?
If you're just getting started with Facebook Live, make note of Callaway's tactics. And remember: Your broadcast doesn't have to be all about your product or service for it to be successful. At the end of the day, you want people to remember the experience you provided them, which will ultimately help to keep you top-of-mind.
Getting Started With Facebook Live
Now that you're feeling inspired, it's time to get out there and try it for yourself.
If you're feeling up to it, but still think you need a little training, check out this post from my colleague Lindsay Kolowich. She'll walk you through how to broadcast on Facebook Live, how to analyze your live video's performance, and the top tips and tricks for getting the most out of the platform.
Have you experimented with Facebook Live? What is your favorite example? Share your thoughts with us in the comments section below.