Remember your very first conference?
You carefully deliberated over every single session in the weeks leading up to it, bought a special outfit, and got a thrill when you finally arrived and saw your name covered in plastic.
"My very own name tag? I'll save this forever!"
As the years progress, it can be hard to retain that type of excitement. After attending dozens and dozens of events, you begin to show the telltale signs of "conference fatigue" — namely, dumping the program in the trash can just past registration and making a beeline for the bar.
Last September leading up to HubSpot's INBOUND event saw me at one of those jaded, gag-me-with-a-lanyard-already moments. My expectations were low, and I'll admit, I only ended up going because I really, really wanted to hear some of the amazing keynote speakers.
However, to my great surprise, I left the conference feeling invigorated, as if I had just experienced the mother of all marketing conferences.
With that said, below you'll find five things I ended up doing at last year's INBOUND event that turned out to be awesome … but that I never would have expected.
The Top 5 Things I Loved About INBOUND
1) Training
If you've been looking not just for conference sessions, but for training and development opportunities in modern marketing, INBOUND is the place to be.
I brought a team of marketing colleagues from my company to the show as part of their own education, and each one of them raved about all of the things they learned and the quality of the speakers. These presentations went far beyond just case studies and best practices. They were truly valuable learning sessions for marketers of all stripes.
When we got back to the office, some of them even shared summaries of what they learned with their fellow team members who could not attend. Throughout the rest of the year, it was normal to hear people drop these lessons into conversations: "Well, as Rand Fishkin told me when I asked him about this at INBOUND…" and "The person who runs this kind of project at LinkedIn talked about this at INBOUND and she actually advises…"
2) Recruiting
Thousands upon thousands upon thousands of marketers. All interested in inbound marketing. Day after day. In the same building together — and sometimes even in the same room.
Where could you find a better talent pool to recruit from, especially if you are looking for people who know how to use modern marketing software?
INBOUND is a marketing recruiter and hiring manager's dream come true. I met so many amazingly talented marketers at this conference, and it was clear to me that the best and brightest stars in marketing come out in full-force for the event (and not just from the United States). I met people who came from countries all over the world, including two people who had traveled to Boston from an inbound agency in Istanbul.
Talk about opening up your recruitment efforts to a broader talent pool.
3) Job Hunting
Another thing that struck me about INBOUND is that many people who attend are actively looking for new opportunities in their careers.
While it's great for hiring managers and recruiters, it's also the perfect place to be if you're fresh out of college, interested in moving into a different area of marketing, or simply looking for a new job.
And I wasn't the only one looking for marketing genius in between conference sessions. When I mentioned to a tech company CMO that I had been trying to fill certain positions, he admitted that the sole reason he and his directors were attending INBOUND was to keep an eye out for talent.
4) Networking
It goes without saying that you should network at conferences in general, but at a conference this large and full of so many marketers interested in learning and making connections, the act of networking somehow seems a lot easier.
At INBOUND, the difference is that you're surrounded by like-minded marketers. I've never been at a conference where people would so readily introduce themselves and instantly have things in common to talk about — whether they were a HubSpot customer, a partner, a vendor, or simply a die-hard fan.
During one of the lunchtime breaks I had to take a phone call for work, and as soon as I put my phone down, an agency owner came over to talk to me. Her business was fascinating, and she couldn't stop raving about inbound marketing and how it was transforming her life.
Moral of the story? Passionate advocates of good, non-intrusive marketing methods are everywhere you look at INBOUND.
5) Having Fun
Live concerts, special group events, food trucks, photo booths, happy hours … who knew a conference could be so much fun? I had never attended a conference with such an amazing collection of people, let alone an agenda full of so many thoughtfully prepared, exciting activities for all of us.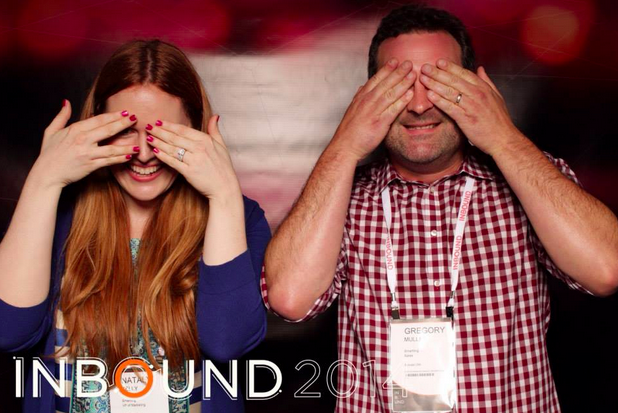 And that's when it hit me. The reason I'd suffered from conference fatigue in the past was due to the fact that most conferences feel like work. And in many cases, they're best comparable to a longer-than-normal workday in which you're on your feet all day and then work again at night to catch up with your "day job."
In contrast, my experience at INBOUND was that the overall vibe is one of enjoyment and professional enrichment. It doesn't feel like work. It feels like play — the kind of play that marketers need in order to fuel creativity, master new technologies, and further enhance our ever-expanding set of skills.
If you need to get some training, recruit new team members, find a new job, network with peers, or simply let loose and have a great time, I hope to see you at INBOUND 2015.
Yes, you'll definitely get your own name tag, but will you want to save it forever? Nah — you'll just want to come back again to get a new one … like I will this year.