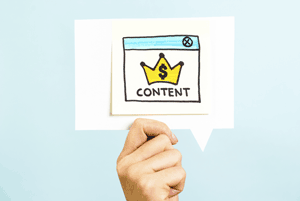 When most of us think about creating content for a businesses, we tend to think about the content that helps generate awareness or new leads. This type of content isn't self-promotional — you typically use it to answer industry-related questions and address topics that'll attract people to your website, entice people to follow you on social media, and spur visitors to give over their information to receive a free offer.
But we all know that the buying journey doesn't end once someone's received a free ebook — and your content shouldn't, either. To be successful, content that helps your company close more customers needs to be different than your typical marketing-focused content.
But what does that actually mean? How do you make content that'll help your company sell?
Doug Kessler, famous for his previous SlideShare presentations on the crap content deluge and the meaning in B2B marketing, has put together the following presentation to help answer those questions. Flip through it to learn how you can make your content less about marketing and more about selling — without being spammy about it.
What other tips do you have for creating content that helps generate more customers?