Applying for jobs isn't easy.
To start, your resume should be immaculate. Your LinkedIn profile should be optimized to a T. Your portfolio should be creative and indicative of your previous experience. Your application should be tailored to the company you're applying. Oh, and you've got to accomplish all of that on nights and weekends — you have a day job after all.
The next part isn't easy either: You've got to wait to hear from the company.
And then one day you do! You're invited to come in for an interview — and you really really want to nail it.
To make sure all of your job hunting efforts haven't gone to waste, you need to properly prepare for your interview. To help, below are some of our best tips for preparing for a marketing-related interview.
Run a Marketing Grader report.
Chances are, if you're interviewing for a marketing role, the company needs help with their marketing. If you can figure out what they specifically need help with, your interview will be much more productive (and you'll look like an awesome candidate.)
To get a quick snapshot of how the company's marketing is doing, you can run a free website report using Marketing Grader. This diagnostic report gives you insight into a company's online marketing program with suggestions on how to improve. The areas the tool critiques are: blogging, social media, SEO, lead generation, and mobile.
Look specifically for holes in the company's strategy — they'll help you devise more interesting questions for your interviewer. For example, if you find the company is not regularly publishing blog posts, during your interview you can ask about it, saying something like, "I noticed your team isn't blogging regularly and I'm curious to know why." And if you're an experienced writer, this is an opportunity to highlight your skills and say, "I have generated X number of page views for my company's blog, which helped generate Y% of our leads."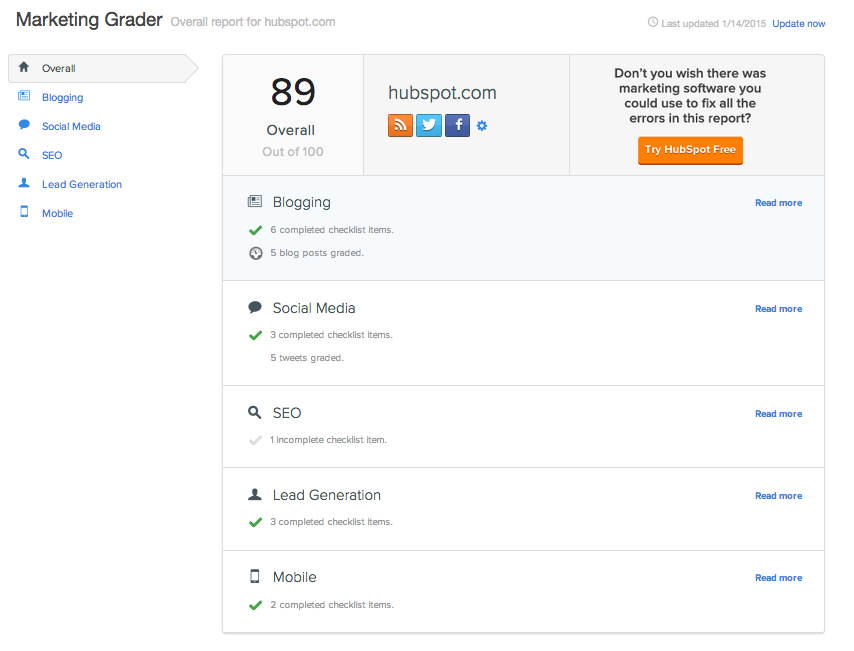 Click here to try Marketing Grader.
Google the heck out of the company.
After you have a little deeper understanding on how their marketing is performing, use Google to dig deeper into their marketing strategy. Dive into their each element of their marketing strategy and answer questions like:
How are they using inbound tactics like blogging, landing pages, email marketing, and SEO to draw people into their website?
How do they social media to drive leads?
What are some recent topics they have blogged about?
What does their website rank well for in organic search?
Who are their competitors in their space — and what are they doing?
Knowing the answers to these questions will not only uncover some additional questions to ask your interviewer, but also give you ideas for positioning your existing skills within the interview.
Check out your interviewers' LinkedIn profiles.
Look for parts of their role that will overlap with yours. Do you have experience with lead generation and you're interviewing with the Director of Lead Gen? Now, you have the insight into what types of intelligent questions you should ask your interviewer. Questions you ask during an interview reveal what you care about and the amount of preparation you've done for the interview.
Read Glassdoor reviews about the company's culture.
At HubSpot, we take culture very seriously. Our co-founder even created a public culture code because it's so important to us.
Culture is a set of shared beliefs, values and practices. During the interview process, it's important to make a judgment call about if you'll fit in with their culture. Interviews are a two way street — you have to choose the company just as much as they choose you.
To get a better understand about what a company's culture is like, check out Glassdoor — it's a database chock-full of 6 million company reviews. The reviews are written entirely by a company's employees so you get a honest inside look at what it's like to work there.
Use the Refresh app to see what your interviewers are interested in.
This free iPhone app (Android coming soon) pulls together interesting information about people you're going to meet. Search for a person, and details on mutual connections and similar interests will pop up. For instance, when I interviewed at HubSpot, one of my interviewers used this app and discovered I'm a Colts fan (I'm from Indianapolis and love Peyton as much as the next person), so we chatted about the NFL for a bit.
While these personal details probably won't land you the job, they can help set the tone and direction of the meeting.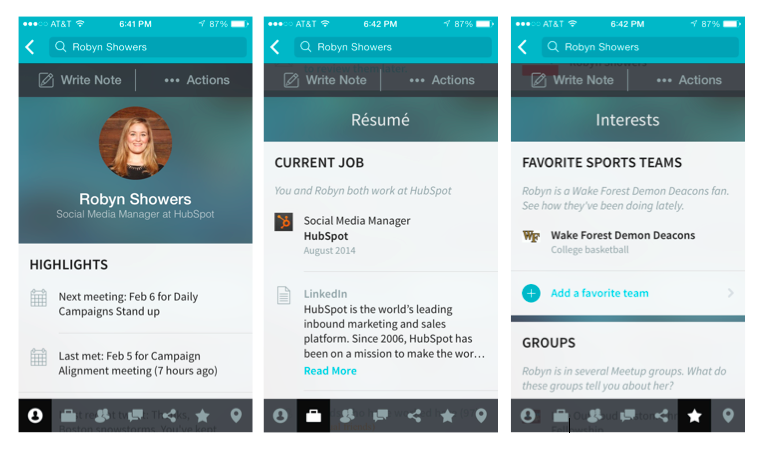 Discover if you have connections with other employees using LinkedIn or Facebook Graph Search.
Using LinkedIn or Facebook can help you search for friends you have in common with the person who is interviewing you.
Once you discover those connections, get coffee with them and conduct informational interviews to learn about the company. These connections could be someone who works at the company or someone who works in a similar industry or role. Ask them questions about competitors, positioning of their product, what their day-to-day activities are, what it's like to work with the person who could be your boss, and other related questions. These preliminary meetings can help pave the way to an even smoother and more successful formal interview.
Use Sidekick to track when your interviewers open your emails, and get more insight about the company.
Sidekick is a free Chrome Extension that gives you insight into your inbox in seconds. It alerts you when a contact opens your email — so if you see your interviewer open your email, you will be more prepared to answer the phone if they call with an offer, or simply respond to an email they send.
Sidekick also shows you information about your contact's company and mutual friends, right within your inbox. It can be very helpful to have access to data like revenue, headquarters location, and the year the company was founded before your interview.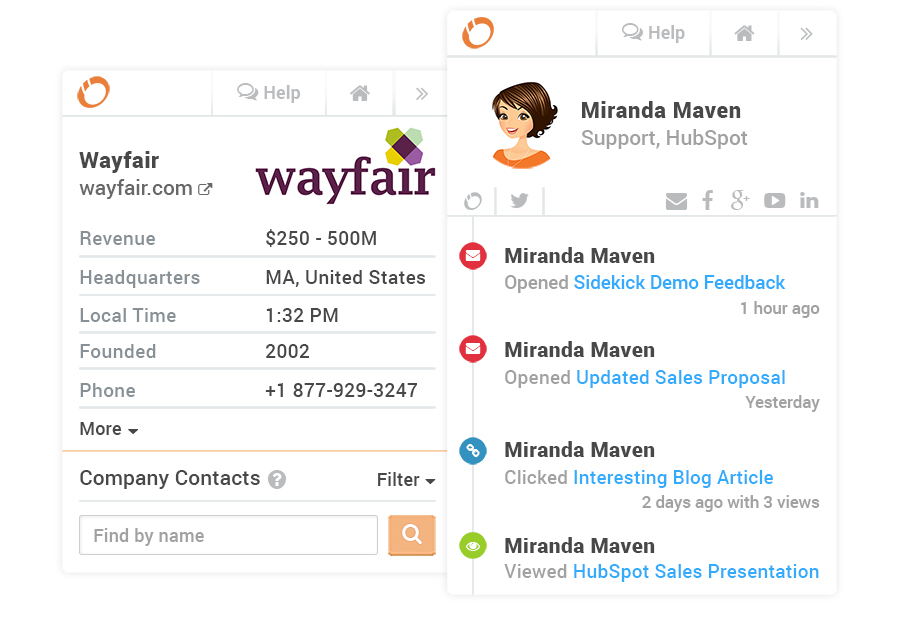 Study top marketing interview questions.
The internet is your best friend in prepping for interviews. A zillion blog posts have been written about top interview questions. Heck, we've written our fair share about this topic — here, here, and here.
Talented management knows how to interview well, and that means they ask tough questions. Take a few minutes to jot down ideas on how you'd answer 'em so when the tried and true questions come up, you have something in your back pocket to work with.
Address and stamp thank you cards beforehand.
Let's be honest. Who doesn't like getting handwritten cards? The answer: no one.
So make it really easy for you to send one to your interviewers. Choose a card, address it, and add a stamp before the interview. When you finish, write a thank you card for each person you met with and mention specifics that you talked about. Then drop it in the nearest mailbox and it'll be delivered while you are still fresh in the interviewer's mind.
Prepare like you would for a big exam.
After doing all of that preparation, you don't want to mess up on the actual execution of the interview. So make sure you're prepared. Show up 30 minutes early. Eat a good breakfast. Pack your bag the night before. Review the directions to the office well before you leave. Fill your gas tank is filled. Print out your resume.
Knowing these little details ahead of time will make sure you're calm, cool, and collected on the day of your interview, giving you the best opportunity to shine.
What other interview preparation tips do you swear by? Let us know in the comments below.