No one seems to agree on cover letters. How much time do you need to spend perfecting them? Do hiring managers even read them? Is it better to just send in your resume and call it a day?
Now, I'm not in HR, but I've been approached by applicants who wondered whether their cover letter would actually be read. My answer is one not many of them wanted to hear: "Sometimes." Sometimes it will be read. Other times, you can get away with just sending in your resume — like when you network your way into applying for a position.
The truth is, you can't really predict on a case-by-case basis — and you're better safe than sorry. For the most part, having a cover letter will give you an upper hand in ways your resume doesn't. It allows you to show off your writing skills, provide details that you couldn't fit on your resume, demonstrate your passion, and show your willingness to put in as much time and effort as possible.
But if your cover letter is sloppy, you might as well have no applied at all. Grammatical errors could mean your application is thrown in the trash. Using a generic "one-size-fits-all" cover letter — especially if you forgot to change the name of the company — will definitely hurt your chances. So if you take the time to write a cover letter, take special care that it reflects you in the best possible light.
Let's take a look at an example.
Sample Cover Letter
Here's an example of a great cover letter. The numbered sections are explained in more detail below.
1) Header
The level of formality your header has will depend on the company you apply to. If you're applying to a formal business, it's important to use a formal header to open your cover letter, like in the sample above. Put your address, the date, and the company's address. But if you're applying to a company that isn't as formal, you don't need to include yours and the company's addresses. You can still include the date, though.
2) Greeting
Using "To Whom It May Concern" is okay, but you may want to take the time to research the name of the recruiter or hiring manager online. If you do your research and aren't confident you found the right name, then you should definitely use the generic greeting — but if you are sure, then it shows you put in the effort to find their name and it will catch the recruiter's eye.
If you have the recruiter's name, do you greet them by their full name, or by their courtesy title (i.e. Mr., Ms., or Mrs.)? Similar to the header, it depends on the company's level of formality. If you're applying to a corporate business, you may want to consider using "Mr. Snaper" instead of "Jon Snaper." If you're applying to a start-up or a business with a more casual culture, you can use "Jon Snaper," as shown in the example.
3) Paragraph 1: Introduction
Your opening paragraph should, in 1-3 sentences, state why you're excited to apply and what makes you the perfect candidate. Get right to the point, and don't worry about explaining where you found the posting or who you know at the company. This isn't a place to go into detail about why you're a great candidate — that's for the second paragraph. Here, simply list a few key reasons in one sentence to set up the rest of your letter. Keep in mind that the recruiter may cross-reference your cover letter with your resume, so make sure the two sync up.
4) Paragraph 2: Why You're a Great Fit for the Job
Next, sell yourself and your experience by choosing one or two concrete examples that show why you're a great fit for the position. What did you do at a previous company that gave you relevant experience? Which projects have you worked on that would benefit the new company? How will your prior experience help this company grow? Stay humble in your explanation of credentials while still showing that you would be an asset to the team. Use this paragraph to show you're genuinely excited and interested in the position.
5) Paragraph 3: Why the Company is a Great Fit for You
While it's certainly important you're a good fit for the job, it's also important that the company is a good fit for you. "A cover letter typically describes why you're great for a company — but how will you benefit from getting hired?" asks Emily MacIntyre, Senior Marketing Recruiter at HubSpot. "We want to know why our company appeals to you, and how it will be a mutually beneficial working relationship."
In the third paragraph, show you're serious about growing and developing your career at this new company. What impresses and excites you about the company? Is there something that you feel strongly about that aligns with the company's goals? For example, the candidate in the sample letter used this space to show his personal commitment to environmental causes aligns with the company's green initiatives.
6) Strong Closing Paragraph
Don't write off the final few sentences of your cover letter — it's important to finish strong. Be straightforward about your interest and enthusiasm about the new position without coming off too strong. Tell them you're available to talk about the opportunity at any time and include your phone number and email address. At this point, the ball is (rightly) in the recruiter's court to decide how to follow up.
Last but certainly not least, thank them for their time and consideration.
7) Formal Sign-Off
Use a formal sign-off like "Best," "All the best," or "Sincerely," and finish by typing out your full name. You don't need to sign it with a pen.
5 Cover Letter Tips From the Experts

While the sample from the previous section provides a basic framework for writing your cover letter, there are also several tips you can follow to help get your cover letter to stand out from the crowd.
1) Do your research.
In order to craft a truly compelling cover letter, you need to show that you understand what the company does and what their pain points are. And that usually entails doing more than simply reading a job description.
Start by soaking up all the information you can find on the company's website and blog, and then consider drilling down into the LinkedIn and Twitter accounts of executives and employees you could end up working with. That research will help you fine-tune the messaging of your cover letter.
As author and entrepreneur Jodi Glickman told the Harvard Business Review:
Think about the culture of the organization you're applying to. If it's a creative agency, like a design shop, you might take more risks but if it's a more conservative organization, like a bank, you may hold back."
2) Keep it short.
You might have heard that keeping your cover letter to one page is ideal. But according to Forbes tech journalist Seth Porges, you may want to consider keeping it even shorter than a single page.
As Porges once noted (in appropriately concise fashion):
"Less. Is. More. Three paragraphs, tops. Half a page, tops. Skip lengthy exposition and jump right into something juicy."
3) Don't state the obvious.
One trick for helping you keep your cover letter concise: Avoid wasting real estate on information that the hiring manager already knows — like the position you are applying for.
Never ever, ever use the following phrase: 'My name is ___, and I am applying for the position as ____.' They already know this, and you'll sound inexperienced."
4) Add some personal branding.
Career coach Evelyn Salvador recommends using personal branding elements — specifically a slogan, a testimonial, and/or a mission statement — to help make your cover letter more attention-grabbing. As Salvador told Monster.com:
Each of these elements is optional, but it might just be the thing that makes your cover letter stand out from those of other candidates."

Here's a quick run down on what those three elements are, and examples of what they might look like.
Slogan: A short summary of the value you'd bring to a company/role (e.g., "Using data to solve the problems of tomorrow.")
Testimonial: An excerpt from a letter of recommendation, thank-you message from a customer, or other short quote that highlights your past performance (e.g., "[Your name] was prompt, professional, and responsive throughout the entire process. I can't wait to work with her again the future!")
Mission Statement: Similar to a slogan, but focused more on the philosophy behind why you do what you do, and why you want to accomplish what you want to accomplish (e.g., "The key to customer happiness is creating products that people love. My mission is to produce the most lovable products on the planet.")
5) Don't force humor.
Some folks have a knack for seamlessly integrating humor into their writing. If you are one of those people, and you've done your research and know the company/hiring manager would appreciate a little humor, by all means, include it in your cover letter.
However, it's important to keep in mind that — when poorly executed — (attempted) humor can often hurt rather than help. As author and career strategist John Lees once told the Harvard Business Review:

Humor can often fall flat or sound self-regarding."
Instead of using humor to grab a reader's attention, Lees recommends that you write something "direct and dynamic, such as 'Before you read any further, let me draw your attention to two reasons why you might want to hire me….'"
Cover Letter Examples That Enhance Any Resume
If you follow the tips in the previous section, the cover letter you end up crafting will invariably be unique. That being said, looking at examples of successful cover letters that other jobs applicants have created can help give you ideas for improving your own letter.
Here are three examples of stellar cover letters that you can "steal" from:
1) The Creative Cover Letter
This cover letter example comes from The Guardian. The idea behind it: Produce a letter that successfully balances creativity with a solid understanding of what the job in question entails.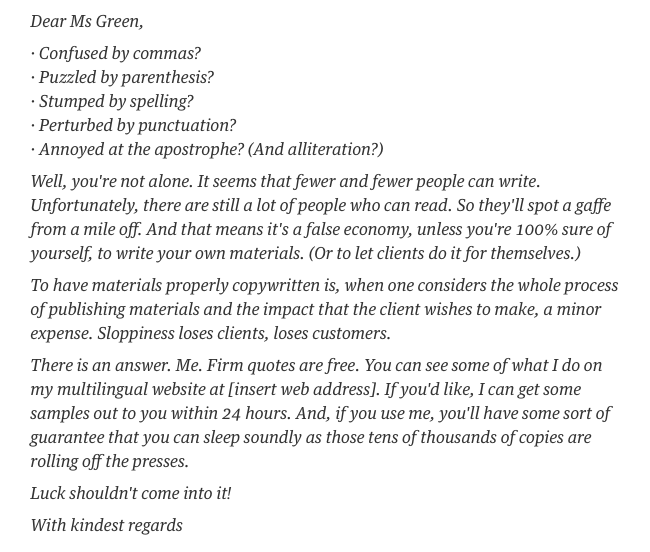 2) The Straight-to-the-Point Cover Letter
Harvard Business Review contributor David Silverman hailed the following example as "The Best Cover Letter I Ever Received." For context, Silverman believes there are only a handful of times when writing a cover letter is actually necessary, namely 1) when you know the name of the hiring manager, 2) when you know something about what the job requires, and 3) when you've been referred to the job personally. Under those circumstances, a straight-the-point cover letter like the one below could be your best bet.
3) The Marketing-Specific Cover Letter
For our third example, here's a cover letter from Monster.com that's focused specifically on a marketing role. Notice how the writer includes references to important marketing metrics and terminology.
Remember: Writing a cover letter is easier said than done. Don't hesitate to spend a lot of time writing and editing it. Or, ask a friend or family member to read it over and give you feedback. If the recruiter does end up reading it, you'll be thankful you did.
Have any other cover letter writing tips you'd like to share? Leave a comment below.
Editor's Note: This post was originally published in November 2014 and has been updated for freshness, accuracy, and comprehensiveness.