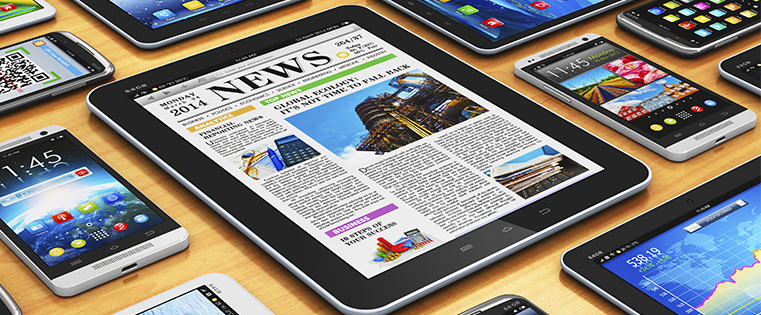 So you've just invested time, money, and a lot of faith in a new publishing app. If all goes as planned, it'll increase content consumption, give you a new channel for advertisers, and build loyalty among your readers. But what about getting people to use it in the first place? Just because you build it, doesn't mean they will come.
With 1.2 million apps in the iTunes Store, getting eyeballs and driving adoption rates to your own app can feel just as hard as building the app itself. Sending out one launch email to your database won't be enough.
So how can you drive adoption rates as well as increase engagement levels of the users who've already downloaded your app?
Increasing Publishing App Adoption
The first step is to convince people that your app is worth downloading in the first place. To help your app stand out from the rest, start by…
Making the benefits clear: In order for anyone to want to download any app, they need to understand what's in it for them. Why shouldn't someone just visit your site for content? Make the benefits, relevance, and value-add abundantly clear to your readers by clearly listing the extra functionality or features that your app provides. Will they be getting exclusive content on the app? Will articles be served to them based on their preferences? Can they enjoy content offline? Or without ads? All of these should be talking points you incorporate in the app store, on your website, and in email communication.
Using smart content: Fish where the fish are. Use smart content to your advantage to highlight app download calls-to-action to anyone visiting your website via a mobile device. This catches people in the very behavior

—

reading on their mobile

—

that warrants the use of your new app. The same techniques can be used for email. Consider smart content that allows you to add a special PS to any email read on a smartphone or tablet.
Getting social: Analyze your company's performance on each social channel you use to determine where users are most engaged. From there, ramp up on organic content promoting your app, or consider running app-install ads to extend your reach. Focus targeting on users who are on mobile, already follow or like your account, and have interests relevant to your publication. For more on what to consider before launching an app-install campaign, check out this post.
Using segmentation: If a certain set of on-site actions indicate download intent, use those to your advantage and create audience segments and workflow lists based on those criteria. Then set up CTAs "retargeting" those groups.
Increasing Engagement with Publishing Apps
How many times have you downloaded an app, only to stick in a folder and forget about it several days later? Don't let your app be forgotten. Instead…
Keep content fresh: For readers to use an app on a regular basis, they need to feel like they're getting new, updated content each time they log in. Put an editorial calendar in place, and give your development team deadlines to ensure regular, consistent content gets shared. Use analytics to understand users' average time between repeat visits, and use that to inform your calendar.
Don't stop promoting: Don't stop promotion efforts right after you launch your app. Continue app promotion on your website, social accounts, and in email, highlighting any updates, upgrades, or new content. Fatigued users can be re-invigorated by the promise of something new.
Use workflows: Use app data and user behavior to create re-engagement workflows with email. For example, you could send users who have download your app an automatic feedback survey after one week, or have a set of social ads displayed to readers who haven't logged in after a certain amount of time.
Answer FAQs: Give readers a tool to help them navigate your app more easily, and ensure they have something to reference to use the app to their fullest advantage. This can come in a variety of formats, from FAQs to in-app tutorials. You've worked hard to get users. Don't let a poor in-app experience or unrealized features to be the reason people don't come back.
Pay attention to analytics: Regularly measure how readers are using your app. Which features do they engage with most? Which articles lead to reading other articles? What keeps users engaged the longest? Take these findings into account when you are planning to release new content or develop upgrades for your app.
Increasing adoption rates and engagement with your app shouldn't be an afterthought, but it also doesn't need to be an overwhelming process. By using what you have in place and putting together a sound release strategy, you'll increase your ability to attract and keep app users.