Let's start with some scary stats. According to SiriusDecisions 98% of MQLs never result in closed business. Additionally, 54% of sales reps won't make quota. All this despite record investments in marketing automation and sales enablement tools.
Now consider that the top priority among B2B marketers is increasing the number of contacts/leads generated (Source, State of Inbound 2015). Of course, a close second priority is converting contacts/leads into customers. Over the last five years, I've seen the focus on lead generation increase significantly among small and mid-market businesses (SMEs). As recently as 2013, I would regularly engage executives who had reached out to me to discuss a sales problem in an effort to teach them that the cause of their sales problem was how they were (or more accurately weren't) generating leads. Today I get to do much less teaching as more and more executives have increased their focus on lead generation.
While the focus on lead generation is great, there's a huge difference between generating leads and creating bona fide sales ready leads that predictably turn into profitable customers. Simply look at the search difference between "lead generation" and "lead nurturing" and you'll quickly see what I'm talking about.
So, while lead generation is certainly important, investing in generating more leads without building an effective lead management process is simply, well, foolish.
What Is Lead Nurturing & Why Is It So Important
Now let's look at some exciting stats:
I could go on.
Lead nurturing is the purposeful process of engaging a defined target group by providing relevant information at each stage of the buyer's journey, positioning your company as the best (and safest) choice to enable them to achieve their objectives.
An effective nurturing process actively moves the prospects you've created through your marketing and lead generation efforts, through a sales development process to the point where they become paying customers. Lead nurturing utilizes both marketing and sales tactics to increase the predictability and velocity of revenue growth.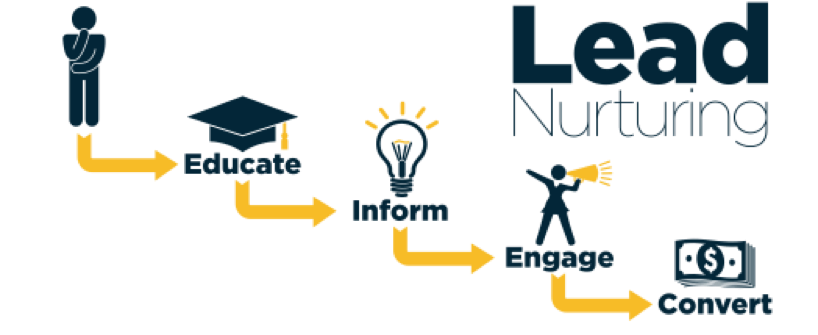 It should be noted that nurturing is far more involved than sending blast emails or monthly (or weekly) newsletters. Nurturing is more purposeful, following a clearly delineated process.
Educate: In the beginning, a lead nurturing process focuses on educating customers and delivering your commercial teaching point-of-view.
Inform: Teach your prospects how to make better decisions and advance their initiatives.
Engage: By sharing relevant content, gain the engagement of your prospect and begin the conversation.
Convert: Be clear about how your prospects can engage with you and how to start.
Types of Lead Nurturing
Lead nurturing is not a one-size-fits-all strategy. There are many types of nurturing programs geared to fit your prospects' situations and your objectives. We've identified three types of programs that apply to the vast majority of situations.
Engagement programs work to keep your leads engaged with your business by offering credible, straight-forward and uncomplicated content that is relevant to them and keeps their interest.
Education programs challenge your leads to consider the benefits of your products or services and provide unique insights to how they can do their job better and more effectively.
Active funnel programs are focused on leads that have actively entered their buyer's journey. These campaigns are where the rubber meets the road…where marketing and sales must work in complete alignment to bring your work to the final goal – a paying customer.
Each of these programs have various types of campaigns that should be developed to meet the various objectives you have and to align with the context of your prospects.
How to Create Effective Campaigns
Here is the step-by-step process we use when creating lead nurturing programs for our clients:
Define buyer personas.
Understanding who it is you're trying to reach provides a tremendous marketing and sales advantage. Creating buyer personas takes time, but once complete they focus and leverage your efforts. You simply cannot have consistently effective nurturing programs without clearly defined personas.
Progressive profiling.
The ability to gather information about the people visiting your website and downloading your content has never been easier. Through progressive profiling, your business is able to gather the right information about your leads to further focus your message and increase qualified conversation rates.
Create relevant content.
According to a recent study by the Content Marketing Institute and MarketingProfs, 70% of companies are producing more content than they were a year ago. Creating content isn't enough. You must create relevant content. Here are some tips to make that a reality.
Know your audience

Consider the buyer's journey

Set a conversational tone

Keep it simple
Personalize your content
Decide what programs to implement.
As you decide, consider these questions.
Which lead nurturing campaign(s) best fit your business needs?

Do you have the "people" capabilities to effectively execute the campaign?

What is still needed to make the campaign successful?

Do you have the appropriate systems in place to support the chosen campaign(s)?
Establish clear goals.
Before you begin any lead nurturing campaign you need to clearly define goals so you know what is considered "success". Without clear objectives of what you are trying to accomplish with your lead nurturing campaigns you will never know if you're seeing success are not. Goals can be as simple as "X% open rate and X% click-through-rate" or "X% conversion". These are completely up to you but need to be established up front.
Test, measure and adjust.
Never stop testing and learning what resonates best with your buyer persona. Use every touch point as an opportunity to A/B test, whether it be emails or landing pages, or something else entirely. You want to test items such as image or headline, positioning of the form on the page, or email subject line. By doing so you can see what brings you closer to your established goals.
Bringing it all Together
Effective lead nurturing can have a lasting and profound effect of your business' success. The ability to create and manage a successful program requires dedicated people, a powerful and strategic approach, solid technology and a good process that aligns actions from the beginning to the end.
While the effort is certainly significant, the reward is well worth it.