Consumer behavior, from the city to the country, has changed. All of our consumer research begins online. Companies who fail to realize this are losing a lot of business.
Over the last decade, there has been a massive shift in consumer behavior. Rather than reading ads, calling information lines, or speaking to sales reps, Google has become the research tool of choice. Before a customer calls your number or walks in your store, you can bet 99% of them already know what they want, and the pros and cons of that choice.
The buying journey begins and ends on the Internet. And smart companies are the ones who are facilitating the buyer's journey before those customers ever reach their competitors marketing. In short, if you are not actively pursuing customers on the Internet, you are losing business.
'Brick and Mortar' Businesses are Relics of the Past
I'm from a small town in rural Oklahoma. We have one traffic light, and it hasn't worked since I was a little kid. It wasn't until I moved to the Pacific Northwest and claimed Seattle as my hometown that I became curious as to how the internet was affecting businesses in smaller communities.
I did some research and was surprised at what I found. Let me show you why I believe there are no such thing as offline businesses anymore.
How Do We Solve Our Problems?
Some old-school businessmen might say the Yellow Pages or the newspaper; but that's no longer true. We ask our questions on Google, and spend a few minutes checking out the results before we start evaluating solutions to our problem.
For instance, as I was preparing to write this article, I saw this question from a friend on Facebook: "Who is the best dentist in Douglasville?"
Now Douglasville, Georgia is a town of about 31,000 people. It's not tiny, and I'm sure they have more traffic lights than my hometown. But it's not huge either. I have lived in a city that size and everybody still knows everybody.
So, I wondered how many people are asking that same question to search engines. I went to Google Keyword Planner and started looking up some statistics. What I found should make business owners sit up and take notice.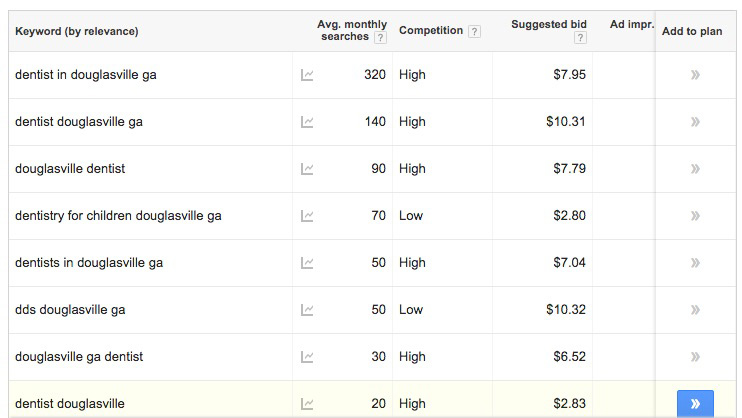 Over 320 people are searching for "dentist in douglasville ga" every single month. Not only that, but there are a ton of related searches as well. A conservative ballpark would be 500 searches a month.
People don't search for dentists if they don't need a dentist.
Traditional "Local" Businesses vs. The Internet
I took my research to the next level by looking up some business traditionally known around town. These are the bread and butter businesses every single township in the united states probably has; like plumbers and auto mechanics.
It was not a surprise to learn well over 200 people are searching for a plumber in Douglasville every month on Google. It's worth noting; no one looks for a plumber until they need a plumber.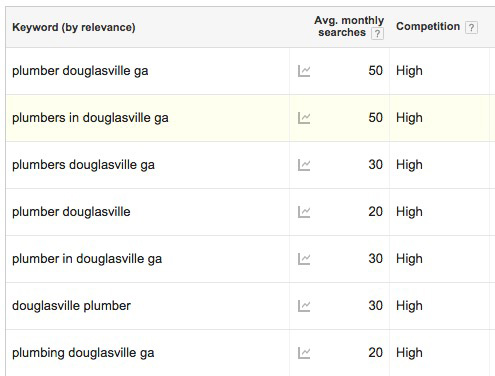 Need someone to fix your car in Douglasville? There are hundreds of people who share your problem and are looking for someone to solve that problem in Google.
I don't know about you, but I rarely search out mechanics for the fun of it. But when my car started smoking a month ago, I wanted to know who could fix it right at the best price.
Where do you think I started my research?
Hint: I didn't drive around looking for ads on those expensive billboards, nor did I listen to the radio hoping to hear an ad.
But you can keep spending money on those things if you want.
None of these are warm leads; they are hot leads! And because they are local, the competition is non-existent online. The first company to discover inbound marketing is going to have as much business as they want.
How to Take Your Business Online
The more I talk to companies the more I hear that they understand the need for online marketing, but they just don't know how or where to start. Let's take a high-level view of what you should do, and how.
Step 1) Get a Good Website
For a carpenter who needs a straight screwdriver, the prettiest Phillips head isn't going to be attractive. Good doesn't mean pretty; it means useful. It gets the job done.
For companies just getting started online, your website should accomplish three things:
Communicate Your Unique Value
It should communicate your unique value proposition (UVP). What is it you provide your customers they can't get from your competitors? That's your unique value, and your website should communicate it clearly and directly.
Learn More: 25 Companies Who Absolutely Nailed Their UVP
Be Lead Generation Ready
The purpose of your website is not to broadcast your service to the world. It's to introduce yourself and ask for information in return. A website should be a dialogue, not a monologue.
Make sure your website is ready to generate leads with an offer you will create in Step 3. This means you need a landing page design with a form that will capture information from your leads like name, address, phone number, and email address.
For some getting started, services like Unbounce or LeadPages can make landing page design easy and fast.

Feature a Blog or Learning Center
Regardless of what you call it, your blog is going to be the backbone of your online marketing strategies. It's the place where you post fresh, interesting content your potential customers will find interesting, which we will talk about in step 4.
Marcus Sheridan explains the difference in a traditional blog and a newer "learning center" approach. A traditional blog works for most companies. However, for those who need an extensive lead nurturing and customer education system, a learning center may make more sense.
For websites built on WordPress or Drupal, having a blog attached is simple. For other's, you may have to get a developer to attach a content management system to your website. We use HubSpot, which makes adding must-have features like this super easy.
How to Get a Good Website
There are a few ways you can get your company a good website. You can hire a freelance designer from services like UpWork. If you do this, you will have to closely manage the project and give your freelancer very detailed instructions. It's a lot of work, but if executed right, you can get great quality development at a lower price.
For companies who want the best, you could hire an agency to develop your website. There are benefits of having an agency develop your website, but the price will be more expensive than freelancer or web development moonlighters. However, for that price you will get access to skills from designers, web developers, and marketing professionals to make sure your website isn't just good, but remarkable.
Another option is to hire a full-time developer on your team or learn how to put together a website yourself. A full-time employee is normally the most expensive route to developing a website for your company. But for some companies, depending on what they want to do with their website, it's the best choice.
Learn More: 7 Tips for Finding and Managing Amazing Freelancers
Step 2) Do Keyword Research
Keyword research is done to discover how your target personas are doing their research online. You need to find what they are searching for, and then provide the content that will satisfy that need.
Using the example above, the keyword "dentistry for children in Douglasville, GA" shows me a parent is looking for a good dentist for their kid. The driving desire or pain from that search shows me they don't want to go to any dentist, they want to go to one who will be great with children.
The winning question is, Why?
What kind of content would address that person's pain points? If you're a dentist's office, you should create content (blog article, video, etc.) that addresses that question. Keyword research reveals what you create in Step 4.
How to Do Keyword Research
This is a huge topic in itself, and there are a lot of ways to do keyword research. Whichever methods you choose, you should create a spreadsheet or list of all of the keywords, long and short-tail, that you can focus on ranking for in Step 4.
We will limit this article to talking about the best two ways to do keyword research:
Tool #1 The Google Suggest Tool
Go to google, and type in "Dentists in Douglasville."
The suggested searches, both in the drop-down and at the bottom of the search page show common search terms others are using. These are usually long-tail keyword phrases, which are much easier to rank for.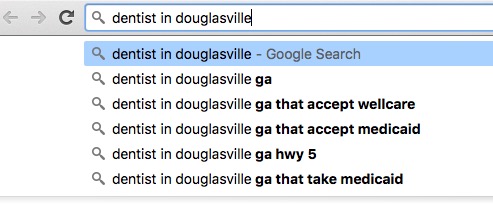 For instance, it's easier to rank high in the search engines for "Dentists in Douglasville That Accept Medicaid" than it would be for "dentists" or even "dentists in Douglasville."
To explode these suggestions out even further, you can use a tool called UberSuggest, which brings you an enormous list of phrases pulled from the Google suggest tool. Not all of them are valuable, but you'll be able to come up with a ton of ideas for valuable keywords.
Tool #2 The Google Keyword Planner
The Keyword Planner is hidden inside a Google Adwords account. It's primary purpose is for keyword research for paid advertising. But the search amount data for keywords is a great way to find high-value keywords to target in your marketing.
This is where you can get hard numbers on search terms. Most likely, these will be root keywords or short tail keywords. Meaning, keywords with a lot of SEO competition. But when you find a keyword with a lot of search results, it also means that root keyword is going to be in multiplied times that in long-tail phrases.
When I use Keyword Planner, I export all the keywords I feel are most valuable to target. And then, I run them through the keyword suggest tool to see what kind of long-tails I can find that I should target.
Learn More: How to Find and Target High Value Keywords for Your Business
Step 3) Create a Lead Generation Content Offer
In this step, we need to create the free product your ideal customers will want to download. This is what you offer them in the landing pages from step 1.
There are many possibilities for content offers, the most popular being an eBook of some kind. If you're just getting started, try to create an offer that relates to all of your target personas, and one that fits at the top of the buyers journey.
Carrying on the dentist example, a great offer might be, "X Signs a Dentist is Great With Children," or "The Scared Patient's Guide to Finding a Gentle Dentist." These are only ideas, but you should create an eBook or Case Study, or some other premium content your ideal customers would want to read.
Then, you put it into PDF format and offer it as a download to everyone who will submit the form on the landing page.
This is where you capture your leads and start the nurturing process.
Learn More: How to Create Marketing Offers That Don't Fall Flat
Step 4) Provide Fresh, Interesting Content On Your Blog
This is where you attract your ideal customers to your website. The goal is not to write about your service or product. The goal is to write about the things that interest them and make their life better in some way.
Always remember, it's not about you, it's about them. Don't use your blog for sales pitches. Use it to solve their problems and answer their questions.
The problem most companies face is writer's block; they don't know what content will be attractive to their customers. This article will show you how to come up with 100 blog topics your customers will be very interested in.
Consult your keyword research. Use the questions your customers are posing to Google (Google Suggest Results) and produce content that addresses those concerns exactly.
Create great, free content (blogs, videos, slide share) that make your target audience's life better.
Step 5) Join the Social Media World
Who are your ideal customers, and where do they go for content?
If you're a B2B company, LinkedIn is probably your best network.

If you're B2C, Facebook or Pinterest might bring you the best return.

If you're a SaaS company, Twitter might be where you find the most engagement.
As a rule of thumb, don't try to be omnipresent. It's a waste of time.
Find out where your ideal customers hang out online, go there and mix it up with them. This is a great place to share your content from step 4. But, a word of warning, don't just spam your channel with your blog posts. This is a place to have fun and be social. Share things that interest you and them, even things that have nothing to do with your business.
Step 6) Measure, Learn, and Adapt.
Marketing online is not a campaign. This is something we, as a marketing agency, face with customers all the time. Doing inbound marketing is not something you will push this year, then move on. It's a way of life; it's the way it's going to be moving forward.
For your first 12 months, you will be learning a lot, most of what not to do. Having negative results is frustrating when you're just trying something out. But when you are truly an inbound marketing company, negative results teach you how to be better going forward.
Whatever you try, be it paid ads or premium content offers, test and see how they perform. Measure their effectiveness against your goals. And then figure out how to make them work better moving forward.
Test. Try new things. Try different content. Try videos instead of slide decks. Try long "deep dive" articles, instead of short, simple ones. Test, test, test. Then, find something that works and focus on it. Then, test some more to improve it even more.
Offline-Only Business Goes Extinct
Online marketing is not a fad, and it's not a one-time test. It's the way businesses will be for the foreseeable future.
In times past, the most important thing to success was location, location, location. If a store was on the main road and had a big, noticeable sign; life was good.
Today, if you're not actively marketing online, someone eventually will. And they will take your customers quickly.
Jump out in front, and find success. There is no such thing as an offline business anymore. They are going the way of the dinosaurs, very quickly.