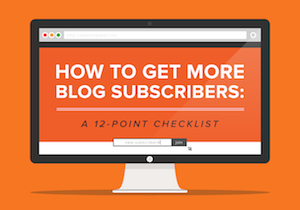 For lots of bloggers, publishing blog post can feel a little anticlimactic. You spend all this time researching and writing and editing and designing to get your post out the door, and when you finally hit publish …
… Nothing happens. (Except maybe a tweet or two from your mom and the intern. Thanks, Mom and Intern!) But wouldn't it be nice if people actually noticed when you published a blog post?
Enter: Blog subscribers. If you can get people to subscribe to your blog via email, you can start to build a long-term, sustainable traffic source. These are the people who'll notice when you hit "Publish."
So how do you actually get people to give over their information to receive your blog posts?
While there's no one-size-fits-all plan to get more subscribers for your blog, there are a few things you can try with your audience — and hopefully some of them will stick. Check out the infographic below, which was created by Backlinko, to get an idea of all the different ways you can get more blog subscribers.
Share This Image On Your Site
What other tips do you have for generating more subscribers from your blog?