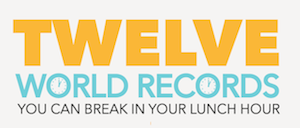 When midday rolls around, you could spend your lunch hour grabbing a sandwich at the corner deli and then pretending to work at your desk.
Or, you could break a few world records.
I'm not talking the kind of world records that require years of intense training — unless that training was a childhood of stuffing your face with pizza and duct taping your little siblings to walls. (Hey, a name in the world record book is a name in the world record book.)
To help coax out your competitive side and bring a little fun to the office, Chair Office created the infographic below with 12 world records you can break during your lunch hour. How many can you break?