Every holiday season, it's like the floodgates burst open: All of a sudden, there are holiday marketing campaigns everywhere. Every business is trying to cash in on the spending frenzy with emails, social media posts, television advertisements, and other related efforts.
While these campaigns can sometimes seem out of control, many brands out there actually do their holiday marketing very, very well.
How? They create campaigns that delight customers. They evoke emotions and promote sharing. And sometimes, they connect people with their loved ones or partner with a charitable organization.
Great holiday marketing campaigns come in many different shapes and sizes. Check out our roundup of 18 examples of delightful holiday marketing campaigns, and use these ideas to fuel your own holiday marketing ideas.
18 Brilliant Examples of Holiday Marketing Campaigns
1) Coca-Cola: Drinkable Place Cards
What better way to celebrate your loved ones at the holiday dinner party than with personalized Coke bottles? Coca-Cola's been selling cans and bottles with people's names on them since they first launched their "Share a Coke" campaign in Australia in 2011 — and they've seen a rises in sales ever since. The drinkable place cards serve as a holiday-themed promotion of the larger "Share a Coke" campaign, and a great representation of another use case for their product.
Drinkable "place cards" are a refreshing way to eliminate confusion. //t.co/PTnehlbyrO pic.twitter.com/su0Rn72x63

— Coca-Cola (@CocaCola)
November 7, 2015
2) REI: #OptOutside
It started with a letter addressed to its 5.5 million members. The letter announced plans to close outdoor retail company REI's doors on Black Friday (the day after Thanksgiving in the U.S.) at all of its retail locations, headquarters, and distribution centers. Instead, they invited their community to join employees in taking Black Friday off from work — and from shopping — to do what they love most: being outside.
To help inspire people for what to do with their day off, REI's #OptOutside microsite featured hiking trails and adventure ideas. When the campaign was over, they sent the email below thanking their members for opting to spend time outdoors and with friends and family, rather than shopping in stores and online.
[Click here to see the full email]
3) Dollar Shave Club: Has a Face
Here's a great example of a simple, funny graphic that's perfect for social media. Dollar Shave Club used this graphic in a sponsored Facebook post to show their razors are great gifts for any guy — because any guy with a face could use one, whether it's your husband or your yoga teacher.
You can easily create graphics just like this one using PowerPoint. Here are 30 free PowerPoint templates you can download, which include detailed instructions on how to use the templates to create compelling visuals for social.
4) Hinge: OK to Get Down?
Their timing couldn't have been better: I received this email from the dating app Hinge on a Thursday, the night before HubSpot's holiday party — and the night before many other companies chose to have their holiday parties, too. The design of the email is as simple as can be. It's really the hilarious copy that makes this email so great. Here's to making good choices!
[Click here to see the full email]
5) Lagavulin: Nick Offerman's Yule Log
Actor, writer, and humorist Nick Offerman loves his whisky. He's sung about it before, and this time, he's filmed a Yule Log video for Lagavulin, his favorite whisky brand. What's the video of, you ask? It's 45 minutes straight of Offerman sitting in a leather chair next to a crackling fire … looking calmly at the camera.
"This is smart branding on Lagavulin's part," writes Kristina Monllos for AdWeek. "Creating an extended ad that can serve as a conversation starter—should consumers swap the traditional Yule Log video for Offerman's at parties—will also get everyone talking about the brand."
I've must say, this might rival Netflix's "Yule Log" trailer from 2013.
6) JetBlue: How to Be a Thankful Traveler
Airliner JetBlue is renowned for its punny marketing emails, and its Thanksgiving promo email didn't disappoint. It started with the cheeky, clickable subject line: "Family, friends, food & flying – all of our favorite F words!" Inside, they somehow fit 12 puns into one email. See if you can spot them all.

[Click here to see the full email]
7) Oreo: Design a Pack of Oreos
Oreo continues to pump out fresh, innovative, and fun marketing content, despite having one core product since its debut in 1912. This year, Christmas started early for them: On November 11, they tweeted out an invitation to design and personalize a pack of Oreos for friends and family members. The design variations themselves are pretty simple, but the idea of pimping out an otherwise traditional-looking pack of Oreos is a cool idea and would make for a thoughtful gift.
Design a pack of Oreo cookies this holiday season. Act fast before supplies run out. //t.co/W3WRy9OTPu pic.twitter.com/TKu3DeAwCw

— Oreo Cookie (@Oreo)
November 11, 2015
8) Edeka: Wihnachtsclip – #heimkommen
Here's a tearjerker for you from German supermarket Edeka. Their TV advertisement "Wihnachtsclip – #HeimKommen," which translates from German to "Christmas Carol – #Homecoming," is all about realizing what really matters around the holidays: spending time with family and the people you love.
In the ad, an elderly man prepares to spend yet another Christmas alone, since his kids usually cancel their planned visits last-minute. Then, the ad shows his various grown children receiving letters saying their father has passed away. When they arrive at home, though, they're surprised to be greeted by their very alive and very healthy-looking father. He says, "How else could I have brought you all together?"
Other than the delicious-looking meal they share at the very end, there's no hint that Edeka is a supermarket — but you can bet it's emotional and shareworthy. The ad garnered 33.5 million views on YouTube within a week of posting.
9) HubSpot: #HolidayHub
Microsites are great ways to highlight a specific campaign or target a specific buyer persona. Here's an example of a holiday-themed microsite HubSpot created, highlighting our #HolidayHub campaign and targeting ecommerce customers. (Check out a few more ingenious microsites in this blog post.) The site is filled with holiday marketing resources, which isn't a far cry from the type of content we publish to our normal website — except this time, it's themed.
The animated snow effect was created using HTML5 Canvas and JavaScript. You can learn how to implement an animated snow effect on HubSpot's Design blog. Alternatively, you could create an animated GIF to create a feeling of animation: Here's a beginner's tutorial for creating an animated GIF in Photoshop.

10) Starbucks: Starbucks for Life
You've gotta love a good sweepstakes — especially if it involves coffee. For the second year in a row, Starbucks is holding a "Starbucks For Life" sweepstakes for their rewards members. Five lucky people will win one beverage and one food item each day for the next thirty years. (Hey, don't shortchange me on my lifespan, here!)
Chances are, a sweepstakes like this that's open to members only does wonders for prompting new sign-ups. Plus, it encourages members to buy Starbucks drinks more often: Registered rewards members get a code each time they make a Starbucks purchase using their rewards card, after which they can log in to StarbucksForLife.com and play a "game" where they enter the code. At the end of the game, they'll learn whether they won. Not bad.
Here's one of the handful of cute GIFs Starbucks created to supplement the campaign (which you can easily create on your own):
Image Credit: Starbucks
11) Spotify: A Year in Music
One great way to celebrate a year gone by is by doing a roundup. From the homepage of their "A Year in Music" microsite, you can either log in and see what your own, personal year in music sounds like, or you can opt to not log in and see what an average Spotify user's year looked like. You can browse popular music from the year by genre, country, or both — which is a great way for Spotify to help its users discover new music. (Full disclosure: I just emerged from a rabbit hole of Turkish pop.)
12) Food52: Holiday Cookies from Around the World
What does a single product look like around the globe? That's the question Food52 answers with this marketing email, featuring a whimsical graphic followed by photos and stories behind 46 favorite cookie recipes from all over the globe. In the full email, these recipes are followed by gift ideas for bakers including call-to-action buttons for buying cookie cutter sets, mixing bowls, and other fun tools from Food52.
[Click here to see the full email]
13) HBO: 12 Days of HBO NOW
'Tis the season of sharing, is it not? Well, the folks at HBO came up with a cool idea for letting their users share something that's seemingly intangible: TV episodes. They're releasing 12 episodes from their best television shows and letting users share them with an unlimited number of people — probably with the hop that recipients get addicted and want in on HBO NOW. Here's what that marketing email looked like:

[Click here to see the full email]
14) John Lewis: Man on the Moon
What was that? You weren't done crying your eyes out after the Edeka ad? No worries: Here's another touching advertisement, this time from U.K.-based department store John Lewis. As part of the campaign, John Lewis partnered with Age UK, an organization that helps some of the million older people who go for extended periods without speaking to anyone. You can donate to Age UK via the advertisement's accompanying website.
15) Aldi: Telescope Christmas
If you liked the John Lewis "Man on the Moon" ad, then you might get a kick out of this UK ad for Aldi supermarkets. The ad pokes fun at the type of telescope the man on the moon uses to gaze at Earth, showing that Aldi offers many different kinds to choose from. The ad's tagline? "Aldi prices are anything but astronomical."
16) Zazzle: Haha Holidays
Consumers get a lot of emails from ecommerce businesses showcasing gift ideas from their websites. Here's an example of one of these emails done well. In particular, they do a great job of grouping types or categories of products to make all their options seem much less daunting.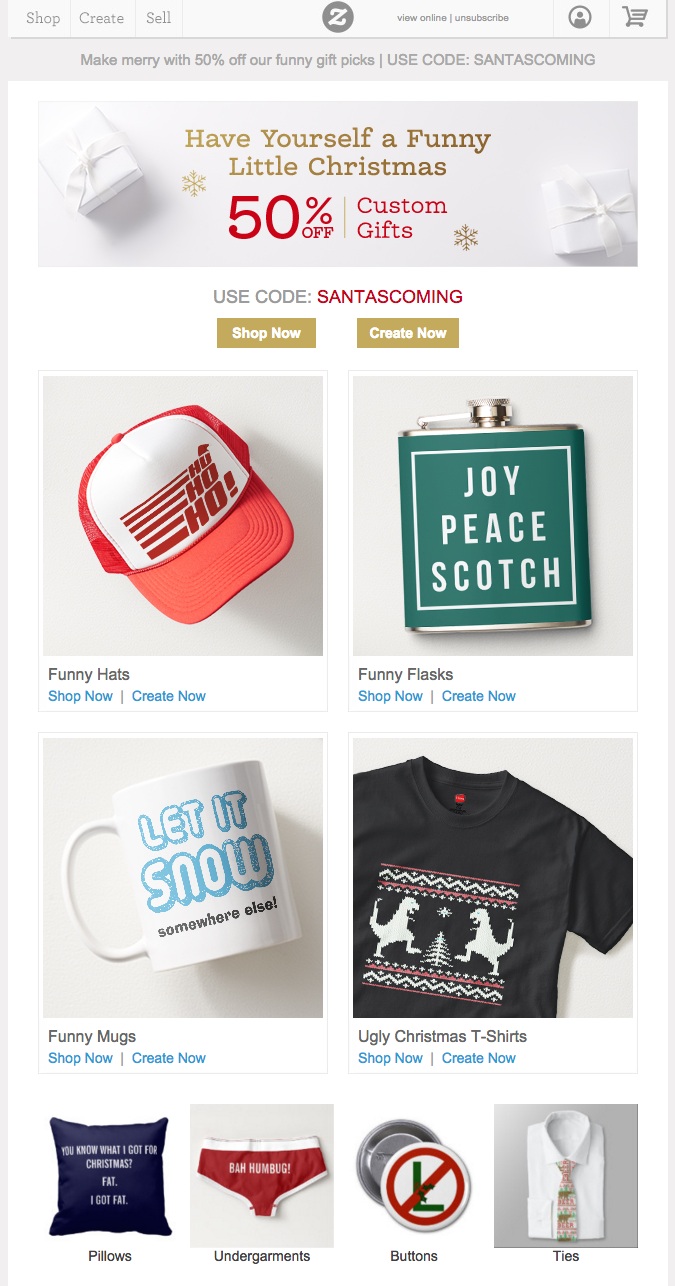 [Click here to see the full email.]
17) Mulberry: #MulberryMiracle
In the battleground that is Christmas advertisements, Mulberry stands out by giving the traditional Christmas Nativity story a twist. In their comedic ad, Mulberry pokes fun at themselves — especially with this line near the end: "Guys, it's just a bag."
18) Nudo Adopt: Final Christmas Delivery Dates
While many ecommerce emails showcase all the different things you can buy from a company, Nudo Adopt took a different approach. The premise of their business is letting customers "adopt" an olive tree in Italy and have its olive oil delivered to their doorstep. To ensure a delivery by Christmas, shipping dates are super important. This is why the holiday marketing email highlights the specific dates customers need to make a purchase by, by region.
An added bonus? A pair of eye-catching emojis in the subject line.
What are your favorite holiday marketing campaigns? Share with us in the comments.