What if I told you you could visit an art gallery … from the comfort of your own home? Or from a bus seat on your commute to work? Or while you're taking a break for lunch?
If you follow the right people, that's what Instagram can do for you. There are a lot of really talented artists and designers out there who use Instagram as a sort of mini art gallery — a social portfolio, if you will.
And it's a jackpot for people who love browsing gorgeous design work.
To help you narrow your search, I've carefully curated some of the best Instagrams to follow for design inspiration. I did my best to place them in categories — illustration, graphic design, pop art and installation, color palettes, street art, photography, typography, and calligraphy — although you'll notice some of their work could fall into a number of different lists.
Whether you're a designer looking for inspiration, or you simply harbor an appreciation for art and design, you'll want to check out (and follow) these accounts.
28 Designers You Have to Follow on Instagram
Click on a category below to jump to that section:
Illustration
Steve Harrington is a Los Angeles-based designer who describes his own style as having a "psychedelic-pop aesthetic." His Instagram is full of his brightly colored, playful illustrations, many of which he's created for brands — most notably Nike, for which he's designed sportswear, including shoes.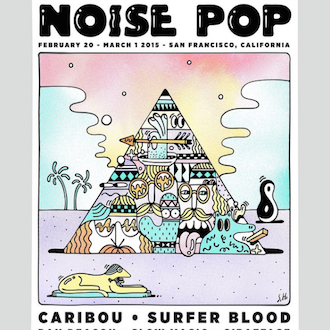 Rachel Ryle is an illustrator, an animator, and a storyteller — and she combines all three on her Instagram account. Most of her posts are beautiful, clever, and often super cute stop-motion videos like the one below. She told Mashable that each animation takes 15–20 hours from the beginning concept to final editing, on average. If you like her work, Instagram is the place to follow her: It's her most dedicated channel for showcasing her work.
Mikey Burton, based out of Chicago, calls himself a "designy illustrator" — his way of saying he works part time in both. Burton has done work for clients like Converse, ESPN, Target, The New York Times, TIME Magazine, and Esquire. He's been working on a lot of editorial pieces lately, which he posts proudly on his Instagram — along with other, often-whimsical illustrations both as sketches and as final, published projects.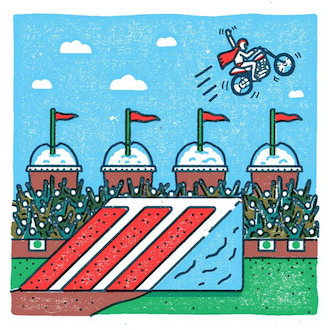 Jamel Saliba, a.k.a. Melsy, is equal parts artist and entrepreneur, having quit her job in her mid-twenties to become a successful, full-time fashion illustrator. Her sketches are beautifully done and cover themes like fashion, friendship, and love — all in the style of contemporary chic. Since her initial success on Etsy caught the eye of consumers and brands alike, Melsy's done client work for Hallmark, T.J.Maxx, and Home Goods.
On Instagram, she posts a combination of illustrations added to her portfolio, as well as those celebrating events or holidays, like the illustration she posted for Mother's Day (third image below).
Graphic Design
Neil A. Stevens specializes in poster design, and he's particularly good at creating sharp, dynamic pieces like the ones below. For example, the first image below is a map he designed for the Italian post office. He's created posters for many cities and countries around the globe, including a handful for the Tour de France.
Hey Studio is made up of three designers: Ricardo Jorge, Veronica Fuerte, and Mikel Romero — and is one of Spain's most popular graphic design studios. A lot of their work features stunning geometric shapes, which they post to their Instagram account in combination with pictures of their team during the creation process (and when they're just fooling around).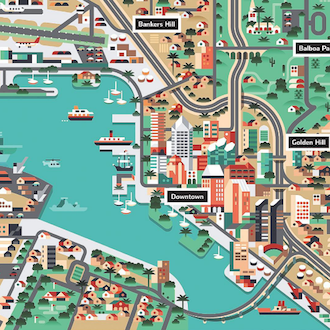 Luke Choice is an Australian living in New York whose work covers graphic design, illustration, and typography. His style is very colorful and very unique — I especially love the 3D illustration work he does, some of which are crazy cool animations. Check out his Instagram feed to see his latest work, from his own personal projects to collaborations with brands like Nike.
Pop Art & Installation
I'm so inspired by Jessica Walsh, both as a designer and as an entrepreneur. She joined the design firm Sagmeister & Walsh, Inc. at age 23 — back when it was just Sagmeister, Inc. Two years later, the firm's founder Stefan Sagmeister took her on as a partner when she was only 25, and the firm eventually became Sagmeister & Walsh. They've designed work for very high-profile clients, such as Levi's and HBO.
Walsh's Instagram account is a gorgeous display of her own work, the firm's, and design inspiration from others.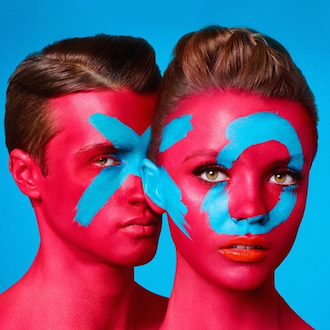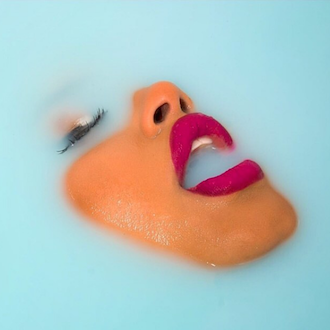 9) Daniel Aristizábal: @darias88
Colombian Digital Artist Daniel Aristizábal's talent is transforming regular, everyday objects into surreal, colorful renditions that are full of character. His work is "saturated with science references, retro hues, strange imagery, bold geometric patterns, and a playful sense of the absurd," reads his SkillShare bio.
Follow him on Instagram for a peek into how he sees the world, including the collaborations he's worked on with clients like Toy Nail Polish and Refinery29.
10) Dschwen LLC: @dschwen
Dschwen LLC is a creative studio based in Minneapolis that employs collaborative designers throughout the United States. Their design projects are created mainly for brands — including some big names like Amazon, Apple, Juicy Couture, General Electric, Uber, Twitter, and more.
They've won a plethora of awards, including a Design Gold at Cannes Creativity Festival for the second image below, "traffic cone in disguise," which they created for Twitter and Niche. Their Instagram page is chock full of creative, surprising, and clever designs — including some sweet animations.
Leta Obierajski is a New York-based art director and graphic designer with an eye for bright colors, angles, and curves. What I like about her Instagram account in particular is that she writes descriptive Instagram captions that give her followers a behind-the-scenes look at her thoughts and processes, making for an incredibly interesting read.
For example, in her caption for the last image below, she describes her collaboration with a fellow designer on this installation for local restaurant Le Turtle:
Taking notes from psychedelic symbology and visual occult, @wadejeffree and I sighted references such as The Holy Mountain by Alejandro Jodorowsky, the paintings of Victor Vasarely, the architectural notes of Carlo Scarpa, and Sol Lewitt in order to help us realize our vision for Le Turtle. We put a strong emphasis on raw materials as well as angles and curves to create a distinct brand language for the restaurant. We developed a bespoke typeface for Le Turtle to use on all printed materials as well as an iconography set for web and print.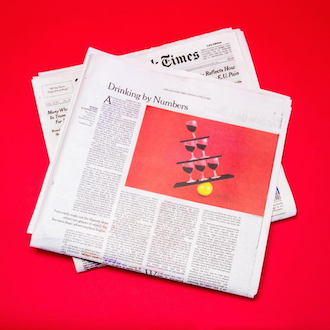 Color Palettes
The folks behind Design Seeds' Instagram account do a wonderful job of showing their followers just how important color schemes are to beautiful design. They use Instagram to create color palettes inspired by images submitted to them on Instagram using the #SeedsColor hashtag. This is a fun way to share their passion for nature's beauty while encouraging engagement.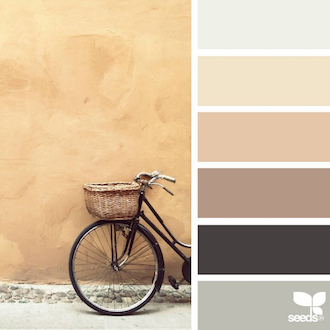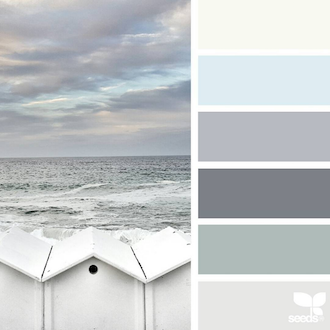 As a design tool, it makes sense that Canva's Instagram account would be centered around design. Not only do they post gorgeous photos and design work, but I especially love their color palette series, where they create color palettes based on photos, much like Design Seeds.
As an added bonus, they include the names and hex codes of each color and prompt their followers to punch the hex codes into their Canva color wheel to use them in their own designs.
Street Art
Jaime Rojo isn't a street artist; he's a photographer of street art. One of his goals, which he articulates on his website, is to photograph new public art, street art, graffiti, and urban art as they're created, not just in Brooklyn, but all over the world (thanks to a partnership with Urban Nation Berlin). He keeps an eye on developing trends and strives to lead a worldwide conversation about how these trends affect popular and art culture. His Instagram is a live collection of his photographs, in which he credits and tags the artist when known.
Biafra Inc. is an anonymous Minneapolis-based street artist who creates his work via spray paint, screen printing, stencils, stickers, and posters. As he tells it, his work is often "a visual retelling of stories that are apart of his life." As a self-proclaimed news junkie, he also incorporates socio-political themes in his work from time to time. His Instagram account is an inspirational showcase of his work in a variety of urban environments all over the Midwest.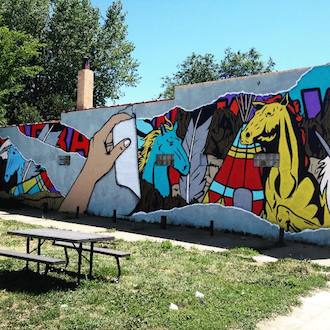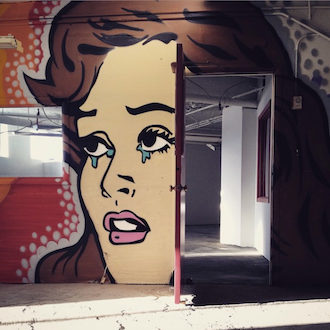 "My art is an extension of my character, bold and uninhibited, assertive and unorthodox." That's how anonymous street artist Fumeroism describes his colorful, expressive, contemporary street art. His designs are often caricatures of real subjects, like his portrait of fellow street artist Sebastien Waknine in Barcelona in the third image below. Follow Fumeroism on Instagram for colorful, bold, and energetic street art in locations all over the world.
Unsurprisingly, the famous British street artist Banksy doesn't post to his Instagram account very often. (Yes, it is his official account — Banksy's publicist Jo Brooks confirmed it in a tweet.) But when he does, it's not something you'll want to miss.
For example, in February 2015, after almost a year and a half of nothing new on Instagram, Banksy posted a caption-less photo to his Instagram account of a brand new, never-before-seen piece of street art that Paste Magazine theorized appeared to be "done over a door. The location has not been discovered or revealed as of yet." Follow his account to scroll through some of his great work and to stay in the loop in case a new piece appears.
Photography
18) VuThéara Kham: @vutheara
When it comes to beautiful photography, there are a whole lot of Instagrammers to choose from. One of my favorites is Paris-based photographer VuThéara Kham, who actually started his career on Instagram and became quite popular in the Instagram community. Follow his Instagram account for gorgeously framed photos of Paris' landscapes and people.
19) Hiroaki Fukuda: @hirozzzz
Instagram is actually the basis of Hiroaki Fukuda's photography career, which is why his posts on there are so darn good. Like Kham, Fukuda started as an Instagram hobbyist in Tokyo and ended up gaining a huge following.
When big brands caught wind of his talent and began hiring him for different projects, he became a full-time Instagrammer (yes, these do exist). Now, he travels all over the world taking photos for companies like Nike and Christian Dior. Side note: He told CNN in an interview that he likes when people comment on his photos … so comment away!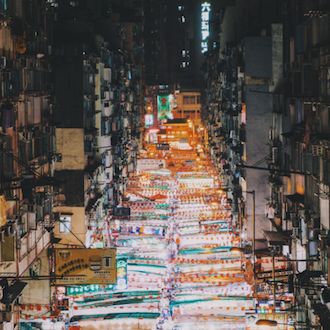 20) Dirk Bakker: @macenzo
Although Dirk Bakker is an Amsterdam-based graphic designer, he likes to take photographs of art, design, and architecture — and post it to his Instagram account. He has a keen eye for taking something "normal" — like cranes or a staircase — and transforming it into a stunning image with a great sense of depth. He's especially talented at capturing repetitive patterns like lines, geometric shapes, forms, and colors, making for striking images with strong visual impacts.
Max Wanger is a Los Angeles-based photographer who specializes in portraits, including wedding photos. His Instagram posts are a combination of his personal photography and the work he's done for clients. What I love about his photos is that they have a romantic, personal touch, and often make beautiful use of negative space.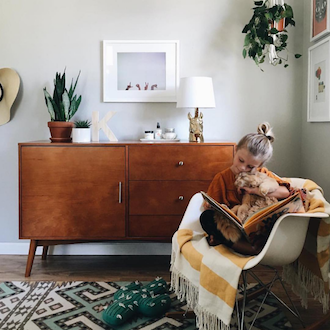 Typography
Erik Marinovich is a lettering artist and designer and an entrepreneur. In addition to drawing letters, logos, and type for big brands like Nike, Target, Google, Facebook, Sonos, and Sharpie, Marinovich has also co-founded Friends of Type, a collaborative blog and shop, and Title Case, a creative work space that runs workshops and lectures. His Instagram account is a great showcase of his impressive lettering work, from branded design work to impressively cool doodles.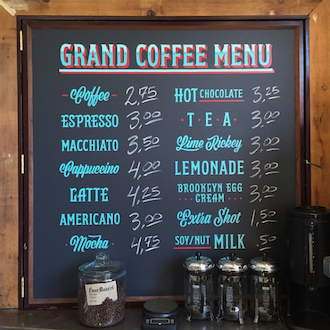 Ahda, the man behind the Mister Doodle pseudonym, is a hand letterer who's done design work for big brands like Element Skateboards, The Sunday Times U.K., Citizen Apparel, and more. His specialty is incorporating his beautiful, curvy hand lettering into shapes and illustrations. Check out his Instagram for photographs of his lettering work, including t-shirt designs and creative showcases of his projects alongside relevant props.
24) Cyril Vouilloz: @rylsee
Cyril Vouilloz, a.k.a. Rylsee, is a Berlin-based designer with a fun and experimental take on typography. His unique hand-drawn lettering work plays with lines and dimensions — and what makes his Instagram posts so cool is that many of them show his fingers "interacting" with his illustrations, enhancing the optical illusions in a way that'll blow your mind a little bit. Browse through his crazy cool work on Instagram, and follow him to see what original artwork and distortions he comes up with next.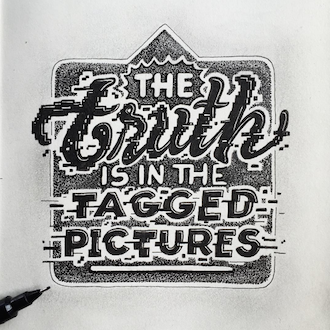 Beautiful typography doesn't just mean Latin letters. In fact, some of the most beautiful typography in the world comes from Arabic script. There are many features that make Arabic lettering so aesthetic: It's written from right to left, it can include accents and dots or lines, and its letters can vary in shape depending on their position in a word.
The Arabic Typography Instagram account, run by Egypt-based Noha Zayed, is a collection of beautiful Arabic typography — from signage to street art to tattoos — that's crowdsourced from all over the world.
Calligraphy
Artist and Designer Seb Lester is one of the most famous calligraphy artists on Instagram, with over one million followers (as of this posting). The vast majority of his posts are actually videos — and for good reason.
"So much of calligraphy is about movement and rhythm, and a short video can capture the beauty and the magic of calligraphy in a very Internet-friendly format," he told The New Yorker. "Recurring words in people's comments are 'mesmerizing,' 'hypnotic,' and 'satisfying.' For reasons I don't fully understand, people clearly enjoy watching the process of something perceived as 'perfect' being made from start to finish."
Here's another cool video from his Instagram feed:
Lindsay Oshida is a Los Angeles-based graphic designer who posts beautiful calligraphy work to her Instagram account. She gained a lot of attention on Instagram for her "Game of Thrones" quotes, which she posted once per day during the ten days leading up to the 2015 season premiere.
For example, she did her piece "Kill the crows" (the first image below) in black letter with walnut ink, according to The New Yorker, and the black crows were sketched using a crow-quill nib — "a calligrapher in-joke." She's since posted quotes both from "Game of Thrones" and other popular TV shows, and claims other calligraphers have followed her lead.
If you can't get enough of those mesmerizing calligraphy videos, here's another account that makes great use of video on Instagram. It's a collection of crowdsourced videos of people creating beautiful calligraphy in all different styles — and the artists are cited in the captions in case you're looking for more calligraphers to follow. Prepare to be hypnotized.
Here's another video from their collection:
We hope this list helped you find some new designers to follow. May your Instagram feed be much more beautiful for it!
Which accounts are your favorites? Whom else should be added to this list? Share your thoughts with us in the comments.