Want to earn money for your business? Want to generate leads for your sales team? Want to accelerate sales for your online store? Want to do anything for your business that actually matters?
Well then you need calls-to-action. Without them, we wouldn't be converting our website visitors or social media fans into actual leads for our sales team. Without them, we wouldn't be calling on our audience to take any action in their lifecycle that actually benefits them or the growth of your business.
But just because they're important doesn't mean we all have a professional designer at our disposal — whether due to budget limitations, resource restrictions, or just lack of design skills. That's why we created 50 free call-to-action (CTA) templates in PowerPoint for you to customize and use. The template will teach you how to customize your new CTAs effectively, so don't let fear of DIY design stop you.
This post will give you a sneak peek into a large set of designs available in the template. Download it now and follow along.
1) Basic Calls-to-Action
Sometimes you just need a quick and clean button that helps drive conversions. Building a landing page that needs a customized submit button? Working on a website page that needs to drive visitors to a coupon? Drafting a blog post that needs a "read more" button after the summary? We've got you covered. The first set of 22 CTA designs in our set of templates are basic buttons. Here's a sampling of six:
2) Social Media Share and Sentiment Calls-to-Action
Data from Dan Zarrella shows that specific diction in your social calls-to-action help drive engagement, but another great way to drive social engagement is through social CTAs on other assets of your website, landing pages, blog posts, and so on. This set of ten templates provides you with two types of designs: social share buttons and social sentiment buttons. Let's take a look at a sample of both.
Social Share CTAs
As you can see in the sample of share buttons below, these buttons are helping drive social actions from your content. Making these buttons clickable is as simple as generating the right code to hyperlink it to. This blog post walks you through how to do so step-by-step.
Social Sentiment CTAs
Social sentiment CTAs are those that include public testimonials — often from social media users. As you can see in the example below, we built a CTA in PowerPoint and attached a screenshot of a publicly posted Facebook comment. Be sure to test the use of such social sentiment on your content and explore how their inclusion benefits your conversion rates.
3) Contextualized Calls-to-Actions
You've seen some basic CTA options thus far. The next set of nine options call on you to include more context. These designs are created with the intention of further explaining the value of taking action. Just be sure to keep the overall layout of the button simple so that users can easily see the action you're calling on them to take. Here are two sample designs available in the template: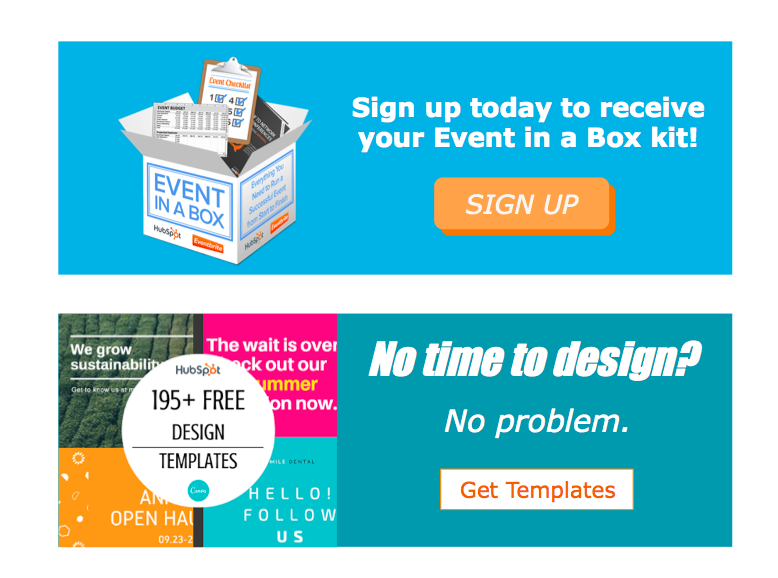 4) Photo and Mobile Device Calls-to-Action
Photos can serve as a great asset when creating your calls-to-action. Not to mention it's super easy because all you have to do is overlay some text! Photos make it easy to humanize and customize your messages for your brand and audience. Similarly, mobile and desktop devices can help make your action "pop." Rather than including a screenshot of your product, try putting that screenshot on a kindle to show it in action! If you have trouble locating copyright-free photos to use, you can download our set of 160 free photos. No attribution required, just download and use! Here are three sample CTA designs from the bunch.
5) Qualifying Calls-to-Actions
When you're trying to nurture a lead further down the funnel, you want to ensure you're presenting CTAs to qualify them for your sales team. For these CTAs, it's important that they are welcoming and not pushy. Having a great design can help can help you naturally move your leads further down your marketing funnel. Here are two examples from the templates you could customize to help convert a lead to marketing qualified lead: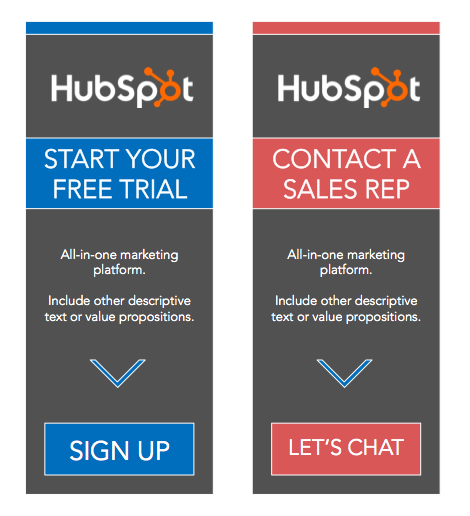 Not sure how to exactly save and use these templates? Don't worry, your download of these 50 templates will include step-by-step instructions on how to save and use these templates on your website.
What templates are you most excited to try? Share you thoughts in the comments section below.
Editor's Note: This post was originally published in September 2013 and has been updated and for freshness, accuracy, and comprehensiveness.