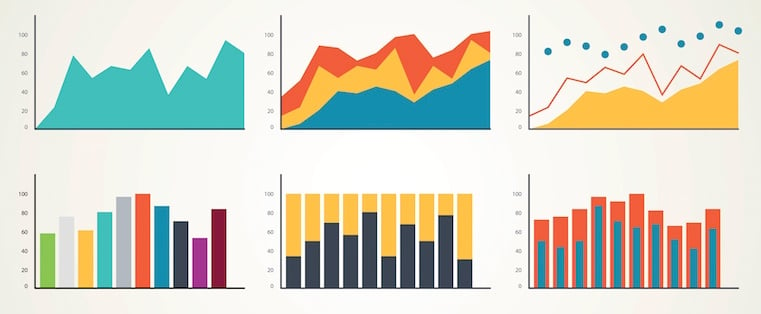 It's an exciting time to be a content marketer. But it's also a challenging time.
As more companies continue to jump on the inbound marketing bandwagon, the influx of content seems to be turning into a bit of a traffic jam. And few things have the power to cut through this noise like data storytelling.
Combining the visual appeal of images with the trust engendered by raw data, data storytelling is a force to be reckoned with. Marketers are using data storytelling to support every part of the buyer's journey, from attraction and consideration to conversion and delight. What better content to offer a consideration-stage buyer than a comparison chart between your services and your competition's?
Not a data analyst? No worries. Check out the list of tools below. From data collection to design, this roundup of resources is designed to make it easy for anyone to get started with data storytelling.
Tools for Generating Ideas
Not sure what data story your audience would want to read (and share)? These tools may spark an inspired topic.
Tools for Gathering Data
Whether you leverage your own data (like OKCupid's fascinating dating trends blog) or tell stories using data collected by others, finding the right numbers can be a treasure hunt. These tools will help you dig.
Tools for Collecting Your Own Data:
Tools for Finding Public Data:
The important thing to remember when using other people's data is – other people's biases. Numbers don't change according to social or government agendas, but how they are presented does. Be a good journalist and never trust your source 100% until you have thoroughly checked out the data and its origins.
Tools for Design
The design of your data visualization is nearly as important as the data you show. While you may choose a simple bar graph or line chart, you'll still have to think of color schemes, supporting graphics, background images, and typography to create a visually compelling data story.
Tools for Color Schemes:
Tools for Supporting Graphics:
Tools for Background Images:
(Want more options? Check out 17 of the best free stock photo sites here. Or, download 160 free business-themed photos here.)
Tools for Typography:
All-in-One Tools:
With these tools, you'll be able to find compelling, accurate data. You'll be able to design an eye-catching visualization. And, you'll be able to craft your story to speak specifically to your target audience – and be heard above the noise.
What are your favorite data storytelling tools? Share the ones we missed below.