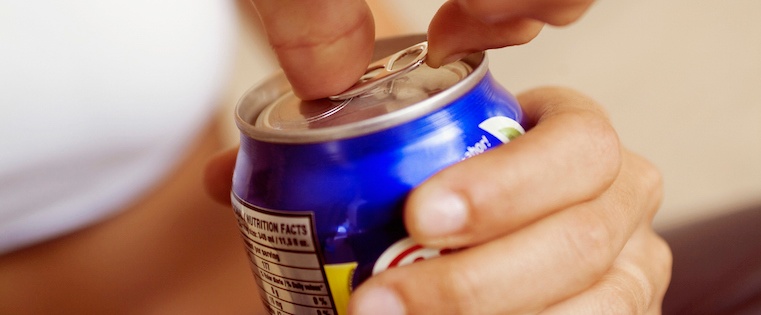 Whenever I'm watching a movie and I see a case of really obvious product placement, I can't help but roll my eyes.
But product placement is everywhere, from the famous Mini Cooper car chase in the 2003 film The Italian Job to the cans of Mountain Dew rewarded to the winning team on CBS's television series, Survivor.
And while some instances of product placement are pretty subtle and tasteful, others are so obvious they're groan-worthy.
So how does product placement work? How much does it cost? And what are the best examples of product placement in movies, television shows, and music videos? Let's dive in.
Why Is Product Placement a Thing?
While many people think of movies when they think product placement, television actually accounts for almost 71.4% of all paid placements — and about 75% of all broadcast-network shows feature placements of some kind. Video games and pop music are other popular industries for product shout-outs.
And it's all about context. In the popular 1955 American film Rebels Without a Cause, James Dean used an Ace Comb — and suddenly every cool teenage boy had to have one, resulting in a big increase in sales. Why? Because the comb was part of a storyline and an image that boys at the time could easily buy into.
Image Credit: ACE
According to a Priceonomics analysis, products placed into storylines can be a lot more successful for brands than traditional advertisements, like TV ads. It's easier to sell a viewer on the value of a product if they're emotionally invested in the storyline in which it's presented, rather than a viewer who's watching an ad totally out of context. Plus, it's far too easy to skip ads and zone out during ads nowadays, anyway.
And it turns out product placements pretty cost-efficient in comparison to advertisements.
How Much Does It Cost?
Product integration into multiple episodes of primetime television series can cost a brand $3–10 million (with full-series deals exceeding $50 million). As for integrations into movies? You're looking at tens of millions of dollars. However, those figures are cheap compared to the 30-second ad spots on television — especially since people can tune out or skip the ads.
"A typical TV spot will cost $350,000 on average to shoot, and tens of millions to run for a few small flights — most of which will be skipped or will fail to register for one reason or another," Priceonomics reported.
The appearance of name brands in productions tend to beg the question: How much did [brand name] have to pay for that? You might be surprised to learn that, while some brands pay between hundreds of thousands and several million dollars, many placements are actually done for free. Turns out that movie and film and music producers love forming alliances with brands and are eager to incorporate them into productions.
For example, Hershey Foods didn't pay anyone in the movie industry to have Reese's Pieces used in the iconic film E.T. Instead, it agreed to promote E.T. with $1 million worth of advertising in exchange for the product placement in the movie. Worth it? You betcha: Hershey's profit increased by 65% during the movie's run.
Clearly, the cost and logistics of each product placement varies on a case-by-case basis. Let's take a look at some of the most obvious — and then least obvious — product placements in film, television, video games, and music.
13 Unforgettable Examples of Product Placements in Movies, TV & Music Videos
1) Pizza Hut, Doritos, Reebok, Nuprin & Pepsi in Wayne's World (1992)
One of the most ridiculously obvious instances of product placement in film is also one of my favorites. It's that scene in Wayne's World that makes fun of product placements, while simultaneously promoting products from Pizza Hut, Doritos, Reebok, Nuprin, and Pepsi.
At one point in the scene, Garth — who is dressed head-to-toe in Reebok — shakes his head and says, "It's like, people only do things because they get paid, and that's just really sad." It's laugh-out-loud funny.
2) Reese's Pieces in E.T. The Extra Terrestrial (1982)
The famous appearance of Reese's Pieces in E.T. bears repeating. Hershey didn't pay a dime to the folks behind the scenes at E.T. to have their candy placed prominently in the movie, but they did strike a deal to spend $1 million on advertising promoting the movie in exchange for that product placement.
Originally, Steven Spielberg wanted M&Ms in the movie, but Mars reportedly turned him down because Universal Studios was unwilling to show them the final script before they started filming. They missed out: Hershey ended up seeing a 65% profit increase as a result during the movie's run.
3) Dr. Pepper in 90210 (2008)
Dr. Pepper made several appearances in the CW soap opera 90210, and the writers didn't shortchange the soda company with their script one bit. In one episode, two of the characters went on a road trip and, at one point, had to pull over at a rest stop so one of them could use the bathroom. "Maybe if you stopped drinking so much Dr. Pepper!" said one. The other's reply? "We're on a road trip! Drinking Dr. Pepper is practically a requirement."
Here's a clip from another placement of Dr. Pepper in the same episode:
4) Ford Fusion in New Girl (2012)
I'll never forget shameless plug for Ford Fusion in an episode of the American sitcom New Girl. In the episode, three friends pile into their friend's car. One of them exclaims, "Loving the new Ford Fusion!" Then, in a conversation that you'd be hard-pressed to witness in any real life situation, the friends proceeded to talk about how roomy the car is — "You could open a hat store in here!" — and how cool the gas mileage efficiency coaching system is.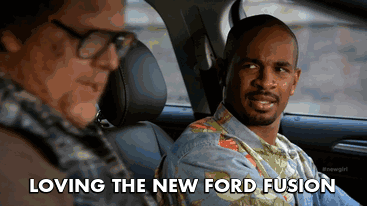 Image Credit: Giphy
That wasn't the only time the TV show featured Ford Fusion, either. In another episode, the main character spends two full minutes discussing the car's features while struggling to model at a car show.
5) Coca Cola, Miracle Whip, Polaroid, Virgin Mobile & More in Lady Gaga's Music Video, "Telephone" (2010)
"Your favorite songs and music videos are becoming advertisements," wrote Tom Barnes for Music.Mic — and some are more obvious than others. Lady Gaga's 9-minute music video Telephone featuring Beyoncé is littered with product placements, including Coca Cola, Miracle Whip, Polaroid, Virgin Mobile, Hewlett Packard, and the Plenty of Fish dating website.
But, according to AdAge, Gaga's manager claims only a handful of these placements were paid. For example, the scene where Gaga curls her hair using Diet Coke cans was a nod to her mother, who did exactly that during the 1970s.
Image Credit: Salon
6) Heineken in Skyfall (2012)
The James Bond movies have always been a smorgasbord of product placements, from remote-controlled BMWs and Omega watches to elaborate vacation destinations. But Heineken tops the list: Their U.S. division paid a reported $45 million for a product placement in the 2012 film Skyfall. And for fans of the series that are used to hearing the character order his signature drink — martini (shaken, not stirred) — the in-movie placement was pretty obvious. In fact, it was almost alarming to hear Bond turn down his signature drink for a bottle of Heineken.
Image Credit: BrandChannel
The deal also included a 30-second commercial starring Daniel Craig as James Bond, a branded web game featuring Craig and his female co-star, Bérénice Marlohe.
Heineken has a 15-year, multi-picture deal with the producers of James Bond movies, which is one of the longest running (and most expensive) in history. Heineken is set to make an appearance in the 2015 film Spectre.
7) BMW Z3 in GoldenEye (1995)
We couldn't mention product placement and James Bond without a nod toward the fictional spy's love of BMWs. He drove Aston Martins in Bond movies until 1995's GoldenEye, when he switched it out for the BMW Z3 Roadster.
"In retrospect, BMW's placement of the Z3 into Goldeneye seems quite risky," wrote the folks at Priceonomics. "Had the movie been pushed back half a year (not an uncommon practice in Hollywood), BMW might have been stuck advertising its previous year's model in a new movie." BMW paid $3 million for the placement — but then made $240 million in advance sales alone.
Image Credit: The James Bond International Fan Club
8) BMW Mini Cooper in The Italian Job (2003)
"The real star of The Italian Job is not a person but a car," explained film critic Stephanie Zacharek in her review of the 2003 film, The Italian Job.
The car chase scene that would become famous featured three BMW Mini Coopers in three different colors. The original 1969 film featured an old model of Mini Cooper, so when the film's producers asked BMW if they could use the newer model for the remake, they agreed — and provided more than 30 cars for use in the film. And it worked: BMW saw a 22% increase in sales in the year the film was released over the previous year.
9) Ray-Ban in Risky Business (1983)
Given the Ray-Ban Wayfarer's popularity over the past several decades, it's hard to believe the sunglasses manufacturer considered canceling the line at one time. Their survival — and huge popularity — is thanks to the 1983 film Risky Business, for which the brand attributes the sale of over 360,000 pairs of Wayfarers.
Image Credit: Sunglass Island
Three years later, the producers of another Tom Cruise movie partnered with Ray-Ban, this time their Aviator line for 1986's Top Gun. As a result of the movie, sales of aviator sunglasses increased by 40%.
10) Volvo in Swedish House Mafia's Music Video, "Leave The World Behind"
ShortList calls it "not really a video, more a full-scale, four-minute Volvo commercial" — although I beg to differ. The car only shows up a handful of times in the Swedish House Mafia music video, and each appearance is only a second or two long, and they're pretty tasteful. Not to mention, the music video is about leaving … they were going to have to include shots of some car in there. Might as well be one produced by their home country.
Image Credit: LuneVEVO
11) Nike in White House Down (2013)
Nike's Air Jordan's have shown up in several movies and TV shows over the past several decades, especially in the 1990s. In the 2013 film White House Down, the U.S. President (played by actor Jamie Foxx) engages in hand-to-hand combat with a terrorist. At one point, the terrorist grabs his feet, prompting him to yell out, "Get your hands off my Jordan's!"
12) Marlboro, Coca-Cola & KFC in Superman (1980)
Many of the product placements in the 1980 version of the film Superman were much more subtle. Check out the fight scene in the video clip below, and see if you can spot the least obvious placement of all: the KFC box on the car dashboard.
The 2013 version of the movie, called Man of Steel, ended up earning $160 million from promotional tie-ins with brands like Sears and Warby Parker. These tie-ins aren't necessarily product placements themselves, though: For example, Warby Parker is created Clark Kent-inspired glasses; Gillette produced a video series on how Superman shaves, and Walmart offered patrons an exclusive movie screening.
13) Manolo Blahnik in Sex and the City
Carrie Bradshaw's obsession with Manolo Blahnik's shoes helped the Spanish designer become a household name. His shoes pop up in multiple TV episodes (16 times in 94 episodes, to be exact) and a pair of Manolos that were custom-designed for the film make a star appearance in the The Sex and the City Movie as the prop used by Carrie's boyfriend to propose to her in place of a diamond ring.
While these product placements are certainly obvious ones, they don't actually come across as obnoxious. Why? Because brands are a part of these girls' fashion-forward, New York City lifestyle. Jimmy Choo was another favorite of hers.
And Sarah Jessica Parker, who plays Carrie and was the producer for Sex and the City: The Movie, said she wouldn't have been able to finance and market the film without product partnerships. Sometimes these partnerships involved product placements, but most of the time, it was simply businesses spending heavily to promote their ties to the movie, according to Reuters.
Image Credit: Nail Polish Addict
There are a lot — I mean a lot — of examples of product placement out there. Which are your favorites? Which examples from this list do you think are tasteful — and which do you think aren't so tasteful? Share your thoughts with us in the comments.