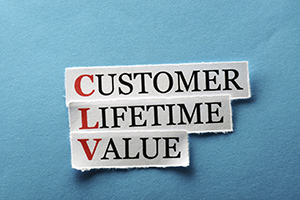 Lifetime Value (LTV) is one of those metrics that keeps your CEO up a night. It's the estimated revenue that a customer will generate during the entire span of their relationship with your company. It takes into account not only the initial purchase, but also how much a customer is likely to spend in the future as they purchase more products and services from you.
By understanding how much revenue each new customer will generate, you gain valuable insight into how to properly set your marketing budget and how much you should be spending on customer acquisition and customer retention — all things your CEO will love to see you focus on.
Check out the infographic below, created by KISSmetrics, to learn more about LTV, how you can calculate the lifetime value of your customers, and how you can use that information to optimize your marketing spend.

How to Boost LTV
Segment Your Customers
Segment your customers based on time they've been with your company or which persona they are to determine which types of customers you should focus either more or less budget on acquiring. While some types of customers may cost more budget to acquire, they can be more beneficial to your company in the long run if they have lower churn rates and higher LTV.
Delight Your Customers
As the infographic explains, research has found that a mere 5% increase in customer retention can increase profits by 25% to 95%. The same study also found that it costs six to seven times more to gain a new customer than to keep an existing one. The moral of the story: delighting your customers will boost your retention rate and, in turn, your customers' LTV to your company.