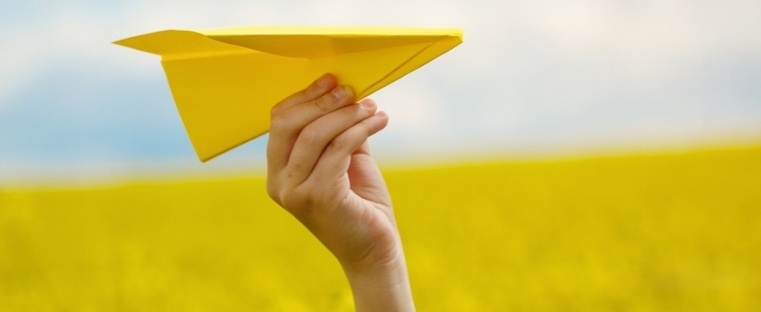 As content creators, we have no choice but to remain humble because every time we publish an article, it's one of 2 million blog posts being published on the same day. Sure, we possess plenty of SEO know-how and a knack for delivering information in a way that's entertaining and interesting.

But, after vehement denial, mini breakdowns and tearful calls to our moms, we content creators have had to accept a difficult truth: Our talent alone isn't always enough to generate leads.
This doesn't mean we're throwing in the towel, though. Far from it, in fact. Content is still one of the leading drivers of conversions and overall revenue and, thanks to consumers' love for innovation and wit, becoming even more important. We know someone has to win at content, so it may as well be us.
But how we get the right content to the right people at the right time is evolving. Content distribution is changing, and some channels are expecting you to pay.
If you feel backed into a corner, you're not alone. Many (OK, most) businesses aren't exactly thrilled about forking over cash to earn the engagement they feel they deserve. So, is there another alternative to paying for exposure? And does paying for distribution rob your content of its authenticity?
Let's jump in and take a look.
"Pay to Play" is Nothing New
Remember social media marketing before 2012? Ahh, those were the days. With a clever quip and a nice visual, you could enjoy semi-viral exposure and earn your brand hundreds of likes for free. But along came the Facebook "reachpocalypse" algorithm updates and, by 2014, brands enjoyed an organic reach hovering somewhere around zero.
So millions of companies gave up and deleted their Facebook accounts.
Sike.
Actually, businesses begrudgingly began adding Facebook advertising and post promotion into their marketing budgets. Successful businesses still used the same great content strategy and that, combined with a budget to boost this content, helped bring engagement rates back to healthier numbers.
But Facebook wasn't the first platform to require payment for space. It's the same tactic used by Google AdWords—as well as newspapers, magazines, billboards and other types of media we enjoyed in the Stone Age. So, really, how long did we expect to get away with free exposure?
Customers Like Having Things Delivered
It's a rainy Sunday, and you're craving pineapple pizza. You begin to weigh your hunger pangs against your desire to avoid putting on pants, and then you remember—it's 2016, and you don't have to choose. With a few taps on your screen, a friendly Domino's employee can be at your door with a fresh pie to quell your craving in 30 minutes or less.
But what if you're craving Tom yum and your favorite Thai spot doesn't deliver? Have no fear—GrubHub has your back. Out of toothpaste? Amazon Prime Now will drop a package outside your door within two hours. Not sure what to binge-watch next? Netflix has plenty of recommendations.
You get the picture.
Today's consumers are so used to having things delivered, they're spending less time seeking them out. Sure SEO best practices will launch you to the top of search engine results—but what if your content doesn't even make it to the search engine?
Thanks to everyone's favorite buzzwords: programmatic marketing and big data, there's a good chance relevant content from your competitors is being delivered into your audience's most frequented spaces—like their Facebook newsfeed and email inbox—before they've even made it to Google. Why? Because they're paying for placement.
This isn't a case of "everyone else is doing it, so you should, too." This is a case of "everyone else is doing it, so you must do it better."
How can you get engagement from the right people at the right time? By selecting the right demand generation channels.
What Does Paid Content Distribution Look Like?
Done well, paid content looks like, well, regular content. It's interesting, it's enjoyable and it blends within the platform. So long as you're not attempting to "trick" your audience with cheap gimmicks, and so long as you're publishing the same high-quality, relevant content typically associated with your brand, you don't have to lose your authenticity. In fact, you can even grow brand loyalty.
Here are a few types of paid content distribution to consider…
1) Sponsored Content Within a Publication

Sponsored content is similar to what used to be known as "advertorials"—but even less salesy. It's content that looks and feels much like the content usually found in a publication, but published by a brand. Take, for example, this BuzzFeed post by Discover. The brand created this BuzzFeed-esque listicle of gifs, interspersed with financial advice and a CTA to learn more about FICO Credit Scores.
2) Facebook Sponsored Posts

Paying for a spot within your audience's newsfeed is a great way to grab their attention in the same way you did before the algorithm update and, in many cases, even better. Not only can users like, comment and react, the post also includes social proof so you can see which of your friends also like the brand. For example, this Lululemon Athletica post introduces us to a helpful blog article.
3) Twitter Engagement Tweets
Like Facebook promoted posts, Twitter engagement Tweets allow brands to directly target audiences that are likely to engage with their content. The Vice post below linked me to a Las Vegas city guide shortly after I returned from a trip to Sin City. (Apparently, what happens in Vegas doesn't stay in Vegas if you Tweet with geolocation.)
4) Linkedin Sponsored Update

If you're a B2B company, and you're looking for super-duper targeting when sharing your content, LinkedIn may be your new bff. Radius Intelligence did a great job with this Linkedin sponsored update. Not only am I a marketer who works primarily in the B2B space, but I am interested in learning more about predictive analytics.
5) Outbrain

Often, the best time to present fresh content to a prospect is just after they've finished consuming another piece of content—and that's exactly how Outbrain works. For example, after reading about the upcoming Apple Spring event on Mashable, I was presented with this list of promoted stories, including both industry-related pieces and celeb slideshows sure to prolong my procrastination.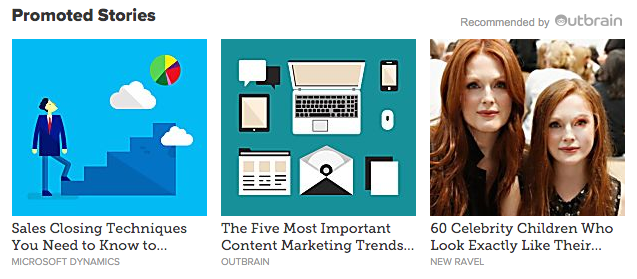 What's Next?
The key thing to remember in all of this is, just because a piece of content is disseminated using paid distribution doesn't mean it's going to automatically enjoy heaps of engagement. You have to follow the same rules of great content: It has to be relevant, shareable, enjoyable and help solve a problem or meet a need. If you're going to boost boring content, you may as well just start flushing $20 bills down the toilet. It'll achieve the same effect.
If you're unsure about how much to spend? Learn more about how to budget for content distribution here.
Finally, don't be afraid of paying for content distribution. Instead of nostalgically yearning for the days when things were free, wake up to the opportunities before you. So long as you create great content, promote it on the right platforms and use your data, you'll enjoy such tremendous ROI the money you spend on promotion will feel like a drop in the bucket.