Have you ever stopped to think about why you make certain purchases? What really goes into those decisions?
I do it all the time. I'm a marketer, after all.
And while this profession has enabled me with a good eye for the tricks of the trade, I've found that I'm still not immune to the influence of marketing.
I swoon over Christian Louboutin's red-soled shoes, pay more for the shampoo that claims it will make my hair 10X stronger than the leading competitor, and crave anything that comes out of a food truck … simply because it came out of a food truck.
Many of my purchasing decisions are fueled by marketing initiatives — and rather than allow that to make me bitter, I embrace it. I strive to learn from the techniques that brands employ to capture my interest and use them to inform the work that I do. And you can, too.
To help illustrate what I'm talking about more clearly, I've detailed a list of five things marketing made me (and maybe you) like and the valuable lessons we can learned from their success.
5 Things Marketing Made People Like
1) UGG Boots
According to a 2013 study by Bizrate Insights, more than a quarter of American women own a pair of UGG boots.
How'd the Australian footwear and apparel company find its way into so many closets?
Quite simply, UGG managed to make friends in high places.
Source: Luxx Mint
To provide a little context, the story of UGG began back in 1978 with a young Australian surfer named Brian Smith. After discovering that sheepskin boots were particularly cozy after a long day of surfing, Smith traveled to Southern California with a bag of boots to sell.
By the mid 80s, his brand began to build momentum. It wasn't long before the product made its way into surf shops down the coast of California. And when winter hit, UGG boots started popping up in ski shops from Mammoth to Aspen.
However, the product didn't take off until the early 2000s when Oprah featured the sheepskin boots in her "Oprah's Favorite Things" segment. In fact, Oprah loves the boots so much that it's not uncommon for some variation of them to make their way onto her list year after year.
Between Oprah's stamp of approval and the support of early adopting, UGG-loving celebrities such as Kate Hudson, Jennifer Aniston, and Gwyneth Paltrow, it's no wonder why UGGs have become such a wintertime shoe staple.
What can your business learn from the UGG boot phenomenon? Identify opportunities to get your product or service into the hands of industry influencers. Contribute a guest post to a popular industry blog, reach out to a thought leader on social media, or simply make more of an effort to expand your professional network — sometimes, all it takes is the right endorsement to win the hearts (and wallets) of your buyer personas.
2) Sriracha
Sriracha is e.v.e.r.y.w.h.e.r.e.
Ketchup, chips, mayonnaise, t-shirts, candles, lip balm, vodka, key chains, almonds, candy canes, sunflower seeds, iPhone cases, socks, beef jerky, water bottles … you can even by a Sriracha onesie for your newborn.
Source: Wellsphere
How did the hot sauce — a product of Huy Fong Foods — become such a mainstream commodity?
Here's a brief timeline of events that helped pique people's interest in the versatile hot sauce:
To illustrate this uptick in interest, take a look at how these media mentions triggered small increases in the search volume for Sriracha:
While these marketing endorsements played an important role in turning people on to the sauce, there was certainly more to it than that.
The L.A. Sriracha Fesitival serves as a great example of how event marketing being used to turn regular people into Sriracha-obsessed fans. After exploring his passion for the sauce through the creation of The Sriracha Cookbook in 2011, Randy Clemens decided to take things a step further by teaming up with Food GPS to host a Sriracha festival in Chinatown's historic Central Plaza.
The chef-driven, all-inclusive event started in 2013 and has helped build a community around the sauce by providing people from all over with an opportunity to indulge in Sriracha-inspired dishes and desserts. (Note the huge spikes in search volume during this time.)
Another interesting factor that has influenced Sriracha's ability to capture the hearts of hot sauce enthusiasts is its unique brand identity. Between the rooster logo and the signature green cap, the sauce is both easily recognizable and describable — the perfect candidate for word of mouth marketing.
Moral of the story for brands trying to achieve similar success? Look for opportunities to get your product or service into the public eye as much as possible. Whether you find a way to get it featured on a popular blog or host an event to invite people into your world, it's important to realize that passion starts with awareness.
3) Mason Jars
According to Steve Hungsberg, director of marketing at Jarden Home Brands (which licenses Ball Home Canning), if you laid the number of mason jars sold in 2013 end to end, they'd go 90% of the way around the Earth.
Say whaaaat?
Up until several years ago, I viewed the mason jar as something that was filled with sauce and lived on the shelf of my little, old Italian grandmother's pantry.
Today, however, mason jars — or some variation of them — are being used to house flowers in wedding centerpieces, serve lemonade at a farmers' market, and collect loose change like a piggy bank.
So what's gotten into everyone? Why the sudden obsession with mason jars?
Source: Thirsty For Tea
A few years back, Jarden Home Brands found itself struggling to combat misperceptions about canning, while also working to fight off the competition brought about by private labelers like Walmart. Looking for a way to win new customers, the company teamed up with Barkley and 360 Public Relations to turn up a solution.
The result?
A modernized, super-timely marketing strategy.
First, Jarden Home Brands leveraged the DIY and home canning craze that sparked as a result of the recession to set the stage for its comeback. From here, the company adjusted its content promotion strategy to move away from cooking magazines and focus more on social media and events.
The company's Pinterest account turned into an inspiration station for DIYers looking for creative ways to repurpose the jars and its Facebook Page was used to invite canners both old and new to share their experiences.
In terms of events, Jarden Home Brands launched national "Can-It-Forward" day events at farmers' marketers to highlight canning demonstrations.
By increasing the visibility and calling attention to the multipurpose functionality of its signature mason jars, people starting seeing the product in a new light.
If your business is looking for a pro tip on how to make a comeback like Jarden Home Brands, we suggest that you start by auditing your distribution strategy. Often times the problem isn't that people don't want to love your product or service, but rather it's that you're not distributing your content in a place where the right people can find it (and learn to love it).
4) Tiny Houses
Can you imagine cramming your entire life into an 84-square-foot space?
Tiny house pioneer Dee Williams did, and she's not alone.
The tiny house movement is sweeping the nation, inspiring people to trade in their upscale homes for a more modest, environmentally friendly approach to living.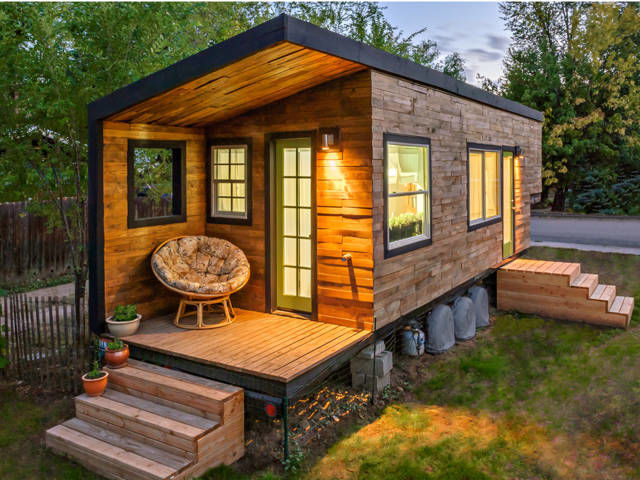 Source: Country Living
But why? Why are people suddenly taking an interest in these tiny, trendy dwellings?
The tiny house movement aims to join people together to inspire others to live smaller. With 76% of Americans living paycheck to paycheck, this movement provides a timely solution for those looking to break free from the shackles of high-cost housing. Plus, it's a community-driven movement, tapping into people's desire to be a part of something bigger than themselves.
However, it wasn't until this movement joined forces with the power of television that it really started to take off.
If you've ever caught an episode of Tiny House Nation, you know what I'm talking about. Essentially, the show celebrates the movement by traveling across the country to explore these small, inventive spaces and the people who inhabit them.
Since the release of the show, the search volume for "tiny house movement" has reached an all-time high. Just look at the graph below. As you can see, search volume for the movement spiked around the time the show's first episode aired, and has been popular ever since: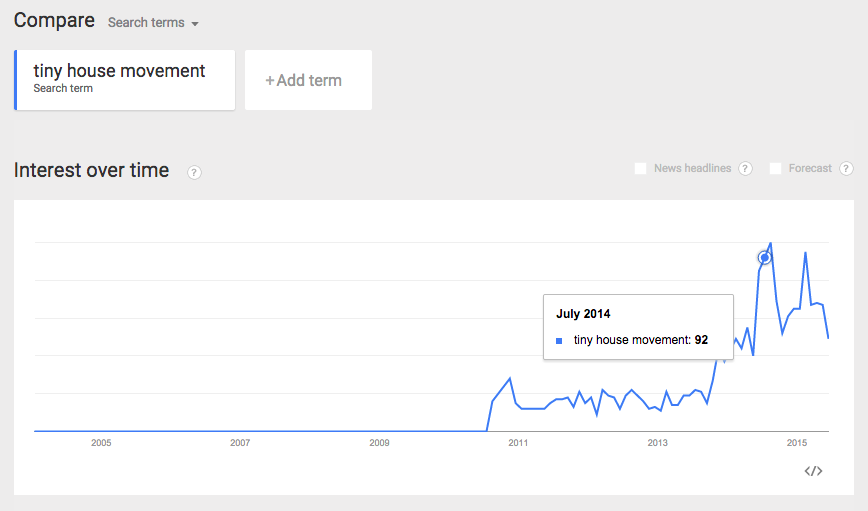 Wondering what can your company take away from the rise of the tiny house?
It's quite simple — focus on creating something that people can identify with and feel a part of. Once you identify an opportunity for involvement, find a unique way to tell your story. This will make it easy for you to sell them on the movement, not just the product or the service.
5) Beats by Dre
Ever wonder why this product has become so popular?
It all started with Apple marketing the iPhone. The company convinced us that we couldn't live without every iteration of the phone by highlighting its benefits — bigger screen sizes for watching video on the go, smooth operating systems for an easy user experience, and tons of storage for our favorite playlists.
And to fuel our desire even further, Apple also leverages exclusivity by deliberately restricting the number of iPhones it releases to customers and mobile phone providers. Ever notice the sprawling lines outside your local Apple store hours before a new iPhone release? It works.
So where do Beats by Dre fit into this whole smartphone boom?

Source: Beats by Dre
Well, research from eMarketer found that in 2013, around 70 million Americans used music streaming services like Spotify and Pandora or downloaded music on their phones. With more music streaming options like Apple Music becoming available, it's likely that this number will only continue to climb.
With our shiny, new, music-filled phones in tow, the next logical thing we'd need is headphones to listen to our favorite album … right?
While its free white earbuds have become a staple for smartphone users, Apple's leveraged differentiation in the Beats by Dre marketing strategy to infiltrate the market with fancy, high-end headphones that practically double as accessories for many millennials.
Unlike Apple's standard headphones, Beats by Dre come in a variety of candy-like colors. This undoubtedly contributes to its appeal, considering an infographic from KISSMetrics on the influence of color revealed that 93% of consumers place visual appearance above other factors when shopping. Not to mention, the different color options make it easier for the company to market the headphones as a fashion must-have.
The brand's ability to carve out this new space in the market came as a result of how well it knows its audience. Aware that millennials gravitate towards products that "fit" them, Beats by Dre was able to introduce a line of headphones that provides them with the customization and individuality they crave.
So if you're looking to build buzz like Beat by Dre, don't be afraid to color outside the lines. Identify what your ideal audience values, and create a product or service that speaks to those standards — even if it's different than the mainstream.
What products or services has marketing made YOU like? Share your favorites in the comments section below.