There's a big difference between people who know about your company and people who rave about your company. While the former is something almost all marketing teams strive to get more of, developing the latter is key to growing your business.
So how do you get someone to not only know about you, but like you enough to engage with your company frequently, and maybe even tell others about you?
In the online world, it has everything to do with creating the right content. So if you want to cultivate a fanatical fan base, follow these tips and techniques in your content efforts.
1) Use lots of images.
The right pictures reinforce the way that fans think. The right image can cut a clean path straight to a user's emotions, creating excitement, fear, anger, disappointment, or joy in a relatively short amount of time. Plus, they tend to get more engagement online: a study conducted by Socialbakers found that images on Facebook constituted 93% of the most engaging posts, compared with status updates, links, and even video.
Tip: Create a specific style or look to your images.
As I'm going to suggest a little later, creating a fan base has a lot to do with shaping a culture. And one of the things that you can do to enhance this culture is to create images with style — basically, making sure that whenever people see an image from your company, they know it's from your company. (Want some tips for creating a certain style with your images? Check out this blog post.)
Buffer's blog has a distinctive image style. It makes their content recognizable and appealing.
2) Use fan-sourced content.
Content creation doesn't have to be totally up to you. Pull content from your fans — they will love it. Giving content creation to fans allows them to have a sense of ownership of the brand. This ownership, in turn, improves their fanaticism over the brand, too.
Tip: Allow users to submit their own stories.
Give your users the chance to share their stories. Patagonia, outfitting adventurers with activewear, has a marketing initiative called Worn Wear. On the Worn Wear blog, you can read user-submitted stories about their Patagonia products, like this one: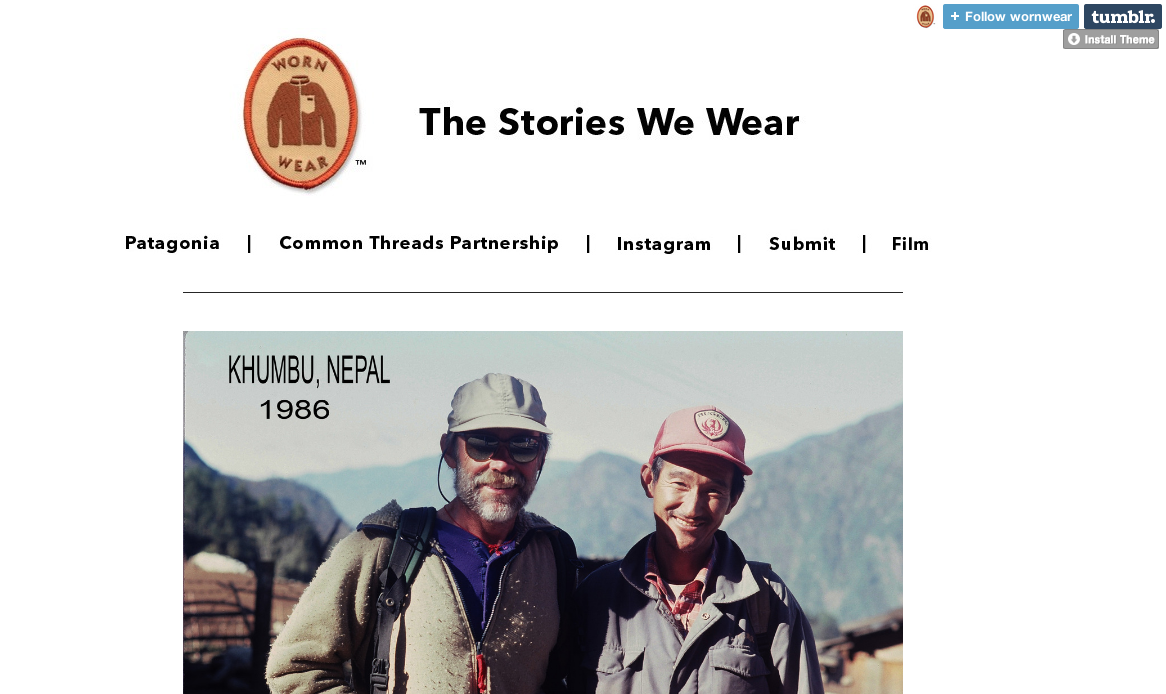 Here's what Jack Wilson, pictured on the left, wrote:
Before the trek I went shopping for cold weather clothing. I saw this jacket in the Yosemite Mountain Shop, but had sticker shock when I saw the $45 price tag. The sales person promised it would pay for itself in 1 day. How prophetic she was!
I know that this is the era of fleece and micro fleece. But when the snow flies and the temperature plummets, I still reach for Mr. Fuzzy pile.
Thank you Mr Patagonia.
Patagonia has hundreds of such stories, contributed by warm and satisfied fans wearing the enduring Patagonia product.
Tip: Allow users to submit their own photos.
Photo submissions are a popular and easy way to collect fan content. In the era of selfie-snapping smartphone users, this is a great way to generate buzz and cater to your fans.
One of the best curators of user photos is the GoPro brand. GoPro users are proud of their cameras, and they don't want to miss a chance to share their excitement with the world. GoPro is only too happy to oblige their fans by posting user photos across social media.
Maybe that's why GoPro's snagged two of the top-ten spots for Instagram videos, as rated by AdWeek. Their 2.5 million Instagram followers are engaged, not only because of the awesome photos, but also because they might see their own photos featured on the feed.
GoPro's "Photo of the Day" features some of the most inspiring, hilarious, or just flat-out awesome pictures from their users.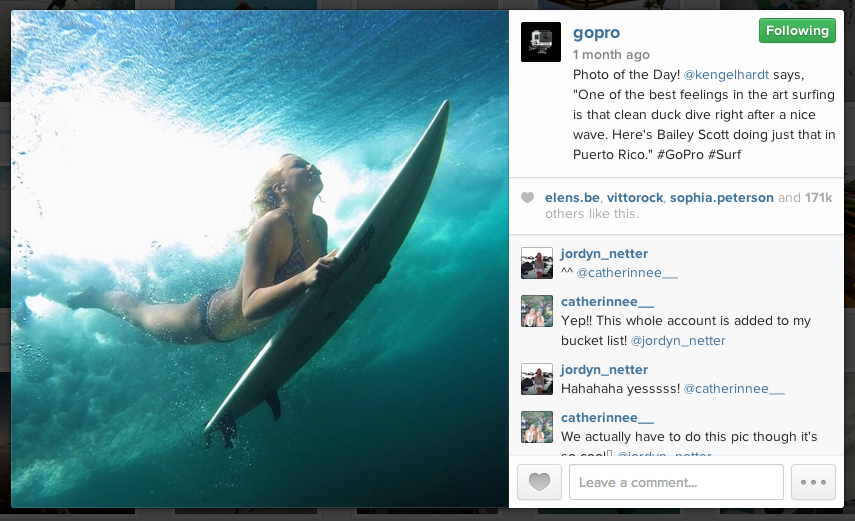 3) Give them free and/or exclusive content.
One awesome way to keep fans happy and engaged is to give them gifts. Too often, we think of giveaways and freebies as gimmicks to pull in new customers. We forget the power that such promotions have with existing fans.
Amazon Prime members are rabid about their love for the service. When Amazon invented Amazon Prime, they also created a fan base of diehards. The Mashable article by Anna Washenko described such people as "Amazon fanatic[s]," and explained how Amazon Prime "enable[s] the addiction."

Even though they're paying a yearly subscription cost ($99), these customers feel like they're getting things for free — "free" two-day shipping, "free" movies, "free" music, "free" Kindle books, etc.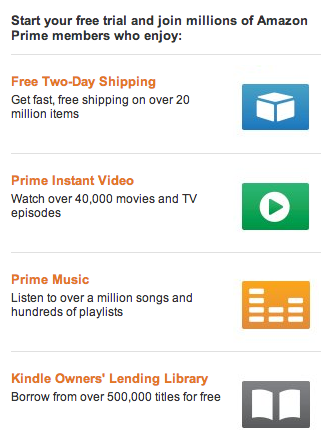 This is precisely the kind of rewards fans love to get. They want to know that they are recognized, valued, and appreciated by the company. After all, it's because of fans that businesses are successful.
"Free stuff" can be as simple as wallpaper, like John Deere does.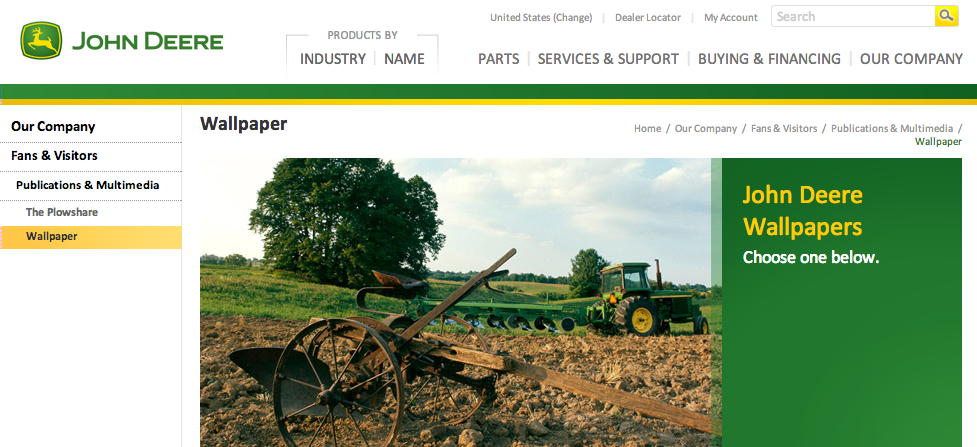 There's no doubt that John Deere has a fan base. If someone spends a half million dollars on a piece of farm equipment, swears to buy equipment from only from a brand, and purchases t-shirts and hats emblazoned with the logo, there's a pretty good chance that they're a fan. They'd appreciate a free wallpaper image or two.
If you can't give stuff away, you can sell it — and fans probably won't mind opening their wallets to buy fan merchandise. Sports teams do this all the time. The fans are there — and so is a medley of merchandise for sale.
You don't have to be the owner of Manchester United or the Green Bay Packers to enjoy this kind of fan building. When Evernote was barely emerging, they started selling branded merchandise. Evernote wasn't exactly a globally-recognized brand at that point. But they realized that by promoting their brand through merchandise, they could strengthen their fan base.
Evernote's t-shirt product page gives you some insight into why they sell fan paraphernalia:
Everywhere we go, we meet people who share our passion. These tees are designed for anyone who wants to wear a little piece of our culture.
Is a cloud-based note-taking software really that sexy? Yes, but only because Evernote made it that way for their fans. Buying into that fandom is about passion and culture — and so they sell t-shirts, posters, pens, and even socks to let people join in on the movement.
4) Develop a distinctive culture through content, and let your fans share in it.
You build fans by creating culture.
You can pick up any business book and reading about forming company culture. All too often, however, this "culture" is limited to the office, to employees, or to the management.
For maximum fan success, you can create a culture that goes beyond the walls of your office, and spreads to the fan culture, too. You've got to form this culture in conjunction with your fans, allowing them to shape it and contribute to it.
Culture is formed through content. The tone and style of your content cater to certain users who in turn become fans.
ConversionXL has done a great job at forming a culture through content. Their content motto is "conversion optimization for smart people." Their blog content is characterized by punchy, in-your-face style that is slammed with data and hard core information.
If you don't mind getting kicked around now and then and love data-driven hard core info, then you're going to become a fan of ConversionXL. It's content like this that does the trick. ConversionXL defined their niche, chose their style, and built a fan base because of it.
5) Create authentic content for your fans.
Creating fans is about creating relationships — and the substance of relationships is built on openness and authenticity. There are ways to communicate openness and authenticity in your content that will increase your appeal among fans.
Tip: Use a first-person style.
This is the number one issue for content creation. Write in the first person.
One of the reasons why Quicksprout has been so successful is because it's a personal blog, not just a business blog. Although I have a personal website, I do the bulk of my blogging at Quicksprout.com. There, I write the way I talk. I use "I" and "me," and share lessons that I learned. And I've seen my fan base grow as a result.
Tip: Be transparent about business and life.
Buffer gained a lot of recognition when they announced "open salaries." They described it as a "transparent formula." What happened next is a story of fanaticism: Their fans raved about it. For their audience of young entrepreneurs, this is precisely the kind of openness and authenticity that they crave.
Tip: Share stories of struggle and triumph.
Your fans will relate to and respond to personal stories. Tell about your failures and your victories. They will understand it and appreciate it.
My blog isn't all about how awesome my companies are. I face a lot of challenges, and I blog about them. My failure stories are some of my most engaging.
6) Go deep in your content.
Fans come together because they are more passionate about a subject than anyone else in the world. Not only are they more passionate, but they are also more knowledgeable about that subject.
To help them become more knowledgeable, you should create content that goes deep. Explore the most obscure nuances of your niche, because your users expect it, need it, and want it.
The Moz Blog does a great job of going deep — it's frequented by users who are also fans of the company. Their fans care about things that only a cadre of human beings care about — things like MozCast Temps, PayDay Loan algorithm updates, and Matt Cutts tweets. So Moz makes sure to deliver exactly that:
Going deep is about producing great content. Moz.com explained the phenomenon of fan building through content with this statement:
Apple has a huge number of people that spread their love for the products they make. Buffer is engrossing a community of startup transparency thanks to some of their latest initiatives like the open metrics dashboard powered by Baremetrics or their open salaries posts. Ryan and the team at Product Hunt really care about the power of a 'true engaged community', and 'not just acquire additional users'. At the end, it seems 'easy' to grow a community if what you do is good enough.
That last line is clutch: "At the end, it seems 'easy' to grow a community if what you do is good enough."
Deep content is good content. That's what will make fans happy.
7) Cater to their egos.
Like pretty much any human being, ever, fans need to have their egos stroked. Great brands lean into this ego stroking to give fans content they love.
Tip: Write content for them and about them.
The easy way to do this is to speak directly to their wants and passions. Thank them. Appreciate them. Love them.
There's one brand that does a stellar job at this. Read these excerpts from their content:
Suit Up for Team You
In order to be recognized for the true fan you are, you have to invest.
You're a fan. We know you are. Now put in the effort to be the best one possible. You owe it to your team. Heck, you owe it to yourself.
It's no fun being a fan if you can't, every once in a while, go a little crazy with your time and your wallet.
What brand is this, speaking to their coterie of fanatical followers?
Chevrolet.
The car manufacturer has fans. And they have an entire subdomain devoted to their fans. They love their fans, they blog about their fans; their fans love them back.
Conclusion
When it comes to creating a fan base, we need to draw a direct line between fans and content. Content in its multifarious forms is what fans engage with. By improving your content, you can grow your fans.
What do you do with your content to build your fan base?