It's about to get a whole lot fuzzier in the office. That is, assuming your coworkers are among the more than one million people expected to participate in Movember this month.
Movember, a blend of the words "mustache" and "November," is an annual movement in which people ditch their razors for a month and grow mustaches to raise funds for prostate cancer, testicular cancer, and other men's health issues. It started as a small fundraiser in 1999 and has grown into a global tradition, spearheaded by the Movember Foundation, which has raised more than $559 million to fund 832 men's health programs in 21 countries.
Fast moving cause-marketing campaigns like Movember and the recent Ice Bucket Challenge may seem to erupt out of nowhere and become viral through luck alone, but there are patterns behind every successful movement. Using data from TalkWalker, a social analytics platform, we examined the social chatter around Movember to see what early lessons we can glean from the spread of this phenomenon.
Movember Chatter Starts Long Before November First
One of the most interesting findings about Movember is that it isn't confined to November at all. While it may not have reached the fever pitch yet, Movember participants are out there early, setting the stage, readying their friends, and circulating the hashtag a full month in advance.
Using Talkwalker data, we found that there were a full 203,500 mentions of the keywords "Movember" and "No Shave November" in the month of October across all social channels. The main channels people used were Facebook and Twitter: 92% of these mentions occurred on those two social networks. Though they were significantly less popular than Facebook and Twitter, Instagram and Flickr also had some activity. Since "photo evidence" is half the fun of Movember, we do expect the instances of Movember mentions on Instagram, Facebook, and other highly visual channels to increase significantly as November goes on.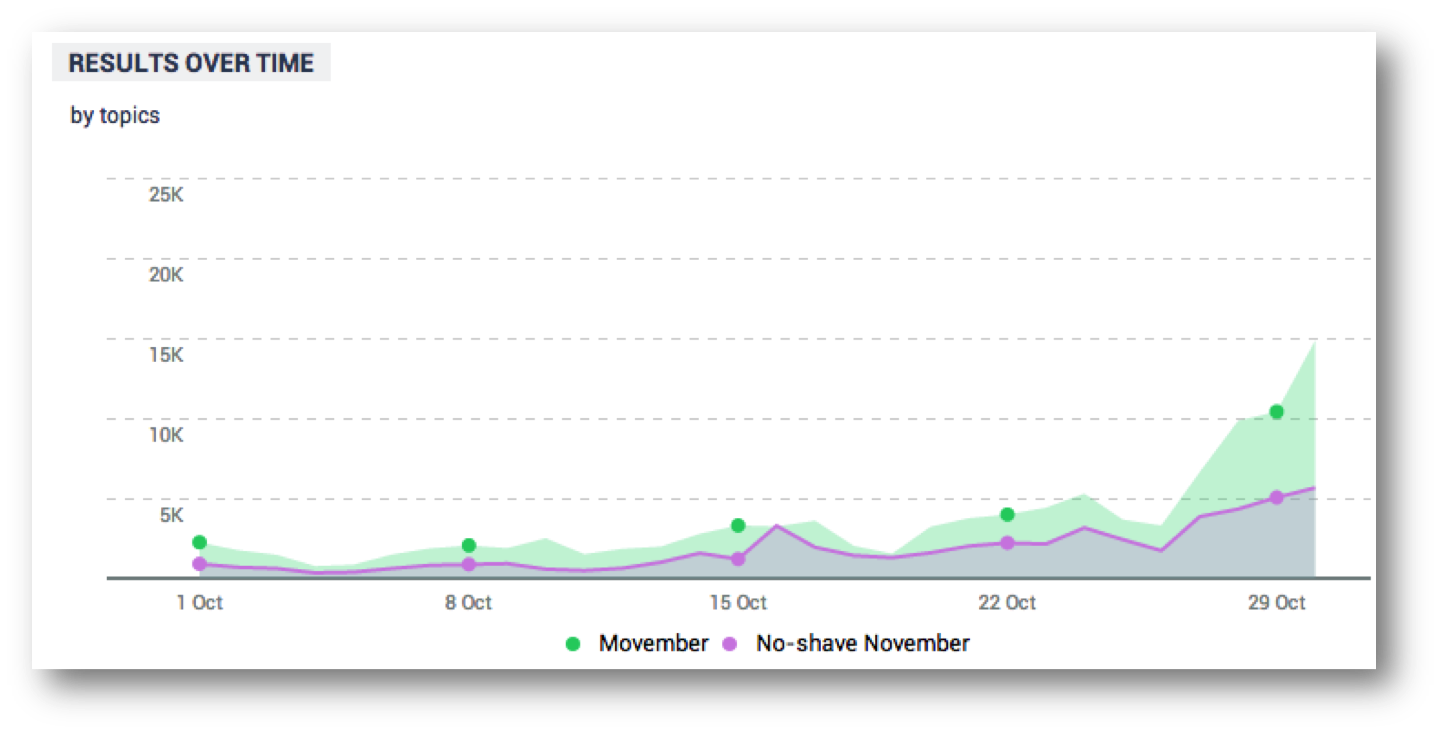 As you would expect, the volume of these mentions grew as we approached November. If you look more closely at the data however, this wasn't steady growth. There were a handful of spikes across the month that generated momentum-changing levels of chatter on both topics.
"Whoa, what happened on October 17th?" That was the first question posed by my colleague and section editor Ginny Soskey when she saw the data. Indeed, there was a sharp spike in social chatter on October 17th for the phrase "No-shave November" that generated nearly 3,000 mentions in a single day. So what was it? A TV event? A sale on mustache wax? Turns out, it was Kian Lawley.
Kian Lawley is a 19-year-old who has grown an impressive social following through the production of original YouTube content and vines. How impressive? Over 2 million subscribers on YouTube, 1.71 million followers on Twitter, and 1 million followers on Vine. Like me, you may not have had him on your radar, but a single tweet from Kian about Movember generated 2,918 retweets in a single day (now even more).
No Shave November is coming up & I can finally participate with the somewhat of a beard I can grow