You don't need anyone to tell you that the holidays are a major opportunity for retailers everywhere (online or offline). But you might be surprised by the level of importance they carry and how some of these trends are changing.
RJMetrics analyzed data from hundreds of ecommerce stores. Some of what we found wasn't too surprising – Black Friday and Cyber Monday are major shopping days for any ecommerce retailer. But some findings were a little more unexpected. The big one? For the past five years online retailers have been generating a decreasing percentage of their annual revenue during holiday months.
Read on for what's behind these trends, and how they are changing expectations for the upcoming weeks.
How Important Was Last Holiday Season to Ecommerce Companies?
Overall, the months of November and December account for more than 20% of total annual revenue.
On average, these "holiday shopping months" bring in 30% more revenue than non-holiday months.
Is This Normal?
Without a doubt, the holiday season is an important time for ecommerce companies. But you can add some additional context when you segment this data by year.
Since 2010, the holiday months of November and December are comprising a shrinking portion of total annual revenue. While ecommerce sales as a whole are growing – up 15.4% since 2013 according to the U.S. commerce department – retailers are generating a bigger chunk of this revenue during non-holiday months.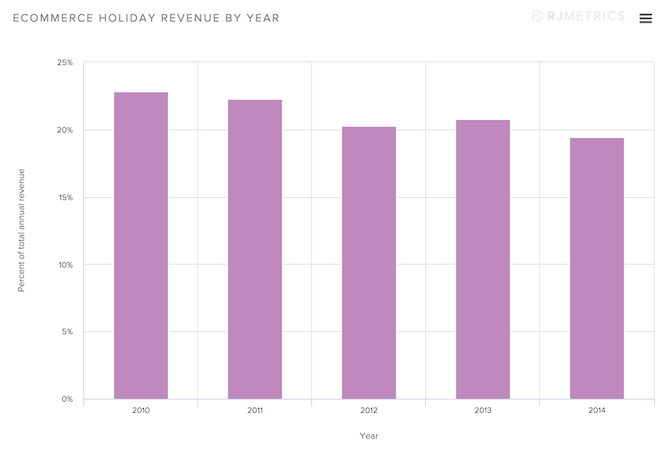 This chart does not in any way indicate that the health of ecommerce is decreasing, only that the holiday season is becoming less important to overall sales numbers.
Are All Categories of Ecommerce Decreasing Their Reliance on the Holiday Season?
As you can probably predict, this breakdown differs across ecommerce categories.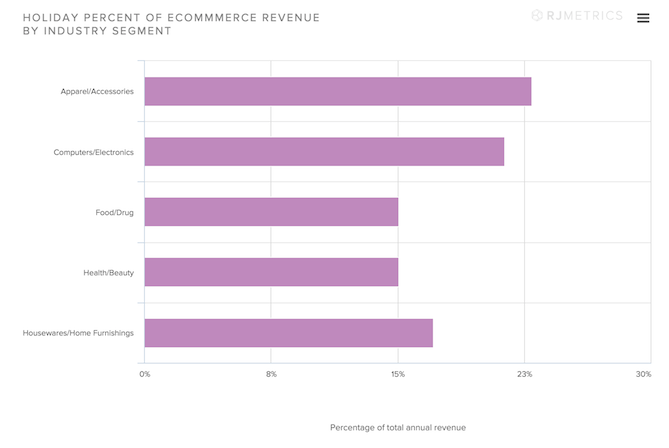 When we looked at the importance of the holiday season by category, predictably Apparel/Accessories and Computer/Electronics companies are much more "holiday-sensitive". This means that a greater percentage of their total annual revenue is generated during holiday months than Food/Drug, Health/Beauty, and Housewares/Home Furnishings categories.
The decreasing importance of the holiday season over the years is even more pronounced for holiday-sensitive categories.
The two holiday-sensitive segments, Apparel/Accessories and Computer/Electronics, are being disproportionately impacted by this trend. In 2010, holiday-sensitive categories were generating 32% of their total annual revenue during the holiday months. In 2014, they generated 20% of their total annual revenue during the holiday months, a massive 12 percentage point drop over the past 4 years.
Interestingly, since 2012, holiday shopping has made up only 16% of annual revenue for "holiday-insensitive" companies, which means that these categories actually generate less revenue during the holiday months than they do during the rest of the year.
Why the Leveling Out?
With data it's often easier to answer "What happened?" than it is to answer "Why?"
"Traditional retailers, both catalog and brick-and-mortar, rely heavily on holiday shopping to hit their annual revenue targets. But today's most innovative online retailers—companies like Mizzen & Main, Harry's, Plated, and more—build relationships with their customers throughout the year. They use subscription models to create regular purchase habits, build high-quality brands to nurture affinity, and use effective (but not always discount-based) retention marketing. Because of this, they're less reliant on holiday shopping than traditional retailers."
While the Holiday Season is Losing Some Importance, Black Friday and Cyber Monday Continue Surging
When we looked at revenue on a daily timeline, we saw that Black Friday and Cyber Monday were huge contributors to the revenue generated during the holiday season.
The holiday season is decreasing in importance for most companies, but the days from Black Friday through Christmas still pack a punch, generating 50-100% more revenue than the other non-holiday shopping days throughout the rest of the year.
This uptick is even more pronounced for the "holiday-sensitive" categories we mentioned earlier.
Specifically, Cyber Monday is important for any ecommerce retailer. While online sales in general rose 23% YOY from Thanksgiving day to Cyber Monday, last year's Cyber Monday generated $2.3 billion, 29% higher than 2013's figures.
IBM also reported that Cyber Monday sales were greater than both Thanksgiving and Black Friday.
What Does This Mean for Your Ecommerce Business?
There are two important takeaways from this data that every online retailer should be paying attention to:
1) Focus Your Efforts on the Key Shopping Days
While November and December aren't carrying the same weight as they used to, it's clear November 27th to the 30th will still be crucial to any retailer looking to close out the year with strong numbers.
There are a number of strategies to help you maximize your sales efficiency during this period, from optimizing your mobile buying experience to personalizing your interactions with shoppers, building customer loyalty from customers looking to change brands to changing your Google Adwords bidding strategy during the holiday season.
2) Invest in Your Year-Round Strategy
Ecommerce retailers are less reliant on November and December sales, and that's a good thing! Holiday shoppers are notoriously demanding of discounts and 71% expect free shipping (47% expect free returns). Rather than relying on the holiday season to be their primary growth driver, forward-thinking businesses are finding ways to drive growth throughout the year.
To dig deeper into these trends, check out the full Ecommerce Holiday Trends report from RJMetrics here.