You know the phrase, "One man's trash is another man's treasure"? That's how I feel about to-do lists.
After all, how you track your tasks depends entirely on the person. Are you looking for a simple interface, or are you hoping to color-code and categorize hundreds of tasks at once? Is this to-do list for yourself, you and your family, or you and your entire team? How much do aesthetics matter?
There are hundreds of to-do list tools out there, but some of them are just plain better than others. To help you separate the really solid ones from the rest, we've curated a list of 10 of the best to-do list tools below, including short descriptions to help you determine which may be right for you.
The 10 Best To-Do List Tools
Price: Free for Basic, $4.99/mo. or $49/yr. for Pro
Wunderlist is such a powerful productivity tool that Microsoft bought it earlier this year, Apple named it App of the Year in 2013, and The Verge named it best to-do list app in 2014. And unless you want features like unlimited task delegation and file uploads, the free version offers just about everything you'll likely need.
In a nutshell, this tool lets you create to-do lists you can then share with friends, family, or coworkers — who will have editing capabilities of their own. And the UX doesn't get messy, even when both people are working on a list at the same time. For example, I use Wunderlist to share a grocery list with my roommate. Sometimes, we'll go to the grocery store together and tackle the list simultaneously — and it's actually fun to check things off and watch her check things off at the same time.
Finally, it's sleekly designed and very user-friendly. Adding and checking off list items is simple and intuitive, as is adding and checking off sub-tasks, adding a due date, adding any reminders you may want, and so on.
Image Credit: AppAdvice
Earlier this year, the service integrated with Slack to show its tasks and notifications in the work-collaboration tool while its users chatted in real time. To enable integration with Slack, here's what you need to do:
Sign in to Slack. Click on your company name in the top left corner, then choose "Configure Integrations" from the dropdown menu.
Under "All Integrations," find "Wunderlist" and click "Add."
Select or create a Slack channel, and then click on "Add Wunderlist Integration."
Once you've authenticated Wunderlist, all you have to do is choose a list from your Wunderlist and click on "Save Integration." Boom, done.
Price: Free for Basic, $29/yr. for Premium
Although Todoist has been around for a while, it's become especially powerful in just the last few years. This tool includes a ton of great features that let you organize tasks by date, color-code them, and so on.
The free version has fewer features than Wunderlist's free version, but it's very well-designed and user-friendly. You can create sub-tasks and dependencies, projects, and sub-projects. You can attach due dates to these tasks, prioritize them using a color-coding system, categorize them, and more. The premium account costs $29 per year and includes push notifications, email reminders, labels, and filters.
Todoist is available for (and looks great on) every major platform: the web, iOS and Android apps, desktop apps for Windows and OSX, add-ons for Firefox and Chrome, plug-ins for email apps like Gmail, Thunderbird, and Outlook, and more. Not to mention, it integrates with services like Google Drive, Sunrise Calendar, and IFTTT.
Price: Free for Basic, $8.33/user/mo. for Business Class, or $20.83/user/yr. for Enterprise
Trello is the online project management tool that our blogging team uses here at HubSpot. It lets you drag, drop, color-code, and manipulate to-do list items in a way that many of the other tools on this list don't.
You can arrange larger projects into "boards," under which you can add all sorts of lists to break down that bigger project into sub-projects. Under each list, you can add what they call "Cards," which are items in a list. You can add a due date, a checklist, notes, attachments, and color-coded labels to each card. You can also drag and drop cards between lists and boards.
Image Credit: Cloud Couch
My favorite thing about Trello is that it lets you visualize your to-do list in a way that's easy to follow — including a calendar view. In the calendar view, you can see what your upcoming tasks look like a week or a month at a time. You can also drag and drop cards between calendar days to change their due dates.
Image Credit: BlueGlass
The free version lets you create unlimited boards, lists, cards, members, checklists, attachments, and so on, and allows integration with Box, Google Drive, and Dropbox. The paid versions allow for more storage, more customization, stricter privacy options, and other added features.
Price: Free
Here's a task management tool some of the most organized people in my life swear by. ToodleDo is a very user-friendly tool for organizing simple to-do lists on your iOS and Android devices and on the web. It's heavily focused on tasks, and that's what the tool does best. Under each task, you can sub-tasks, additional notes, priority ratings, due dates, and reminders. You can also organize your tasks into different folders.
While it used to lack some of the aesthetic that other apps (especially Wunderlist) do well, it recently went through a redesign that did wonders for its design. Here's a before and after shot, with the updated version on the right:
Image Credit: ToodleDo
Although it's mostly for task management, there are also sections of the tool where you can take notes, create outlines, and even track your habits, like in the screenshot below. You can also share your lists, collaborate with others, and assign tasks to anyone you'd like.
Image Credit: ToodleDo
Price: Free for Basic, $26.99/yr. for Premium
Any.Do is one of the more beautifully designed apps on this list. It offers all of the features you'd want in a to-do list app, including drag-and-drop and swipe-to-complete, but there are a few things that make it stand out.
For example, its key differentiator is "the moment": a push notification you get each morning telling you to plan your day. There are also a few other cool and delightful features in there, like voice entry and the ability to shake your device to clear finished tasks.
Image Credit: Tech Norms
It's designed for the iPhone but can be used on iPad, as well as on the web and desktop with full syncing. Lifehacker named the app its favorite to-do app for iPhone, although the folks there admit it isn't as intuitive or as robust in terms of features as other apps like Wunderlist and Todoist. It also has a Chrome extension with a four-star rating and over 2,000 reviews. Here's a video that'll walk you through its user interface and capabilities:
Price: $9.99
"If it were a car, it would be a VW Golf — sleek, efficient, and a joy to use," reads one review of Things on DailyMacReview.com. That sums up the user experience pretty well: It's intuitive, well designed, and very simple.
Image Credit: Things
For some, though, its simplicity might be a big turnoff. Another review reads, "If you are an avid GTDer [Get-Things-Done] who wants the most powerful tool with a plethora customization options, I recommend you steer clear of Things."
If all you want in the app is a beautiful design and the ability to organize simple tasks and lists — and you have ten bucks to spare — then Things could be a good bet. If you like the idea of checking things off on your Apple Watch, it also offers full Apple Watch Support. Otherwise, though, you might be better off going with something more complex.
Price: Free for Basic, $1.99/mo. or $19.99/yr. for Pro
TickTick is a relatively new player, but it has a lot of potential. Like many of the other tools on this list, you can add new tasks, sub-tasks, set deadlines and custom reminders, and share with other users. You can also set recurring to-do list items for every day, a specific number of days, a week, a month, and so on.
The Pro version has a great calendar view where you can see what your to-do list looks like on a daily or weekly basis and get ahead of the game. You can drag tasks to change the order, and drop tasks into the calendar on the bottom left to set a due date. It also has revision history and an "experimental labs" feature.
This tool is still in its early stages, but so far, it's a beautiful interface with a solid — and growing — feature list. Keep an eye out for updates and check out their plans here.
Image Credit: Lifehacker
Price: Free
Google Keep has existed under the radar for a long time, but it's actually a great tool if you're looking for a place to quickly make and save lists and notes and access them across multiple devices. At its core, it's a simple notepad that connects to Google Drive, where you can keep checklists, photos, voice notes, and other text notes that sync across multiple devices as well as the cloud.
Image Credit: ShareChair
It doesn't have nearly as many features as other to-do list apps, and its design isn't as regimented — but if you're an avid Google Drive user and like to create and edit lists on-the-go, then this could be a great option for you. You can learn more in this video:
Price: $39.99 for Standard, $79.99 for Pro
Don't let the price tag deter you: If you're an iOS user with a lot of different projects and tasks to track, and you're looking for an app that organizes all these items in a super comprehensive way, then you'll want to check this out.
On the tool's home screen, you'll find a forecast summary of your upcoming to-do's, as well as color-coded badges that show you what needs attention at-a-glance. Whenever you think of a new to-do list item or task, you can quickly enter them into your "Inbox," during or after which you can apply this item to a specific folder, list, or context.
While most people would prefer something a little simpler, this is a great option for power users that are cool with a bit of a learning curve.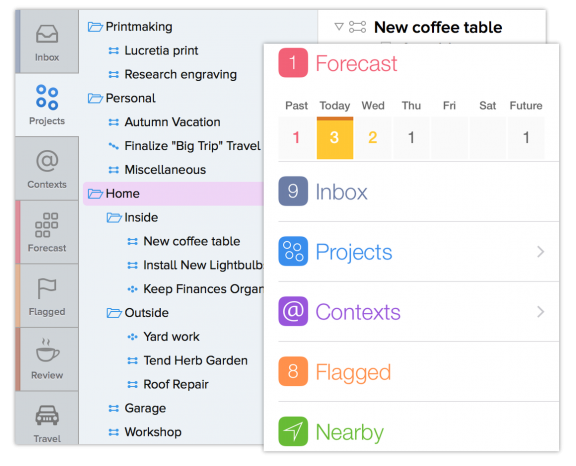 Image Credit: OmniGroup
Price: Free
This one is for the video game lovers among us — or anyone interested in quite literally gamifying their life. HabitRPG a habit-building app available on Google Play that turns your to-do list items and projects into a medieval-themed, role-playing game. You can level up your character when you succeed, earn money to buy weapons and armor, and defeat enemies — just by crossing things off your list.
If you miss deadlines or fail to cross things off, then you'll take hits to your health and your character will lose progress. You can categorize your achievements into folders like "Career & Finances," "Fitness & Health," "Friends & Family," and so on.
If you're looking for a tool that'll simply help you build good habits and encourage you to cross things off your to-do list, then this is a good option for you. Plus, you can compete with your friends to help hold yourself accountable. Get a better idea of how it works in this video:
What are you favorite to-do list tools? Share them with us in the comments.