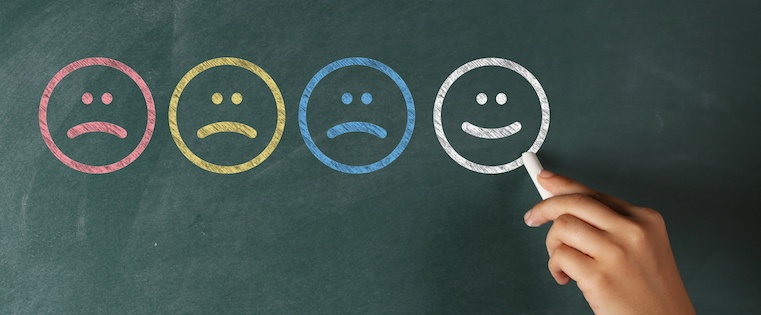 This post originally appeared on Agency Post. To read more content like this, subscribe to Agency Post.
Having trouble attracting and retaining top talent? You're not alone.
With competition for talent increasing, a lot of businesses are renewing their focus on company culture and employee engagement. But for a company culture to exist, management must be focused on employee happiness — and this isn't an easy task.
Deloitte outlined 20 engagement factors companies need to consider and excel at to keep employees engaged. And most organizations are starting from a place of weakness: Gallup found in 2014 that 13% of all employees are "highly engaged" and 26% are "actively disengaged."
To start, businesses need a better idea of how happy, fulfilled, challenged, and dedicated employees are. They need to understand the health of their company culture and how employees perceive the organization. They also need a system for eliciting feedback and tracking satisfaction and issues over time. Only with this information can leadership address issues, make changes, and improve their employee engagement.
To get you started gathering this information, we've put together a list of some of the best employee feedback and culture tools. Check them out to see which one might help you make improvements in your own office.
10 Employee Review & Feedback Tools to Consider
Employees take 15 minutes to answer a survey from their managers, and managers need five minutes to review: That's the basic idea behind the platform. But the tool provides a lot of other useful features. Managers can create custom survey questions (15Five provides a library of valuable question prompts), set different reviewers for different employees, and send along answers to other people in the organization who need to see the feedback or would be responsible for enacting change, such as a hiring rep. You can create groups within the system if you manage multiple teams, which allows you to ask company-wide while also team-specific questions. The app also has a section for goals and accomplishments so that employees can list out the important tasks they plan to accomplish by next week, helping to keep people accountable.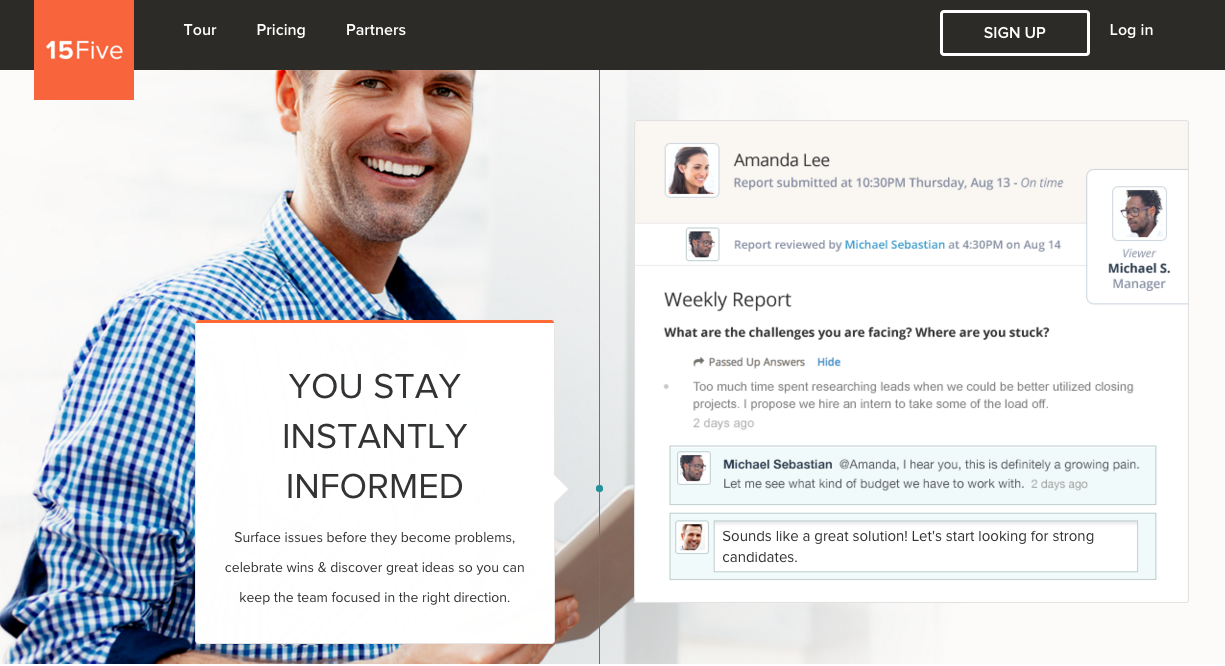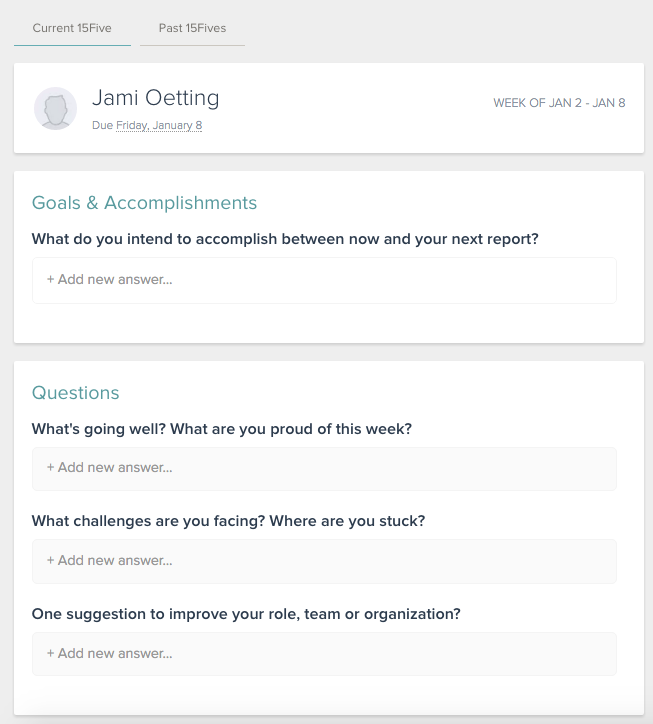 Culture Amp provides tools to run performance reviews and pulse and culture surveys, and managers can review data based on the lifecycle stage of their employees — from candidates to onboarding to exit — or by demographics or time frame. It also has a reporting feature that performs a driver analysis, so you can see the most important "drivers" for engagement and happiness. Account managers of the system can set up teams, so that personalized questions are sent to specific employees and only the right managers have access to the reports.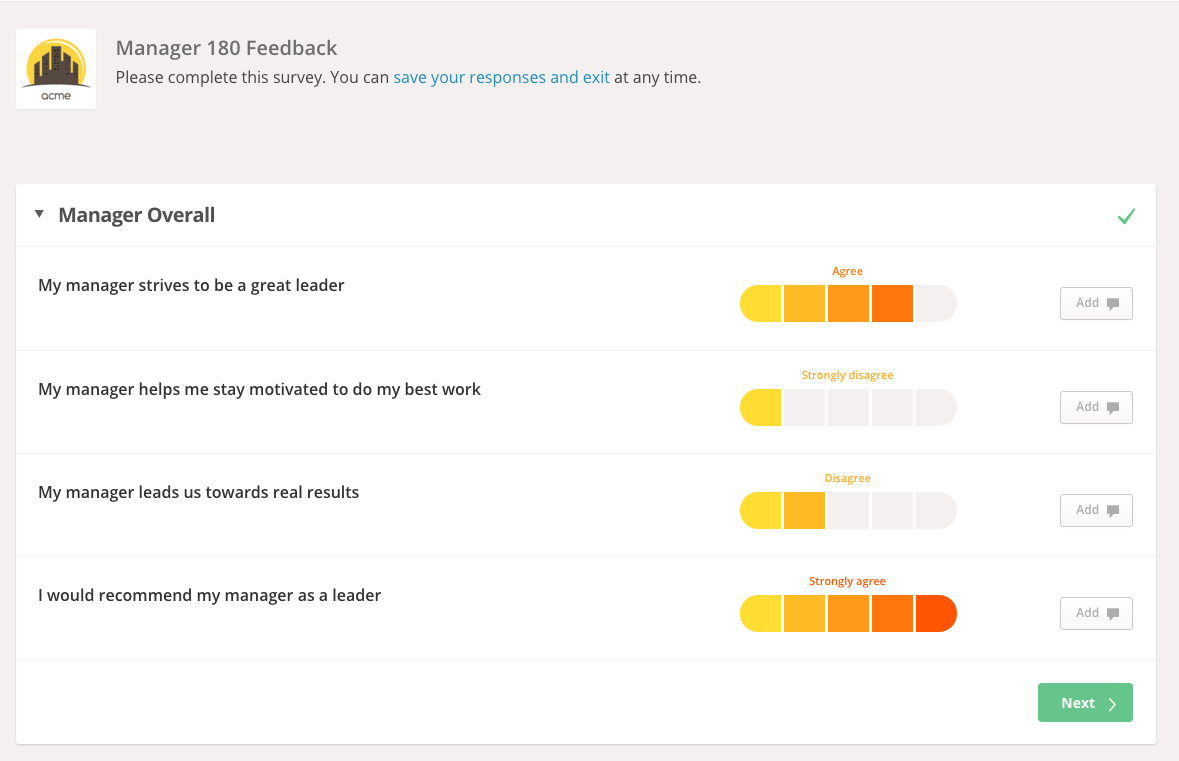 TinyPulse makes it easy to create staff pulse surveys so that you know exactly how engaged and happy your team members are. The platform sends out one question per week — they recommend sending yes or no, scale or NPS, or open-ended questions. Answers are anonymous, and managers can pull insightful reports by teams. In addition, employees can send colleagues "cheers" to show their appreciation and send suggestions for improvements to the company and its policies. It's a simple app, but it's all you need to stay current on the health of your company culture. (Full disclosure: HubSpot is a TinyPulse customer.)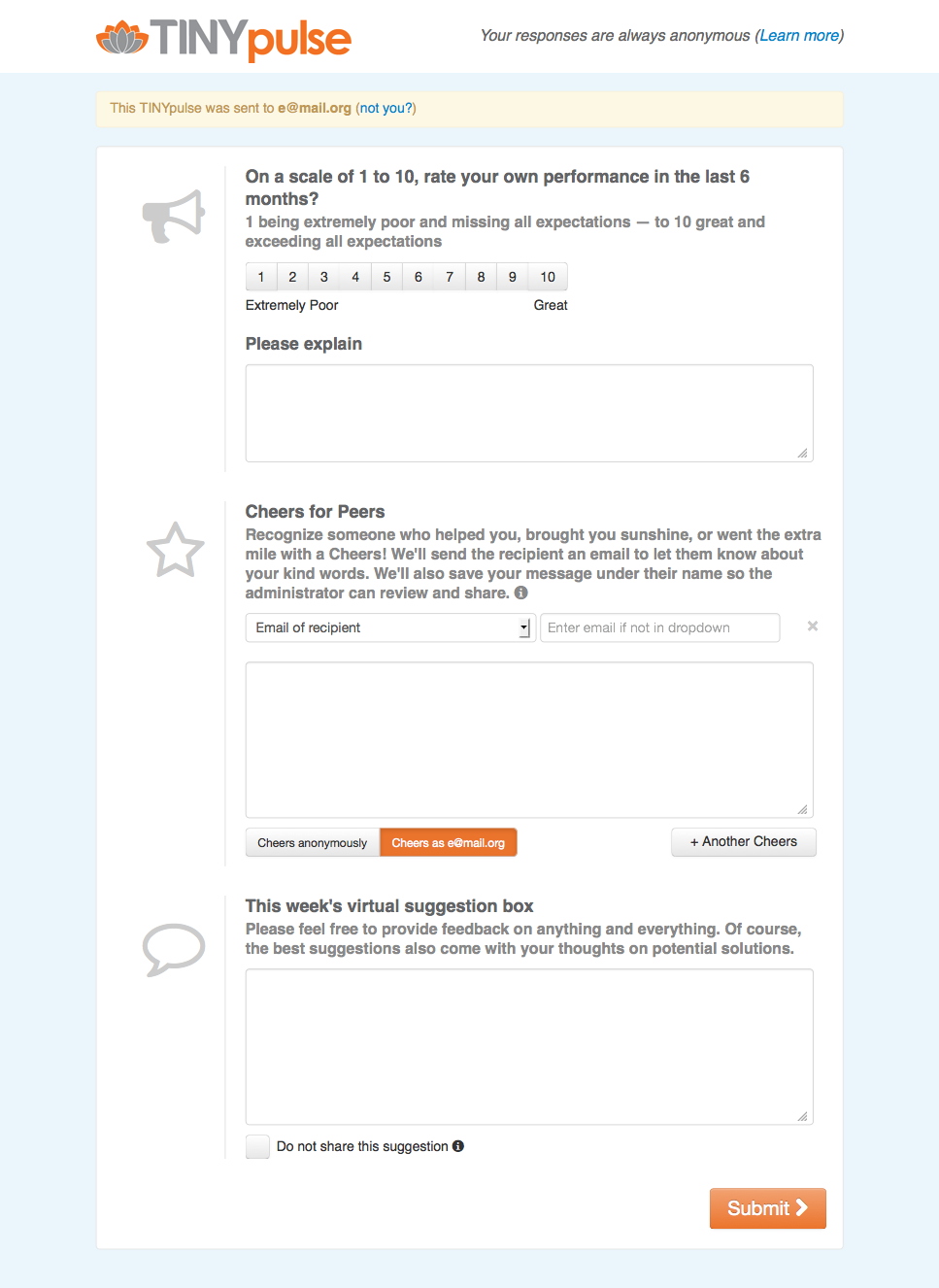 Weekdone is an advanced employee feedback and progress tracking platform. The default is to have employees fill out information about their plans for the week, progress on projects, and problems. It can also be customized with specific questions and prompts. Weekdone integrates with Asana, Basecamp, and JIRA, allowing managers to better analyze the progress and productivity of team members. It also provides reporting on alignment between the employee's objectives and the company's goals.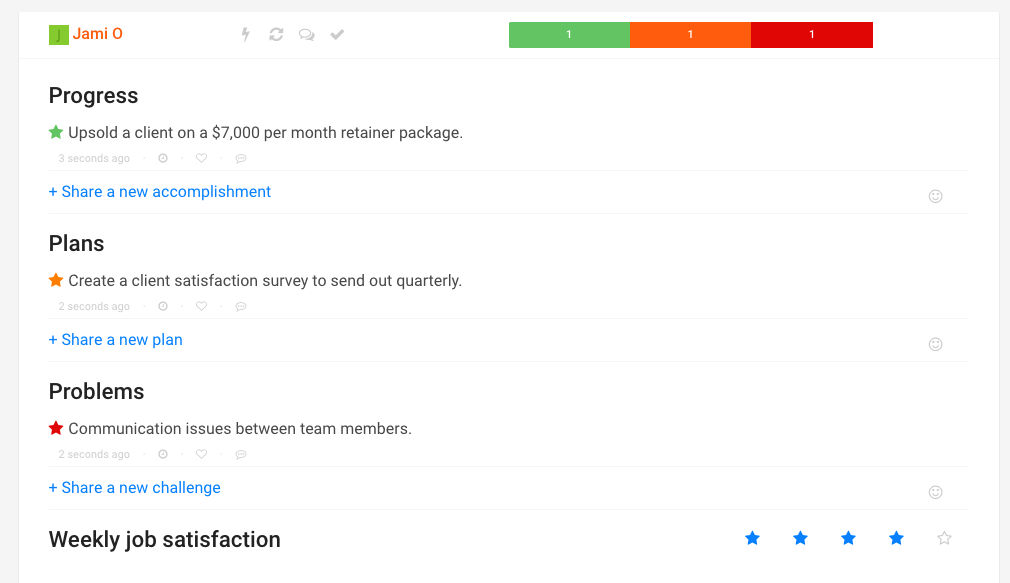 For those teams that ignore email but have plenty to say on Slack, this integration is an easy way to quickly get an opinion on a company event or policy. You simply log in with Slack, type the poll command, and then you receive a unique URL to customize your poll. There are paid options for turning anonymity off, asking open-ended questions, or for allowing users to select more than one option.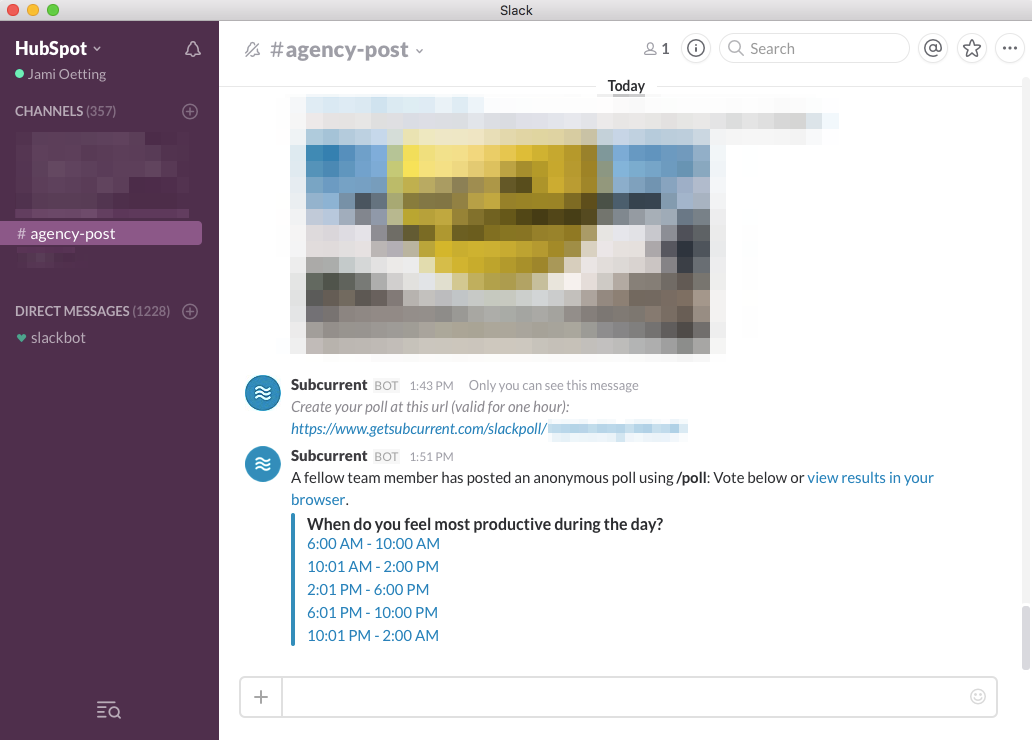 This is a full-featured employee review, feedback, and peer praise platform. Impraise can help managers set up reviews and ask key employees for quantitative and qualitative feedback on a staff member, as well as gather feedback on their own management performance from their direct reports. A unique feature is its key strengths dashboard, where employees and managers can list out the skills for the employee's role and then track feedback on that skill and measure the proficiency of the employee over time, providing them with a roadmap for professional development.
RoundPegg is a custom survey tool that polls your team members on eight areas — such as job fit, expectations, growth and development, trust, etc. — that have been shown to align with employee engagement. It then provides you with recommendations to improve your score in weak and failing areas based on the culture types of your employees. You can use the tool to send short pulse surveys for feedback on an initiative or to gauge happiness and satisfaction. The company also offers products and services aligned with hiring for culture fit and determining your company's individual culture.
Managers can conduct yearly, quarterly, or even monthly performance reviews through the platform. It also has a feature where you list company and team goals so that your direct reports always know what they should be working towards. Employees can provide feedback to other team members through Reflektive, in addition to being able to provide responses to manager-controlled morale polls.
Washington-based agency BAM Creative designed this tool that lets managers ask six questions each week. Supervisors can choose from a question bank or add their own prompts. Employees can send virtual "high fives" to their peers to recognize a job well done, and the platform lets you pull reports on past survey questions to get a better idea of how employee engagement is trending.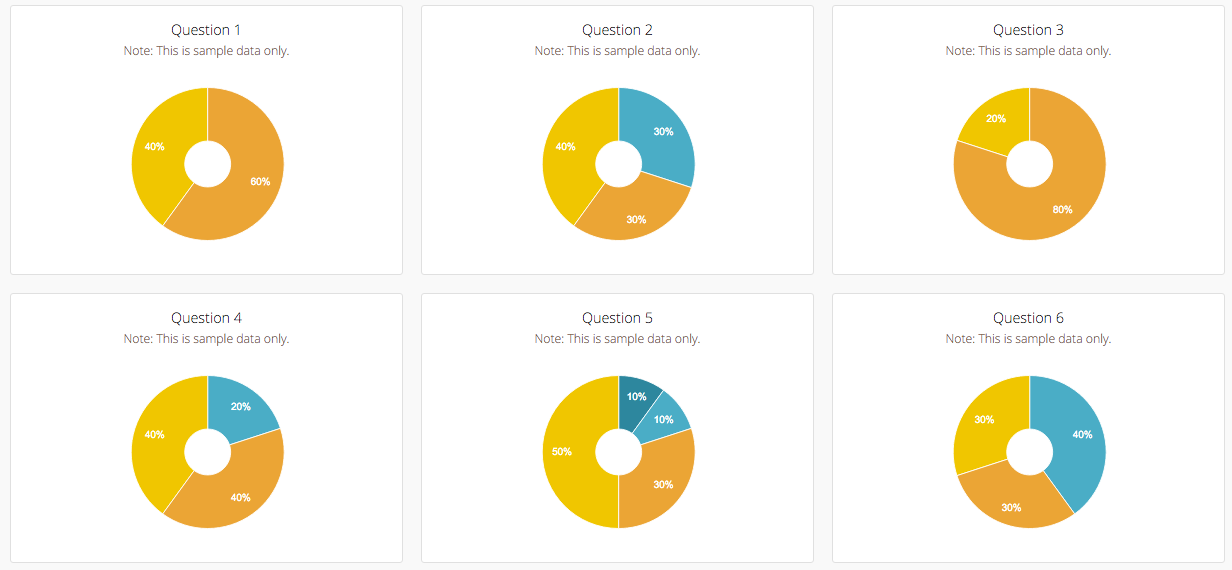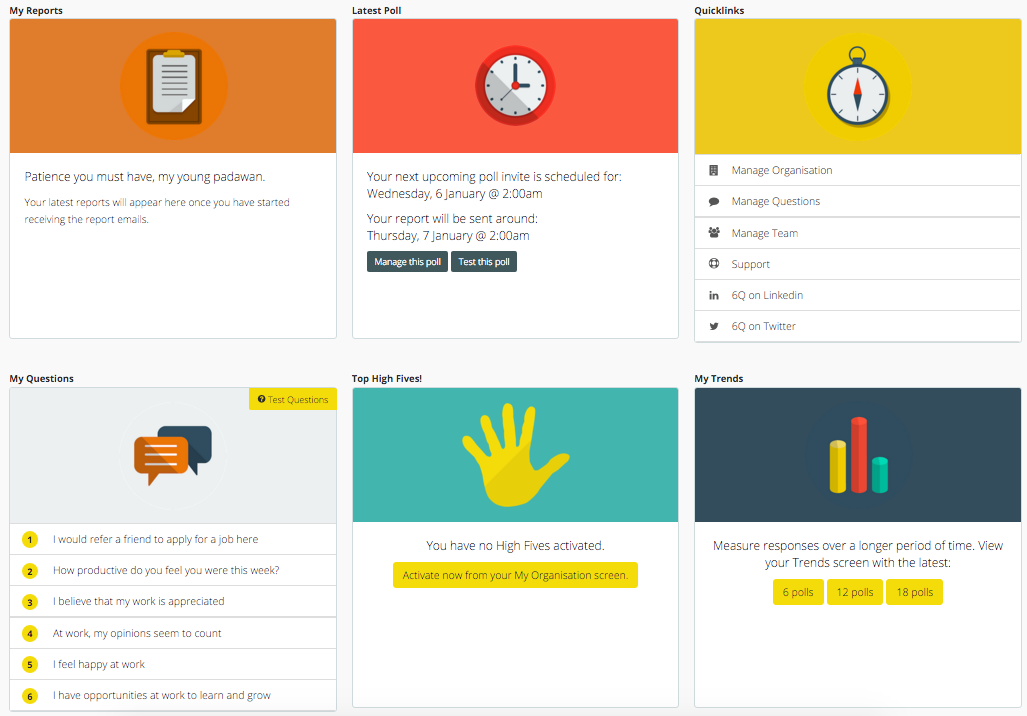 Hppy helps you understand what factors are affecting your employees' moods and tracks them over time. Managers can customize questions, but users can only reply with on of three moods: happy, ok, or sad. Managers can request meetings from the app if they notice a downward or worrying trend in an employee's responses, and you can send thank-you cards to staff to motivate and inspire their work. Managers can also calculate their team's or company's HppyIndex or happiness index and use this in reports or display it on a screen in your office.
How do you collect employee feedback? Share your best tips in the comments section below.