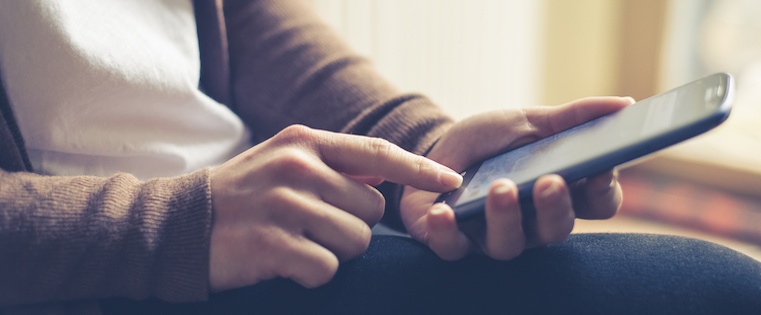 Google is no stranger to algorithmic change. And usually, those changes are made for the sake of the user. Looking at a history of Google's product announcements, usability is usually at the heart of the modification.
So when Google announced its impending smackdown on mobile pop-up ads earlier this week, it came as no surprise that the major reason behind it was to enhance the user
experience.
For many businesses, the announcement carries major implications. Those that rely on advertisements as a primary source of revenue, for example, will be some of the hardest hit. To help you navigate this change, we put together everything you need to know below, from what the update entails to how to prepare accordingly.
What's New in Mobile Search Results
Back in 2014, Google added a "mobile-friendly" label for search results that were optimized for such platforms — where text is readable without zooming or horizontal scrolling, and links are spaced well enough so that there's a reduced chance of mis-tapping.
But two years later, Google has found that 85% of mobile search results are optimized that way. As a result, the search engine is doing away with that label, and introducing new mobile-specific ranking criteria.
And now, pages with mobile pop-ups — or what Google is calling "interstitials" — probably won't be ranking as highly when these algorithmic changes take effect on January 10, 2017.
"Pages that show intrusive interstitials provide a poorer experience to users than other pages where content is immediately accessible," Google's official announcement states. "This can be problematic on mobile devices where screens are often smaller."
Not all pop-ups are created equal, though, so there are some specifics around which types of interstitials Google considers to be disruptive to the user experience. Some are legally required — like ones used by liquor companies that verify the user's age — so they won't impact the page's rank.
According to the official statement, interstitials affected by Google's crackdown include the following:
"Showing a popup that covers the main content, either immediately after the user navigates to a page from the search results, or while they are looking through the page.
Displaying a standalone interstitial that the user has to dismiss before accessing the main content.
Using a layout where the above-the-fold portion of the page appears similar to a standalone interstitial, but the original content has been inlined underneath the fold."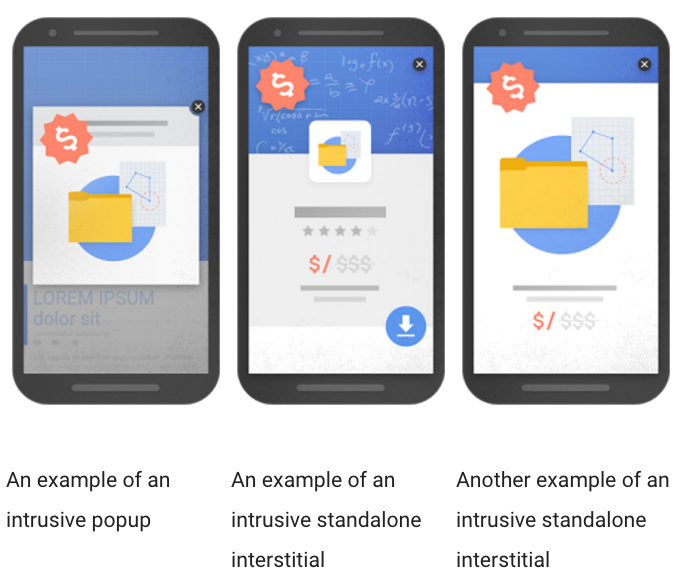 Source: Google
What Does It Mean For Marketers?
As we mentioned before, the companies that rely on these interstitials for income will be especially impacted by this change. They're the ones who, as Emma Hinchliffe of Mashable points out, need that ad revenue to survive. Now, these businesses face a difficult choice: Rank, or profit.
But losing SEO traffic can "crush" these companies, says HubSpot's Senior Product Marketing Manager, Marcus Andrews. And that makes sense — 51% percent of digital media is consumed via mobile, compared to a lagging 42% on desktop.
Andrews suggests that, if they haven't done so already, marketers solve for mobile SEO first. The pain that comes with changing a revenue model is inevitable, but shorter-term — and businesses that rely on advertiser dollars, he says, should figure out ways "to make money that don't totally disrupt the mobile user experience."
"Google is very focused on the user," Andrews continues. "Marketers are always looking for hacky ways to increase traffic and conversion rates, and every once in a while, Google needs to make a correction to improve the user experience."
That actually creates a great opportunity for marketers to think more about the user — both the experience, and what that person is offered. It's what HubSpot's Director of Product Development, Nicholas Holland, calls a "forcing function." It makes marketers seriously consider the increasing overtaking of mobile technology, and what the implications will be on their overall business operations.
Basically, these developments from Google are a giant wake-up call to those who "create a bad viewer experience," Holland says — especially those who might not even realize it. Now, they absolute must "think through alternative revenue methods."
But what are those methods, exactly?
First — if it isn't obvious by now — remove any pop-ups you've been using.
"As inbound marketers, we rely on driving relevant visitors to content," says HubSpot's Principal Product Marketing Manager, Jeffrey Vocell. "Interstitials, especially interruptive ones, do not provide a good experience, and in many cases actually block or limit the content that can be seen."
That's why your best option might be to create valuable content that draws the visitors that Vocell is alluding to. When you do that, Holland advises, you can focus on driving revenue — or at least leads — using calls to action and embedded forms. (And to learn more about converting those leads, check out our free ebook on optimizing landing pages.)
Replacing intrusive interstitials with valuable content is a double-edged SEO sword. Not only are you giving the user what he or she is searching for — and improving your rank accordingly — but you're also getting rid of the invasive pop-ups that, come January, would be lowering it.
What You Can Do Now to Prepare
If you're freaking out about Google's announcement, that's okay — but please, don't be. As we mentioned, these changes actually provide a great opportunity to use inbound marketing to generally enhance your marketing presence — on mobile, or otherwise.
Here's what you can do to get ready for the rollout:
Ditch your interstitials — unless they're required by law. Those include age verification displays, as noted above, and pop-ups that let your user know you use cookies.
If you relied on interstitials for ad revenue, figure out where that money is going to come from now.
Find ways to generate revenue without obstructing the user experience, and in a way that optimizes your page for mobile. Both of those factors will likely remain crucial to search engine rank.
Know that those solutions often exist in the content you create. Make something valuable for the user. By gating it behind a landing page, you're generating leads — and eventually sales — in a much less intrusive way that brings visitors to you.
What do you think about Google's latest announcement, and what are you doing to prepare for it? Let us know in the comments.